Why you should not miss Luke Bryan Huntin', Fishin' and Lovin' Every Day Tour'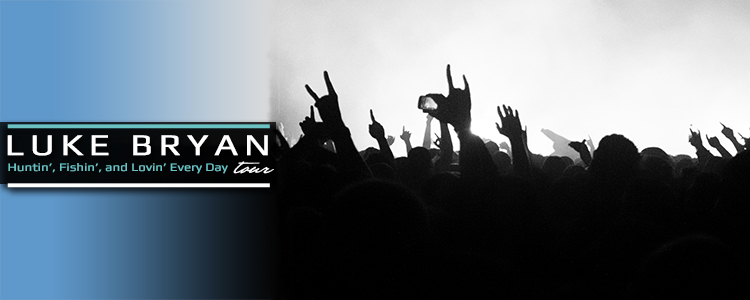 For the past few years, one man from Tennessee is dominating the country music charts by coming out with hits like, I Don't Want This Night To End, I See You and Strip it Down among others. He is none other than Luke Bryan. Coming to prominence during the late 2000, Bryan with the help of his infectious sound got the world buzzing and it was not long before he shot to international stardom. Now, he has millions of followers in every corner of the world who all can't get enough of his music.
Every fan of Luke Bryan knows that he loves to perform live which is why he announced, 'Huntin', Fishin' and Lovin' Every Day Tour' while he was still on his, 'Kill the Lights Tour.' In his classic fashion, the Billboard Music Award winning country singer released a video filled with hilarious jokes in which he revealed the opening acts that will be joining him on his next road trip. One of them is, Brett Eldredge who came under the spotlight when he released his album, 'Illinois' which entered the Top Country Albums at the first spot. Together, Bryan and Eldredge will be starting, 'Huntin', Fishin' and Lovin' Every Day Tour' in May and here are four reasons why you can't afford to miss it.
1) The best of country music
If you love listening to country music then you should definitely look forward to Luke Bryan's upcoming tour. He will be performing all of his latest anthems live including his chart topping single, Fast whose video has crossed three million views on YouTube. Bryan will also be setting the stage on fire by singing all of his greatest hits which brought him phenomenal success in the industry.
Emerging in the music business in 2007 with his debut record, 'I'll Stay Me,' Luke Bryan immediately caught the attention of the masses. The album was certified gold in the United States. Since then, the Tennessee native has gone on to record many popular albums and have become one of the most sought after names in the country music community because of which his shows tend to sell out pretty fast. So, if country music is your thing then you can't miss out on this tour.
2) Luke Bryan's energetic live performance
Another reason why you should not miss out on Luke Bryan's 'Huntin', Fishin' and Lovin' Every Day Tour' is because of his ability of putting on energetic live performances. He knows how to work a crowd and will surely leave you mesmerized when he takes the stage. After all, he has won an Academy of Country Music Award and Country Music Association Award in the category of, 'Entertainer of the Year' for a reason. On top of that, different publications have also praised him for his live performances including Got Country which stated, "Whether you like his music or not, there is no denying, Luke is an entertainer with a capital "E" and gave 200% for the hour and a half he was on stage."
Luke Bryan is a global superstar who has gone on to play music in almost every part of the world including in cities like, Nashville, Columbia, Holmdel, Central Point and Detroit Lakes. He has also performed a sold out show in Madison Square Garden. This time, the famed country singer will be rocking his fans in more than forty cities so are you ready to feel the power of his music live?
3) He will be playing new songs
The best thing about Luke Bryan is that he always surprises his fans by playing new music which is why you have to attend his, 'Huntin', Fishin, and Lovin' Every Day Tour.'  Though he will be playing the live version of his hits like, Move, Home Alone Tonight and Kick the Dust Up from his fifth studio album, 'Kill the Lights' which came out in 2015, Bryan will also be trying new songs while on the road.
Apart from treating the fans of country music with his fresh sounds, Luke Bryan will also be playing his collection of number one hits that he has put out over the course of ten years. He is expected to perform tunes from his highly successful studio efforts like, 'Taligates & Tanlines' and 'Crash My Party' both of which climbed to the first spot on the Top Country Albums and recorded double platinum level sales in the United States.
4) Brett Eldredge along with other opening acts will be rocking the stage
One more reason why you have to look forward to Luke Bryan's next tour is because the Country Music Association Award winner for, 'New Artist of the Year,' Brett Eldredge will be performing live. The 31 year old Illinoisan is the fastest rising country star who made his presence felt in the industry in 2013. His first album, 'Bring You Back' got things started for him and it was awarded gold certification by the RIAA. Since then, he has been on a roll and was selected as one of 30 artists to perform on, 'Forever Country.' Brett has also released a new song earlier this year called, Somethin' I'm Good At which serves as the lead single for his upcoming fourth studio record.
Brett Eldredge is not the only one who will be playing music with Luke Bryan as names like, Granger Smith, Lauren Alaina, Seth Ennis, Adam Craig and Craig Campbell will all be sharing the stage live. You can expect these stars to entertain you with their unforgettable performances.
With so many talented artists appearing in one massive tour, it is no surprise that people are rushing to get their concert tickets. Will you be there when Luke Bryan and his friends takes the stage live in your city next?