Why live events make memorable experiences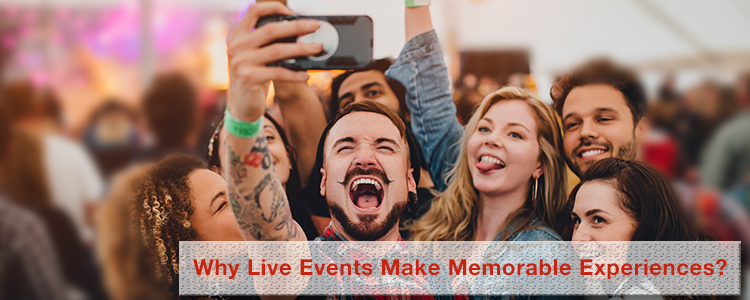 "The best and most beautiful things in the world cannot be seen or even touched. They must be felt with the heart." – Helen Adams Keller.
And that what is felt by the heart does not fade away but stays with you like a beautiful memory. Memories are the most precious possessions. They can neither be bought nor kept in a closet. They occupy a special place in our hearts and minds and are there to be cherished for life.
It is not hard to understand why live events make memorable experiences. Watching a TV show, a movie or even a favorite celebrity on screen does not give the same joy and thrill as what you get to experience in a live event. There is a difference between listening to your favorite song on stereo and watching the singer perform it live before you. You may enjoy a football game sitting in your lounge with friends but those who have experienced the fun of watching it live have a different story to tell. You may have seen several interviews of an artist online but meeting him or her in person makes you go weak in your knees.
Live events have an altogether different impact on the individual. It is this impact that makes for a memory. One does not only remember an event but the entire feel of the whole experience.
The Role of Music
Have you ever thought why music is such an important part of our lives. Think about it. When you listen to an old song it is not just the song lyrics or tune that you recall. The track brings with itself several kinds of emotions and memories associated with it.
Music has healing powers. There is no denying this fact. This is why it is being used as a therapy to treat people suffering from memory loss and traumatic brain injury. Live music is likely to have a stronger impact on the mind and has a longer staying power in memory.  Experiencing those collective emotions when you are in a concert becomes more powerful. The event lets you connect with others who are enjoying the same feeling of euphoria and joy that you are. Would you have felt the same or would it have been a memorable experience had you been listening to the same song at home alone?
The Lasting Effect of Live Events
Let's admit it. No matter how interesting an event you may have heard of from your friends or family members, it does not surmount to the effect of witnessing it for yourself. Do you know why? It is because live events are where memories are made. People look back in time at these events with great nostalgia. It does not matter if that event took place twenty years ago. The memory of an experience keeps the feelings associated with it intact. Upon recalling, it seems as if one is reliving the moment all over again.
Connecting You to the Joy of Live Events
This website is not just a place where you will get to know about different upcoming concerts and other shows. Of course it is all that too. But there is a need to look at things in a wider perspective. In this day and age where many people are of the view that anything can be said and done or even experienced via technology, people are overlooking the importance and missing out on the joy of 'living' the moment. Engrossed in a movie or attached to your cell phones for stretches of time, many people do not realize that it is far more essential to experience the world live than on their television sets or cell phones. Technology has its advantages but it should not and must not occupy or dictate your being and keep you from going out there, experiencing life and making richer memories.
Your Most Memorable Moment
You must have responded to questions about your most memorable moment at various occasions.  It would be difficult to find one that you have not experienced for yourself. According to a study, live events were rated as among the most fulfilling ways of enriching lives. People who engage with music by attending live events such as concerts tend to have a higher level of subjective well-being than those who don't. A recent survey showed that the most memorable moments of a large majority of people were that of the first music concert they had attended. Surprisingly some people even ranked it above the moment when they got their first job.
The point is that it's not just music, it's the entire experience and the ambience that a concert brings, which enables the attendees to enjoy each beat, each word and every little detail of the event to the fullest.
The Desire to Share Experiences
In recent years the trend of sharing memories of live events on social media has increased a great deal. People are not only interested in seeing the events themselves, they're also interested in watching the live recordings when they miss them. Snaps of live performances by Madonna or those showing a fully-packed concert show are often shared on Facebook, Instagram and even Twitter by those attending the events. People have a desire to share their experiences with others and social media has made this quite convenient. Besides, those who see these snaps on social media are also happy to catch a glimpse of an event filled with such zeal and energy. People are far more likely to be interested in watching how closely you watched Madonna's live performance than in knowing what you had for lunch on the weekend.
Live Life and Make Memories
To cut it short, live events make for memorable experiences where we go with an intention to enjoy some special moments. Yes it's as simple as that. There is perhaps nothing as enjoyable and memorable as cheering out with thousands of fans when your favorite player scores a goal or singing along to your favorite song with your favorite singer in an arena packed with diehard music fans. These are moments that make for incredible memories- memories that we cherish for the rest of our lives.