Why Hamilton Is the Best Musical Ever?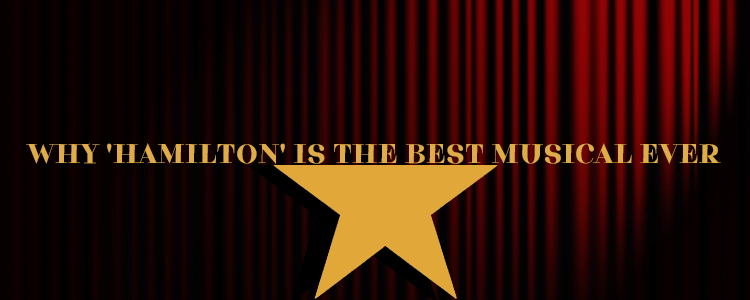 With McArthur fellowship holder Lin-Manuel Miranda at the helm, Hamilton has risen to become one of the best and most-loved musicals ever. Miranda is the writer, composer and star of the wonderful play that has had everyone from Madonna to Barack Obama hooked.
Hamilton is about the life of one of America's founding fathers. According to Miranda, Hamilton is the story of America then told by America now.
In all honesty, it is doing a lot more than just telling a story. Its ever-growing popularity is likely to usher in a new era of Broadway productions. The play is a real trendsetter and arguably the best of the bunch in the history of Broadway. That's a big statement for sure, but there are plenty of reasons behind Hamilton being held in such high regard.
An Incredibly Diverse Cast
Consider this. A story about America's white male founding fathers told by a cast in which almost everyone is from a minority. Seems impossible perhaps to even think about but Lin-Manuel Miranda manages to pull this off with aplomb.
The actual story does not contain much diversity but Miranda has put together a cast of performers that epitomizes the changing dynamics of American society today. In his own words, Miranda wanted the play to reflect the America of today with so many cultures, races and ethnicities.
Apart from that, the play also puts the spotlight on immigrants and their important role in building America, the greatest example of which is Alexander Hamilton himself. He and Marquis de Lafayette are fully eulogized and the fact that they were both immigrants is reinforced throughout the musical. This is one of the most refreshing aspects of this whole production.
Hamilton Rap
Hamilton is primarily a hip-hop and rap musical which is sort of true. But that does not mean that other genres aren't included. In fact, the rap and hip-hop portion is not even close to being the dominant genre. A number of musical styles and categories like pop, R&B, jazz, blues and even a bit of ragtime are all part of Hamilton.
The rap and hip-hop theme of the musical is one of its biggest strengths though. The experiment could have failed but Lin-Manuel Miranda's formula has not only worked but has also become a major hit with many calling it the greatest Broadway production of all time.
The play's music certainly makes it different from other productions. Such a wide range of musical genres and styles along with the influence of rap and hip-hop is something that has never been seen before on a Broadway stage. It has certainly opened the door for many more modern productions to come.
A Different Take On History
The narration may only be partially accurate but it is likely to renew a lot of people's interest in the history of the United States. More importantly, it teaches valuable lessons with regards to history and makes people understand that this isn't just useless information that won't ever affect them.
Children and adults alike are singing and admiring Alexander Hamilton. The play has offered a fresh perspective to people and given them a chance to take a closer look at the lives of the great men who laid the foundations of this beloved country.
The Characters
Like the many different music genres that are part of Hamilton, there is also a lot of variety in the characters that make up the play. You will surely come to love at least a few of them if not all. What really stands out about all the characters of the musical is that each and every one of them has been developed and is important to the plot of the story.
All the characters are quite interesting because everyone amongst them makes questionable decisions at some point in the play. This adds an element of humanization to the personas of the founding fathers and goes to prove that no one in this world is always good or always bad.
The Message
One of the reasons many consider Hamilton to be the best musical ever is the messages that it carries. Loyalty is one of the major themes of the play and is touched upon quite extensively over the course of the story. Forgiveness is another significant part of the play.
One of the most important takeaways from Hamilton is that history has eyes on all of us and no one can control who is going to live, who is going to die and who will be telling our story. Miranda has expertly used the history of the country's founding fathers and has more or less asked us a very important question: "What will you make of your time?"
Hamilton vs. Wicked
For a little perspective, let's do a little Hamilton vs Wicked comparison.
"Wicked" is undoubtedly one of the finest Broadway productions ever. It is one of only three Broadway musicals in history to gross over $1 billion and is still running to packed houses after more than 15 years of its release.
On the other hand, Hamilton is an ingenious play featuring a combination of multiple music genres with rap and hip-hop being the major ones. It has pretty much set a new standard for future productions to aspire to with its fresh narrative and unique approach.
Such has been the interest in Hamilton tickets that they seem to be sold out forever. It has rekindled the interest of so many people and made Broadway "cool" again. In time, it may go on to cross the $1 billion mark in earnings. We certainly would not bet against it.
The unmatched popularity and interest of the public in Hamilton has certainly cemented its status as one of the best of all time. It is likely to lead Broadway productions into a new direction and the future of musical theater seems to be quite exciting with unlimited possibilities for great hits and top-notch entertainment. In that regard, Hamilton has been a fantastic trendsetter and is certainly worthy of laying claim to the title of the "best musical in history."