What to Expect from Trans-Siberian Orchestra 2019 Tour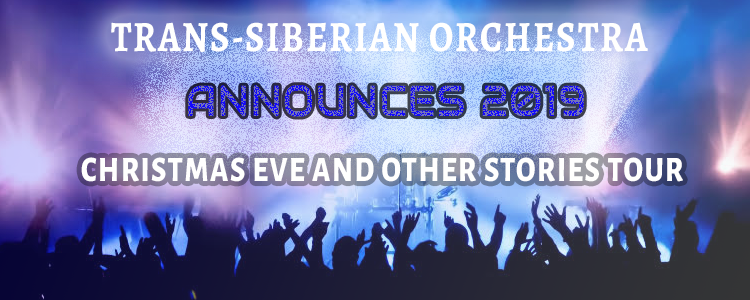 As summer starts to wind down, the legendary Trans-Siberia Orchestra are preparing to return to arenas with their annual holiday tradition which will showcase their unique music and signature special effects. Trans-Siberian Orchestra's 'The All-New Christmas Eve and Other Stories' tour will launch on November 13th, with shows covering cities around North America throughout November and December.
In a previous incarnation, the iconic rockers were struggling to establish their music careers and trying to get their songs on the radio. Today, they have become a holiday rock opera machine. Each holiday season, people wait for them to bring rock and roll back to Christmas. This year is no different as fans have been eagerly waiting for them to announce their tour dates. Now that the dates have been revealed, the fans simply cannot contain their excitement!
As always, there will be two touring iterations, which will enable the band to have concerts in various cities on the same day. The trek will include 109 performances and will make 66 stops by the time the tour wraps up. Due to the band's massive following, the tickets are expected to sell-out soon, hence it is advised to book your tickets as soon as they go up on sale.
To get you all hyped up about their tour, we have made a list of everything you can expect to happen at the TSO tour this year.
Here's what to expect from Trans-Siberian Orchestra 2019 Tour:
1) A Unique Head Banging Experience
If you have attended a TSO concert before, you would know that it is nothing like a traditional rock show. Instead, it is a unique head banging experience. TSO has been touring for around twenty years, and their musicianship and expertise in delivering astounding rock concerts will be evident during this winter tour. The band will rock arenas with its unorthodox and unique modern music that blends orchestral, classical and symphonic elements with metal and rock sound. You will hear many songs built on popular classics such as Orff's "Carmina Burana," Mozart's "Figaro Overture," Beethoven's "5th," and "The Nutcracker."
The fans can expect a thrilling and energetic show, which will showcase all time Christmas favorites like "Wizards of Winter," "Christmas Cannon," and "Good King Joy." The concert will feature amped up Christmas carols, booming percussion, rib-cage rattling guitars, soaring strings, and flashy heavy metal guitar solos. So get ready to watch this epic rock and roll extravaganza.
2) A Spectacle to Behold
You better be ready for a sensory overload because this is what you can expect from Trans-Siberian Orchestra's concerts. The band is famous for its revolutionary live shows, and this show will be no exception. The multi-sensory extravaganza will have the look and feel of an opera and a Broadway musical. With a huge arsenal of pyrotechnics and colorful laser lights at the band's disposal, they are bound to take the entire experience up a notch this year. The immersive concert will be filled with aesthetically pleasing set designs, fireworks, stage smoke, strobe lighting, sparks, shooting flames, huge video screens, glitter confetti and what not. So gear up for the hottest and the loudest show of this holiday season as TSO returns to the road.
3) Interesting Story-telling
Storytelling is at the heart of the TSO concert experience. The band will utilize the operatic singing and orchestration of Broadway to narrate stories about the magic of the Christmas season. They will sing songs about lost love, redemption, renewed hope, and the comfort of reuniting with one's family. For instance, the rock album, Christmas Eve and Other Stories, revolved around the theme that honesty and generosity can have a farfetched impact. The audience is bound to be moved by their powerful messages, fantastic narratives, emotive lyrics, and beautiful story-telling.
4) Packed Crowds at the Arenas
The band has sold more than 10 million tickets since 1996 and has played to over 15 million fans since 1999. Many of them have returned to watch the live show. The Wall Street Journal reported in 2014, that repeat customers comprised of 50% of the audience. The intense music related nostalgia is what drives fans to relive the same concert experience over and over again. Based on TSO's fan following and commercial appeal, you can expect hundreds and thousands of audience members at the arenas. So don't get too overwhelmed if you attend their concert for the first time!
The band has not only maintained its original fan base, but has modified their music to appeal to the fans from the modern era as well. That is why you can see people from all age brackets attending their concerts. According to Pollstar, in 2014, the band made more ticket revenue than Lady Gaga, Elton John, Motley Crue and the Zac Brown Band, despite the fact that they played only two months during the holiday season while all other musicians have multiple shows stretched all over the year.
The stats show that TSO has earned massive touring success in the past. Back in 2017, TSO's winter tour sold around 1 million tickets. Their tour made it to the 15th spot on the 'Top 200 North American Tours' charts and to the 11th spot on the Worldwide Ticket Sales 'Top 100 Tours' charts. Pollstar Magazine has also ranked TSO at the 15th position among the Top 200 Year End Top Tours in North America. The band is ready to continue its legacy as their latest tour dates have been revealed.
TSO's highly anticipated annual winter shows have cemented the band's place as a must attend holiday tradition. The progressive rock music outfit is on a mission to make sure that their shows are more awe inspiring, better and bigger every year – so attend their upcoming concerts to see for yourself!
This will be a night to remember. You will be impressed by the Pink Floyd inspired concert lighting, Dickens inspired storytelling, Broadway like theatrics, stunning narration, exceptional singing and retina blitzing lasers. If this seems interesting enough, then make sure you buy the concert tickets before they are sold.