UFC 232: A Look Ahead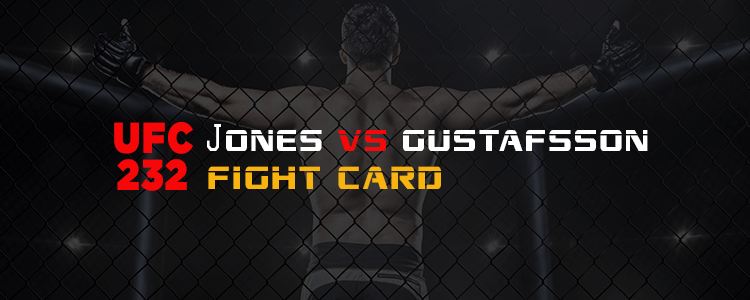 UFC 232 is now just a few days away and the hype surrounding the event has gone into overdrive. What was already a very highly publicized event has now taken a new turn. The UFC has announced that the fight which was originally scheduled to take place at the T-Mobile Arena has now been moved to The Forum in Inglewood. This is a somewhat unprecedented move but it had to be done.
Jon Jones is to take on Alexander Gustafsson in one of the main events but the former's test results came out a little abnormal and the Nevada commission has refused to let the fight go ahead as a result of that. With just a few days left in the event, it was decided to re-locate it to California.
The main card for the event is packed with some pulsating events and fans have plenty to look forward to. Here is what you can expect from the event if you are an MMA fan:
Chad Mendes Vs Alexander Volkanovski (Featherweight)
This is a very interesting fight indeed. Chad Mendes is one of the most experienced fighters in the company whereas Alexander Volkanovski is one of the most promising names in the featherweight division. This is a big moment for Volkanovski because if he wins this fight then the Australian can look forward to climbing the ladder quickly. This could be the moment that goes on to make his career.
It certainly will not be easy though because he will be up against Chad Mendes who has been part of the Ultimate Fighting Championship since the year 2010. During this time, he has beaten some of the best in the business.
Prediction: Mendes is at the fifth spot on the rankings whereas Volkanovski is at number ten. The Australian however last lost a professional fight all the way back in May of 2013. Will Mendes make his experience count or will Volkanovski' raw energy make him victorious? We are going for Volkanovski winning this fight. Yes, a lot of people might not agree with this but this is how we see this fight going.
llir Latifi Vs Corey Anderson (Light Heavyweight)
There are a lot of promising fighters in UFC' Light Heavyweight division and two of them collide at UFC 232. The fight between llir Latifi and Corey Anderson can go either way and this is why fans are excited to see what happens.
Latifi, the Swede is coming into the fight with a 14-5-0 record and with a big win to his name. He beat Ovince St. Preux in February. Inside the Octagon, he record stands at 7-3 and has won his last two fights.
Anderson comes into the fight on the back of his own two win winning streak. He is 11-4-0 at the moment and in his last fight beat Glover Teixeira in May. He has an 8-4 record in the UFC and now goes up against Latifi in what promises to be a really fascinating fight.
Prediction: This fight is too close to call but we are still going to take a crack at it. We think Latifi will win.
Carlos Condit Vs Michael Chiesa (Welterweight)
This is a fight between two fighters who both need a win after a series of recent losses. Carlos Condit used to be a big attraction but his stock has fallen somewhat as of late. He comes into the fight with three straight losses against his name and that is not ideal preparation heading into a big fight whichever way you look at it.
The good thing for Condit is that Michael Chiesa is not destroying the competition either. He lost two fights in the lightweight division and also missed weights. He is heading into a new weight class to take on a fighter who is not only experienced but also extremely talented, recent record aside.
Prediction: This is an ideal fight for both in a way. Condit can snap his losing streak whereas Chiesa can stamp his authority straight away in a new division. We think Condit will have a bit too much for Chiesa to take and will come out victorious in this fight.
Cris Cyborg Vs Amanda Nunes (Women's Featherweight)
Now we come to one of the two main events at UFC 232 and what a fight is in store for fans. This is the first ever Champion versus Champion match in the history of UFC' women's division and it promises to be a classic.
Cyborg is the current UFC Women's Featherweight Champion and she is a fighting machine. She is called by many as the baddest woman in the UFC and it is easy to see why. Cyborg has obliterated the competition till now and is bigger in size than Nunes too. She has amassed a 20-1 record with that one blip on the career coming back in 2005.
Amanda Nunes is the reigning UFC Women's Bantamweight Champion and can become the first woman in UFC history to hold two titles in two different weight divisions. She is 16-4 heading into the fight and has won each of her last seven fights.
Prediction: Cyborg has the size advantage and is familiar with the weight class. Nunes will be moving up a division to take on arguably the strongest woman in MMA right now. Will she be able to win? We don't think so. Cyborg will come out on top.
Jon Jones Vs Alexander Gustafsson (Light Heavyweight)
With the location being moved to The Forum because of the abnormality with Jon Jones test, the hype surrounding the bout has gone up a notch or two. This will be the second meeting between these two prized fighters too. The first time they met was five years ago at UFC 165 with Jones coming out on top. If that fight was any indication, then fans are in for a pulsating bout this time around too.
To make matters even more interesting, there is a more than enough chance that whoever wins this fight gets to be crowned the next UFC Light Heavyweight Champion because the current champion Daniel Cormier might be stripped of his title.
Jones has been in and out of UFC because of various issues in the past but he is a formidable fighter. His last UFC loss came in 2009. On the other hand, Gustafsson is at the second spot on the UFC rankings and that shows his stature as an MMA fighter. He has won his last two bouts and will be confident of beating Jones this time around.
Prediction: Jon Jones, according to us, will win this fight too. Yes, he has some issues to deal with outside of the Octagon but he is more versatile as a fighter and will be too hot to handle for his Swedish opponent at UFC 232.