Top 10 Unbreakable Records In The NBA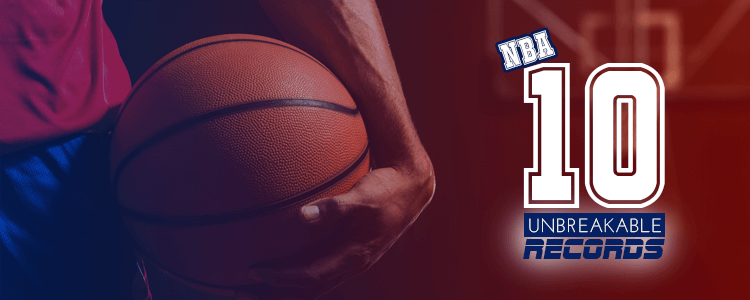 We covered 10 unbreakable NHL records last time around and now we shift our focus to NBA. The league has been home to the greatest basketball players in history. Players like Wilt Chamberlain, Michael Jordan, LeBron James and Stephen Curry have raised NBA's profile globally to make it a sports phenomenon.
A lot of players and their teams have over the years established records that will forever go down in NBA folklore. Some of those records do not look like being surpassed ever. Here we look at ten of those in no particular order.
Golden State Warriors- Most Wins in a Single Season
When Michael Jordan led Chicago Bulls went 72-10 in the 1995-1996 regular season, many thought that the bar had been raised to a level that will not be touched ever. They were wrong. Enter the Golden State Warriors of 2015-2016 who went 73-9 and broke the record. That record breaking regular season however did not materialize in an NBA Championship as they lost to the Cavaliers in the NBA Finals. The Bulls, in their 72-10 campaign did end up winning the Championship.
Boston Celtics-Most Consecutive NBA Championships
The Boston Celtics are like the New York Yankees of the NBA. They have won more NBA Championships than any other side in history, with 17 wins to their name. That haul also includes a run of 8 straight NBA titles. Let that sink in for a moment. The first one was one in 1959 with the last of those eight coming their way in 1966. To put in perspective how impressive this run was; no other NBA side has won more than three NBA titles in a row. It is safe to say, this record will not be broken ever.
Phil Jackson-Most NBA Championships by a Coach
Phil Jackson is regarded by many as the greatest coach in NBA history and that argument has good merit too. He has won more NBA Championships (11) than any other coach in the league's history. His first six came with the Chicago Bulls between 1991 and 1998. He then went on to win five more NBA titles with the Los Angeles Lakers between 2000 and 2010. Red Auerbach is second on the list with 9 wins and his coaching career ended in 1966.
Los Angeles Lakers-Longest Winning Streak
The Los Angeles Lakers have plenty of records to their name and they are among the most formidable sides in NBA history. There is one record they set in the 1971-1972 campaign that will never be broken. That season they went on a rampage and won 33 games on the bounce. The run began on November 5, 1971 and ended on January 9, 1972. The Golden State Warriors are second on the list. They have won 28 games straight twice in 2014-2015 and 2015-2016 seasons.
A.C. Green- Most Consecutive Games Played
A.C. Green was nicknamed "Iron Man" for a reason. He holds the record for playing the most number of games consecutively. He played an incredible 1,192 games without missing a single one. This number amounts to around 14.5 seasons without missing even one game.
John Stockton-Most Career Assists
John Stockton is without a doubt one of the greatest point guards in NBA history. His stint with Utah Jazz made him an all-time great. Stockton retired with 15,806 career assists to his name, the most by any player in history. Jason Kidd is the second name on that list with 12,091 assists to his credit. It does not look like any player is ever going to even come close to matching John Stockton' numbers, let alone beat them.
Bill Russell-Most NBA Championships as a Player
Bill Russell played for the Boston Celtics between 1956 and 1969. For anyone who is not good at maths, this is thirteen seasons. During that time, he was part of arguably the greatest basketball team in NBA history and Russell was instrumental in all the success that the Celtics side enjoyed. He won an incredible 11 NBA Championships in his career which is the most by any player in NBA history. He is widely regarded as the first ever African American superstar in NBA. He did more to raise the profile of the sport than any other star during that time span.
Wilt Chamberlain-Most Career Rebounds
From this point onwards, this list becomes a Wilt Chamberlain show. Chamberlain is a two time NBA Champion but even that does not do justice to his brilliance on the court. He holds multiple records even to this day and one of those is for the most career rebounds. Chamberlain retired with 23,924 rebounds which is 22.9 rebounds per game. Bill Russell has the second most career rebounds in NBA history with 21,620.
Wilt Chamberlain-Most Points Per Game in a Single Season
Its Wilt Chamberlain again! In the season of 1961-1962, the legend recorded a season scoring average of 50.4 points per game. No player has even come anywhere close to hitting these numbers in NBA history. This is one benchmark that will stay there forever.
Wilt Chamberlain-Most Points in a Single Game
Wilt Chamberlain was a record setting machine. His insatiable desire to raise the bar was almost contagious. Among other records, he also holds the record for scoring more points than any other player in the league's history. On March 2, 1962, Chamberlain lined up for the Philadelphia Warriors to take on the New York Knicks and scored 100 points in the game. The Warriors won 169-147 and Chamberlain had another record to his name that will never ever be surpassed. Kobe Bryant scored 81 points on January 22, 2006 for the Lakers against the Raptors and that puts him on the second spot for the most points scored in one game.
So, what do you think about these records? Let us hear you!