Why it took 15 years for Leonard Cohen's 'Hallelujah' to get famous?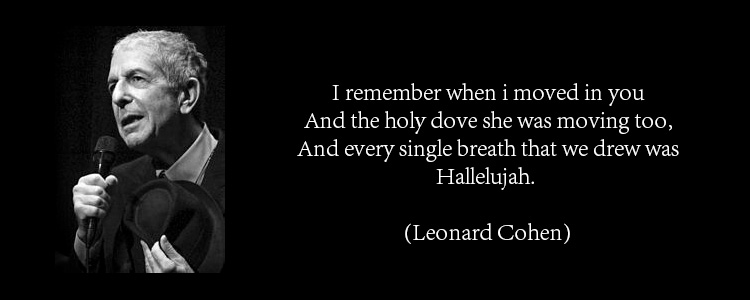 On November 7, 2016, the legendary Canadian singer and songwriter Leonard Cohen passed away at the age of 82. Probably best known for his timeless and beautiful hit single 'Hallelujah, Cohen is being mourned by many all over the world.
Hallelujah is a song which has the power to move anyone who listens to it. Numerous artists from Rufus Wainwright, Jeff Buckley, and Willie Nelson have done covers of this monumental hit. It's also a song you're likely to hear on singing competitions. All in all, the appeal of Hallelujah is impossible to deny.
What many people don't know however is that the song went through quite an unusual journey to fame and also took over 15 years to become the hit that it now is.
Let's take a look at how 'Hallelujah' became the icon of a song it is.
A Song in Progress
Alan Light, a prolific writer on music, has many insights to share on Leonard Cohen and is also the author of the book 'The Holy or the Broken', a book which he wrote about Cohen.
Hallelujah proved to be a very difficult song for Cohen to bring to life. Cohen was a perfectionist and when it came to writing his music, he was meticulous and keen to get it just write. According to Light, Cohen spent years "banging his head on the floor, because he couldn't solve this song".
After many failed attempts at getting the song he wanted, Cohen would finally finish writing Hallelujah after five whole years. And that isn't even the half of it. After writing the song, it took him numerous more years to even find an audience for the song.
The Search for an Audience
In 1984, Cohen was trying to get his album Various Positions released which featured the song Hallelujah. CBS Records passed on the opportunity to release the album, and instead, an independent label named Passport Records released the album instead. Hallelujah was released as the lead single but failed to make any real impact.
At this point, Cohen decided that he needed to make some changes to the song.
A Changing Song
Leonard Cohen knew the song had potential and was committed to working hard on getting the song just right. He decided to make some changes to the song, making the original darker and longer. He also added more lyrics to the first few verses and therefore changed up the intro to the single.
A turning point for Hallelujah came when a musician by the name of John Cale heard Leonard Cohen perform the new version of the song in New York. Moved by what he had heard, Cale decided that he wanted to record his own version of the song and add a few new lyrics.
In Alan Light's opinion, it was Cale who truly cracked the code of Hallelujah. In fact, Cale's version of the song is more like the Hallelujah most fans know today. His version of Cohen's single appeared on a tribute album to Leonard Cohen which he released in 1991 called I'm Your Fan.
Constant Evolution
Hallelujah is a unique song in that it went through a number of modifications and moved numerous artists to record their own versions of the song. One of those early musicians was Jeff Buckley.
Buckley came by the song while he was house-sitting a woman in Brooklyn, who had purchased a copy of I'm Your Fan. He heard the song while listening to the album at her apartment and decided that he too wanted to create his own version of the song. Buckley then performed his take on Hallelujah at a bar in the East Village.
Incidentally, there was an executive from Columbia Records at the bar the night that Buckley performed. When he heard Buckley's take to the stage, he signed him onto the record label and insisted that Buckley record his version of Hallelujah on his first studio album.
The Hallelujah We Know and Love
The version of Hallelujah that became famous worldwide is actually a cover version of the original single. To be exact, it's a Jeff Buckley cover song of a John Cale cover song of the original Leonard Cohen song.
Hallelujah really burst out into the spotlight in 1997, after Jeff Buckley's mysterious disappearance. It seems like the tragedy surrounding the artist helped to propel Hallelujah into the spotlight.
It therefore took Hallelujah 15 years to become the hit single it now is.