This is why John Mayer defends Justin Bieber for canceling tour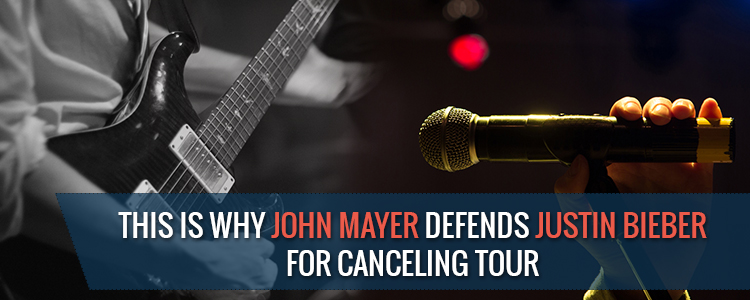 July 24th 2017 has proven a rather happening day in the world of pop music as Justin Bieber cancelled his "Purpose Tour" due to 'unforeseen reasons'. Honestly, after being on tour since the mid of 2016, one can't really blame him. However, fans are (understandably) upset as many were excited for the fourteen shows that have now been cancelled.
Members of the music business are also weighing in on the matter, with some skeptical of Bieber's abrupt decision. Others, however, have shown full support of the artist's decision.  Dead and Company's John Mayer has also shown his support for Bieber on twitter. Meanwhile, twenty-three year old told TMZ that he is simply "resting and getting some relaxation".
This is why John Mayer defends Justin Bieber for cancelling his tour
Mayer said this in defense of Bieber; "There are a hundred different reasons you can give for canceling a tour. I think the one that goes 'I think I'm done' is the bravest and healthiest one." He also argues that too many artists have been lost due to the high pressure exerted upon music stars, indicating Chris Cornell and Chester Bennington's recent suicides. While having stated that he does not know Bieber's particular circumstances, he admires the transparency and maturity the young artist is exhibiting.
Mayer further elaborated to Vanity Fair that at thirty 39 of age, he is finally able to assess his own limits. However, someone as young as Bieber is still testing the waters and should be cut some slack. Perhaps the reason why Bieber's tender age is overlooked is that he has been in the limelight for almost a decade now. However, during this time-period, the singer has gone from thirteen years of age to twenty three and made his fair share of adolescent mistakes. From throwing temper tantrums on stage to attacking paparazzi, Bieber has often been center-stage for the wrong reasons. The singer has taken to social media on countless occasions over this tour as well to apologize to fans or concert-goers for his erratic behavior. Is there more to the singer's mood than meets the eye?
The possibilities are endless
Early in 2016, a video recording of Bieber's Staples Centre L.A. show went viral in which the artist can be seen panicking and crying backstage as his team pours water over his head. Fans later reported online that this happened once the show was over: Bieber rushed offstage without thanking the audience.
Over the tour's UK course, the "Sorry" singer repeatedly requested audiences to stop screaming because he felt like he is "not being heard". He told the audience to "take a chill pill" in Birmingham, which was met by boos and Bieber walking off stage. A similar situation occurred in Manchester, where he came back and announced he would just perform the songs, and not talk or attempt to "connect" with the audience in any way. On his European leg, the singer walked off stage in a televised performance because of misbehavior by a few fans in the front row.
In all of these situations, one thing remains consistent: Bieber's growing sense of detachment. The 23 year old has been on tour alone for the past two years and is met everywhere by disconnected people. He cancelled meet and greets early on the tour, stating they left him "mentally and emotionally exhausted". The singer also discouraged fans from taking photographs with him if they met him on the street, because "that was all they seemed to do". It is understandable if all of these instances have left Bieber mentally and emotionally drained.
Other Artists' Input
Just Bieber's cancellation of his tour has instigated a string of comments from his colleagues in the music business. With Mayer being the earliest person to voice his support for the "What do you mean" singer, others such as Michael Angelakos from Passion Pit and Paris Jackson have also shown their support. The Fifth Harmony ladies have also wished Bieber "happiness and peace" after his abrupt tour postponement.
Vic Mensa has been financially affected by the ending of this tour, as he was supposed to be Bieber's opening act on many of these shows. Nevertheless, he fully supports the artist's decision. Mensa was sympathetic, saying he himself had backed away from gigs on many occasions when he felt like he "just couldn't do it".
However, there are artists who have disagreed with Bieber's decision, such as Mark McGrath, lead singer of the band Sugar Ray. In a TMZ interview, McGrath stated that while he does not know Bieber personally, and does not understand the nature of his suffering, "the show must go on" and Bieber should see what he's committed to going through. McGrath did specify, however, that this is own opinion and he by no means aims to preach or pass judgment.
Criticism also came through from Louis Tomlinson, member of former boy-band One Direction. The now-solo singer is no stranger to grueling touring schedules, and he specified that while mental stability is important, seeing a commitment to one's fans through is also an important responsibility on the artist's part. Therefore, while he is unaware of Bieber's particular predicament, showmanship for Tomlinson comes first.
Something Fishy?
While Bieber has made it apparent that he requires rest and relaxation, fans and the public in general find his statement vague. Speculation as to his actual motives for cancelling "Purpose" are being fueled by the artist's joining the "Christian Hillsong conference" in Australia, just two days after announcing the abrupt end to his tour. Sources close to the Bieber entourage state that the singer may take a two-year hiatus from music and devote this time to spiritual and religious growth. The artist has already founded and contributed to his own Church in Australia, and is an active protégée of Hillsong founder and pastor, Carl Lentz. He has stated in interviews that ending the tour had nothing to do with his religious orientation however many believe that might just be the case.