This is why Ed Sheeran is a Top Lad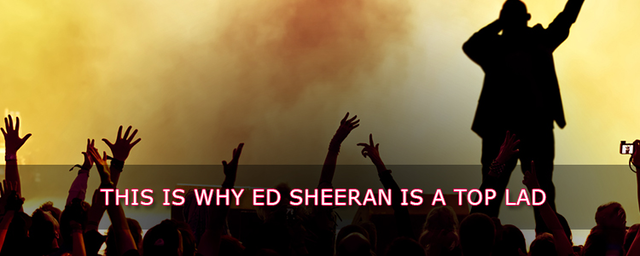 This is why Ed Sheeran is a Top Lad
Ed Sheeran does not look like your typical rock star. He doesn't wear flashy clothes, ripped jeans or styles his hair to perfection. All he wears are normal t-shirts and jeans along with run of the mill sneakers. With his general appearance, it would be easier to mistake him for a farmhand rather than one of the most popular music stars on the planet.
But Sheeran isn't just any ordinary artist. He seems to have been blessed with a unique talent to churn out songs which become instant hits. With the release of his latest album ÷ (Divide), Sheeran has dominated charts worldwide and is undoubtedly the most popular music acts in his native UK.
Let us take a look at some of the reasons for why Ed Sheeran, as he likes to say so himself, is a top lad?
Humbleness
If you have nine songs in the Top 10 singles chart at the same time, then some would forgive you for strutting around with a smug, self satisfied look on your face. But Ed Sheeran comes across as one of the most humble and down to earth guys in the industry.  When quizzed about how he felt regarding the situation, Sheeran simply had this to say, 'I never expected to have nine songs in the Top 10 ever in my life, so yeah, I don't know, something's gone wrong. But I'm definitely very, very happy about it.'
This humbleness adds a lot to the overall product that is Ed Sheeran. It proves to the fans that he is only interested in making music and is not concerned with living the high life.
Which brings us to point number two; Ed Sheeran is so relatable.
So relatable
Ed Sheeran is perhaps the only multimillionaire who people can somehow relate to. Still only 25, Sheeran is worth fifty million dollars already. Maybe it's his aversion to the flashy lifestyle or the way he celebrates his own ordinariness, Sheeran looks like someone you might meet at a bar down the road.
Even his songs are so relatable; in his recent album, he wrote a song about going back to see his old mates in the little Suffolk town in which he grew up. Songs like these are almost autobiographical, but at the same time it could be about everyone one of us, as we step into the future, with one eye looking back over our shoulders.
He's a self made man
In recent years, the pop industry has been producing stars that seem to be tailor made for the industry. Acts like One Direction and Justin Bieber were constructed from the ground up like stars, with everything from their image to their music manufactured in someone else's brain. There are very few exceptions to this rule; Adele and Ed Sheeran are two that spring to mind.
Ed Sheeran's emergence is all the more spectacular considering the fact that he hails from a small town and had no musical figure in his life to set him in the right direction. His parents are a lecturer and a jewellery designer; he learnt music on his own and achieved his goals on his own.
Sheeran started writing songs when he was still at school. By the time he was thirteen, he had already written his first album. While most of the boys at school were busy playing games and sports, Sheeran was designing album covers and burning CDs of his own material. By age seventeen he had quit school; armed with just a guitar, he set out to make his voice heard. He certainly managed to achieve that.
He had the courage to take a hiatus
Being an artist is tricky business. People tend to forget you very quickly, so it's important to keep reminding them of your presence. However, Ed Sheeran took a year long hiatus in 2016. He vanished from social media, stopped touring and just took a year to recharge his batteries.
Numerous artists take hiatuses, but usually towards the tail end of their careers, when they have a loyal established fan base. Sheeran took his at a time when he was one of the most sought after performers around. That takes some guts – another reason why Ed Sheeran is a top lad.
He's a hit making monster
We don't really have to say anything here. We could simply list down all the hit songs and number ones he's accumulated over his career. "The A Team", "Thinking Out Loud", "Castle on the Hill" and "Shape of You" are already modern day classics and have millions of downloads and hits around the world. The scary part is, the above mentioned songs have come from three different albums, so Sheeran certainly isn't a one or two hit wonder. His music is heartfelt, emotional and has a "feel" that connects with the audience.
Despite not having the greatest voice in the world, or a standout persona, Sheeran's music does the talking for him and it has elevated him into one of the premier singer/songwriters currently active.
He's appearing in Game of Thrones!
We're just adding this one for a bit of fun really. I mean Game of Thrones is undoubtedly the most popular television show on the planet and starring in it automatically makes you the coolest person around. Well recently it was announced that Ed Sheeran has been cast in a small role on the show. Details are still not clear but Sheeran's cameo in the show will certainly add more oomph to his persona.
There's no substitute for talent. Ed Sheeran is living proof of that. As the reigning king of pop music, he enjoys a very comfortable position at the top of the industry. The Grammy winning star is now setting out on the ÷ Tour, which will take him to major venues across the world. To catch him live in concert, and to listen to his greatest hits, get Ed Sheeran tickets today.