The 15 most expensive NFL players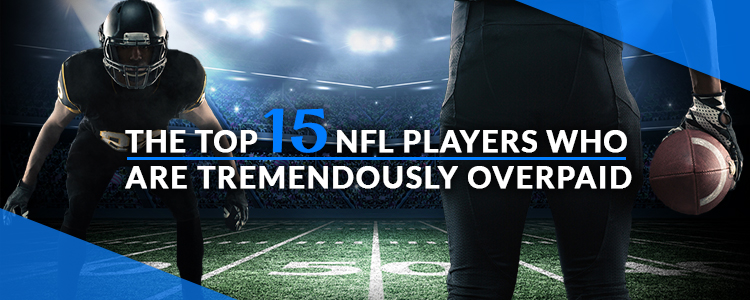 Teams in the NFL recruit and trade a player or two almost every year during the draft. The signed contract and negotiated salary differs for each player in the team. It is no secret that players in the NFL get paid huge amounts of money. This amount can be different for each player within a team, based on the potential the team has placed on this player's future performance. It is based on predictions, a possible expected return. When the player's performance is actually played out, it has the capacity to fall short off, or rise above the expectations. Their drafting salary may, therefore, not be deemed worthy of them as the season progresses. While some are considered underpaid based on their eventual value to the team, there are other who seem unworthy of the large sums of money being thrown at them. These are The top 15 players in NFL who are tremendously overpaid.
1. Tavin Austin, Los Angeles Rams
Austin's contract is a true mystery in the NFL world. He was signed for four years at $42 million in 2016. Yet, the Rams seem unable to determine how to use them best. During the year before this contract was finalized, Austin had caught a total of fifty two passes from 473 yards and five TDs. Even so, a staggering ninety eight percent of the Rams' spending this year on wide receivers is being given to Robert Woods and Tavin Austen.
2. QB Carson Palmer, Arizona Cardinals
At 38 years of age, Palmer is fulfilling the stereotype of the aging, decaying athlete. Since joining the Cardinals, his worst season was during 2013 and his performance has consistently deteriorated till 2016. It's difficult to understand why the Cardinals are signing him a $15.5 million contract with a salary cap of $24.4 million. It happens to be the second highest salary cap, second only to Joe Flacco's.
3. Mike Glennon, Chicago Bears
Glennon's contract with the Bears is a classic example of teams overpaying for quarterbacks. Glennon at present is receiving the same amount of money as New England's Tom Brady. Glennon's performance, nevertheless, has not been up to mark, with a failure to out-run Josh McCown from Tampa.
4. Brock Osweiler, Cleveland Browns
2016 saw Osweiler backing Peyton Manning with a significant contract offer from Houston Texans. Since then, he has completed only sixty one percent of his passes with 10 TDs. Nevertheless, he has a four-year deal with Cleveland worth $72 million. This one is a true head-scratcher since Houston traded him with Cleveland for a minimal trade-off after being benched for a whole season.
5. DL Marcell Dareus, Buffalo Bills
Immediately after signing a six-year contract for $108 million, Dareus has been suspended twice. This is as far from a promising contribution as possible, and yet the Bills are still adamant on over-paying Dareus. Since his brilliant debut performance during 2011-2014, Dareus has been invisible on the Bills' defense. He needs to step up his performance in all seriousness, if he is to prove himself worthy of what the Bills are paying him.
6. Clay Matthews, Green Bay Packers
Matthews is showing signs of a deteriorating performance. At one point he was an excellent passer, however now age is affecting the quality of his game. Nevertheless, his salary cap is still $15.07 million which makes him the third highest paid outside linebacker after Von Miller and Justin Houston. Matthews is clearly on the wrong side of his thirties and it is time the Packers decide what to do with him.
7. Sean Smith, Oakland Raiders
Smith's roses are not coming up at all, with delivering a questionable performance in his season opening match with Oakland and getting benched in the third quarter. Alarmingly, this is right after he has signed a four-year contract with the Raiders, for a sky-rocketing total of $40 million. Despite a poor performance, Smith is ranked as the 18th cornerback of the previous season, which is an absolutely overrated ranking.
8. DT Star Lotulelei, Carolina Panthers
Lotulelei has received a raise this season, taking his annual salary up to $6.78 million. This seems far from right given to his drastically declining performance last season. The raise, however is because of a clause in his contract with the Panthers, rather than based off of performance. Here's hoping he rises to the occasion this season and the raise actually pays off.
9. Dez Bryant, Dallas Cowboys
Bryant is by no means a bad player. In fact, he's a fairly good receiver. However, he has made it to this list because he is not good enough for what the Cowboys are paying him. Despite a base salary of $13 million, cap hit of $17 million and his five-year long $70 million contract, Bryant has missed ten games in two seasons. In comparison, Cole Beasley has collected more passes than Bryant and is paid $3.5 million.
10. Malik Jackson, Jacksonville Jaguars
Since his signing at $1.55 million, Jackson has given a moderate performance at best. With five tackles for a loss and 6.5 sacks, Jackson has played well but is nowhere near deserving of his signing salary. For perspective, it is surprising that Jackson earns more than JJ Watts who is arguably the best defensive linesman in the whole of NFL. Jackson on the other hand ranks 12th in interior defenders.
11. Ryan Tannehill, Miami Dolphins
While the Dolphins took every measure to make sure they drafted Tannerhill last year, people at large are unable to understand what it is about Tannehill that makes him such a catch. Playing Quarterback, Tannehill has deliberately been overpaid so he would join the Dolphins, to the extent that he and Aaron Rodgers were paid equally last season (which is bizarre).
12. Kirk Cousins, Washington Redskins
Cousins has clearly become one of the Redskins' self-wrought errors as of last year. It is not that he is a bad player per say, however, Cousins is by no means worth the $23.9 million salary cap dealt to him by the Redskins. The statistical success he has received is owed more to factors around him than his own capabilities. Essentially, the sense made from this is that Washington is keeping Cousins around given to a contract detail, rather than his performance.
13. Stephon Gilmore, New England Patriots
Gilmore's signing has been a different direction for the Patriots who are known for not giving large signing figures to new players. Gilmore however, receives a base salary of $4.5 million and, at the same time, isn't in the top tier of players in the team. This is puzzling, and tension is expected amongst the Patriots if Gilmore does not give an extraordinary performance. With his salary cap at $8.57 million, Gilmore had better go above and beyond his expected potential, otherwise this could a shorter partnership than anticipated.
14. Sebastian Janikowski, Oakland Raiders
As of 2017, Janikowski is the highest-paid of NFL's kickers. "The Polish Cannon", as he is nicknamed in the NFL  finished 18th in last season's NFL rankings and yet is paid a staggering $4.05 million base salary. He is the only kicker making more than $4 million in the NFL, which does not make sense.
15. Joe Flacco, Baltimore Ravens
Flacco was signed to the Ravens in 2013. Since then, the NFL has seen one above-average season from the quarterback.  For four years, Flacco has been receiving a salary of $24.55 million which is way more than what other quarterbacks are making. While he has had some tension with the front office, Flacco has failed to perform or contribute to the bettering of other players around him. Being one of the highest paid quarterback in the League, this season is going to be crucial for his mainstay in the Ravens.
There are many more such players who have not made it to the list, however, and it seems like NFL teams constantly make these errors of over-paying individuals who simply cannot provide a worthy return. A certain lack of accountability seems to be taking place amongst the teams which may require intervention from the NFL to sort out.
It is strange how top tier players in the NFL are not earning nearly as much as the ones listed above. While it is true that contracts are built on expected results, there needs to be a standardized mechanism which ensures that every player receives a pay that they deserve. If not, then grievances amongst teammates can occur which lead to disruptions or a lowering of morale amongst teammates.
Do you agree with this list of The top 15 players in NFL who are tremendously overpaid? Or is there a perspective on this list you disagree with? If you think we've missed out on anyone, feel free to post your thoughts.