The Dallas Cowboys Will Win Super Bowl LI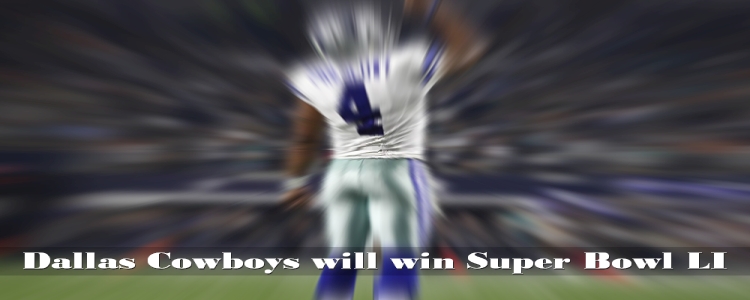 Fans are emotional and emotions can cloud one's judgment. So if a Cowboys' fan like me were to tell you that we're going to win this Super Bowl, I'm being emotional, right? Wrong!
Every football fan has heard of the adage that defense wins championships. Once this age old truth becomes the yardstick with which you can predict the next Vince Lombardi Trophy winner, it doesn't take much to know that the Dallas Cowboys will win Super Bowl LI.
A defense that consistently out performs itself
Going by the numbers, the Cowboys are 10th in yards allowed and fourth in points allowed per game. This is the reflection of a disciplined defense. And there's no harm in naming names here – Morris Claiborne, Barry Church and Byron Jones are the backbone of the Cowboys' defense. And not to be forgotten, all the other cornerbacks are pretty exceptional too.
Of course there are naysayers out there, calling it a fluke. There may be some truth to Cowboys' defense not been tested enough, but now that the playoffs are here, everyone will see that the Cowboys' defense is as good on the field as it is on the papers.
Cowboys' offense is Just as good as their defense
Am I surprising anyone by saying that we won't win if we don't score. That is why, I need to talk about the Cowboys' offensive line. How good are they? Well there's already a talk of them being potential candidate to win the 2016 NFL MVP award as a group. Even if it doesn't happen, I'm sure ZackMartin, Tyron Smith and Travis Fredrick will earn All-Pro honors. Thanks to these guys, Dak Prescott and Ezekiel Elliott, both rookies, have done so well.
Speaking of Ezekiel Elliott…
Is Zeke the best running back in the NFL or what? He certainly has the numbers on his side – he leads in rushing yards. He might even break the league's record in rookie rushing record. Yeehaw! I think he's the hottest to win the 2016 NFL MVP award. Zeke will be unstoppable at the NRG.
The best tribute to Zeke came from Joe Soriano: "Elliott may not be as much of a powerhouse as Todd Gurley or David Johnson, but there's something ingenious about the way he understands the game. He has DeMarco Murray's industry, Adrian Peterson's savvy, and Steven Jackson's toughness."
Dak Prescott is pure gold
I don't want to break anyone's heart but Tony Romo is history, we're a Prescott team now. The rookie from Mississippi State has had no problems settling in Dallas, he's already a leader and is treated as such by his team. He has the X factor, which no other QB in the league has, at least not of his level. Would I be pushing it if I were to say that we've struck a gold mine with Prescott?
Cowboys don't turn over the ball
Anyone who has watched even one game of football in their life would tell you that turning the ball over is a sure recipe to disaster. If you want to win games by running the ball, then turnovers must be avoided and that is what the Cowboys have done this season. Just look at Prescott, he's a rookie and yet he has quickly become the least mistake-prone quarterback in the league. The Cowboys' turnover differential was +5 during the regular season
Speaking of Cowboys' offensive Line…
Has anyone noticed, we keep possession of the ball for the longest time? Now what does this do? It keeps our defense fresh by keeping them off the field for the longest periods of time and wears down the opponent's defense. The more you keep hold of the ball, the more chances there are for you to score. On the other hand, if the opponents cannot score without the ball either now can they?
The Twelfth Player – The NRG Stadium is as good as the AT&T Stadium
It's simple – we're closer to Houston than any other AFC team (minus the Texans of course). A little less than 4 hour drive. The same time it would take you to fly to Houston from Boston (The Patriots are most likely to show up from AFC you now). Who will have more fans at the NRG? You do the math. And yes fans numbers matter.
I will be one of many "Twelfth" players at the NRG. I've already got my tickets (don't ask me the price – Can't put a price on love). Hope to see you in Houston on Feb 5.