The 5 Most Sought After Concert Tickets for the Month of May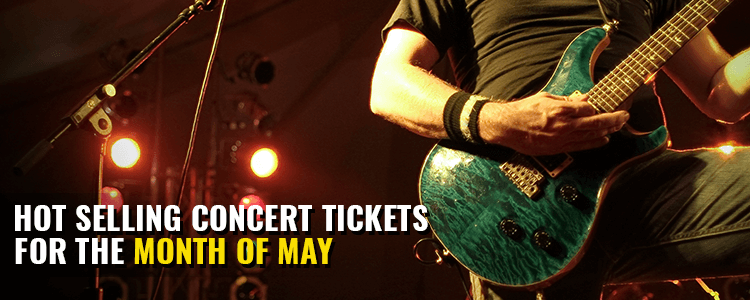 What an amazing year it is turning out to be for music fans. We were treated to new music from established stars, saw some promising young talents make headlines and also got the chance to enjoy some memorable live performances. The fun is not over yet! In fact, with the summer now in full swing, more names have announced to hit the road. Concert tickets are being bought by fans left right and center to watch their favorite stars live.
There are however some stars whose tours are making more noise than the rest right now. If you want to know who they are, then have a look at the 5 most sought after concert tickets for the month of May.
Pink: Beautiful Trauma World Tour
Pink is a sensational pop superstar who is famous for her raspy voice and unique onstage presence. She knows how to get the crowd going which is why it's no surprise that most of her shows sell out quickly.
Starting her journey in 2000, Pink became the talk of the town when her debut studio effort, 'Can't Take Me Home' reached the markets. It brought her great commercial success in the United States where it sold over two million copies. From that point onwards, her popularity has soared with every album she has come out with.
On October 13, 2017, Pink released her latest and seventh studio album, 'Beautiful Trauma.' It made Billboard's list of the, '50 Best Albums of 2017' and became a chart-topping success in several countries. The record was also supported by four singles out of which, What About Us was certified platinum by the RIAA.
In order to support, 'Beautiful Trauma,' Pink announced her seventh headlining tour, 'Beautiful Trauma World Tour' which started on March 1, 2018 with a show at the Talking Stick Resort Arena in Phoenix. She will be playing plenty of shows all across the country as part of the road trip that is making headlines everywhere. Pink will come to Los Angeles, Inglewood, Tampa, Jacksonville, Columbia, Charlotte, Nashville, San Jose and New York among other major cities as part of the Beautiful Trauma World Tour. Tickets for the tour have been in high demand all through May.
BTS – Bangtan Boys: Love Yourself World Tour
If there is one group that uses the power of social media effectively to connect with fans its BTS, also known as the Bangtan Boys. The recipient of Billboard Music Award for, 'Top Social Artist,' this band has legions of fans across the world. They are now coming to perform in North America as part of their, 'Love Yourself World Tour.'
BTS are scheduled to start their latest tour, which is in support of their third Korean language studio album, 'Love Yourself: Tear,' in September. They plan to perform the first three gigs at the Staples Center in Los Angeles. After that, they will go on to play shows in cities like, Oakland, Forth Worth, Hamilton and Newark. The band has promised to reveal more dates soon so, watch this space.
Fleetwood Mac: North American Tour
Known for hits like, Go Your Own Way, Dreams and Everywhere, Fleetwood Mac have made an everlasting impact on pop rock. The Rock and Roll Hall of Fame inductees have recently gone through some lineup changes. They parted ways with their longtime lead guitarist, Lindsey Buckingham and replaced him with Neil Finn and the former member of Tom Petty and the Heartbreakers, Mike Campbell. At the same time, the group announced a lengthy North American tour.
Fleetwood Mac are scheduled to start the trek in October. They plan to perform their first gig at the BOK Center in Tulsa. After that, the band will fly to Chicago to perform the second concert at the United Center. From there, they will go on to play gigs in cities like, Detroit, Pittsburgh, Toronto, Columbus, Vancouver, Sacramento, Las Vegas, Denver and Nashville. The road trip is scheduled to end in April of 2019.
Phil Collins: Not Dead Yet Tour
Phil Collins is a soft rock legend who wrote, recorded and released multiple number-one hits during the '80s. One of those songs was In the Air Tonight which made him a huge star in the United States and sold more than three million copies in the country.
Starting his career with the band, Genesis, Phil Collins became the frontman when Peter Gabriel left in 1975. He took the band to unprecedented heights by coming out with a series of hit records. At the same time, Collins began focusing on his solo career. As a solo act, he has churned out eight studio albums.
In 2011, Collins broke the news of his retirement but five years later, he surprised the world by announcing his comeback. He is now currently on his, 'Not Dead Yet Tour' which began on June 2, 2017 in Europe. In 2018, Phil Collins revealed that he will be coming to perform in North America for the first time in twelve years. His North American leg of the trek is scheduled to begin in October.
Taylor Swift: Taylor Swift's Reputation Stadium Tour
You are guaranteed a quality time whenever you attend a Taylor Swift concert. Blessed with a soulful voice, Swift is known for delivering amazing performances and that has earned her so many dedicated fans all around the globe.
Taylor Swift has tasted phenomenal success over the years. She has inspired many aspiring female singers and Time placed her in its list of the, '100 Most Influential People in the World' twice. In addition, she was included by Forbes' in its list of the, '100 Most Powerful Women.'
During her career, Taylor Swift has released six studio albums including her latest, 'Reputation' which came out on November 10, 2017. She is now on 'Taylor Swift's Reputation Stadium Tour' to support that record. She kicked off the trek on May 8, 2018 with a show at the University of Phoenix Stadium in Glendale. Her next two shows were held at the Levi's Stadium in Santa Clara on May 11 & 12, 2018. Swift is yet to perform gigs in cities like, Pasadena, Seattle, Denver and Chicago. Just like the above mentioned four tours, tickets for Swift's tour have been in very high demand in May.