The 5 Most Sought After Concert Tickets for the Month of June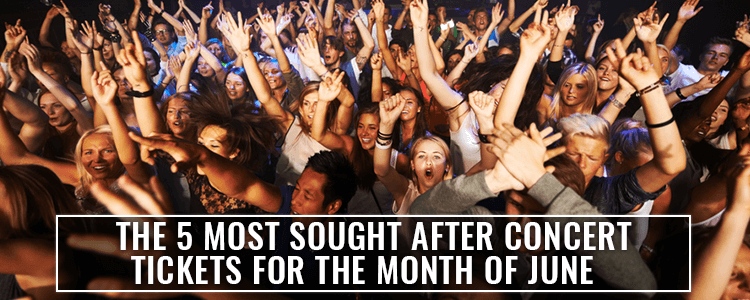 Nothing beats the experience of watching your favorite artists perform live. Luckily for you, this year will see many popular stars including, Ed Sheeran, Taylor Swift, Paramore and Luke Bryan on the road. But wait! These are not the only names scheduled to hit the road. Concert tickets for different artists are selling out fast, some more than others. If you want to know who is selling the most tickets right now, here is a list of the 5 most sought after concert tickets for the month of June.
Bruno Mars – 24K Magic World Tour
Thanks to his strong work ethic, smooth vocals and charming personality, Bruno Mars has become one of R&B music's biggest assets. In less than a decade, he has accomplished a lot. Mars has accumulated record sales of more than one hundred and thirty million worldwide and also made the Time's list of the, '100 Most Influential People in the World.'
For Bruno Mars, it all started when he dropped his two most commercially successful songs, Just the Way You Are and Grenade in 2010. Both turned out to be number-one hits in multiple countries and were certified nine and seven times platinum in the United States respectively. These two tracks were included in his debut studio record, 'Doo-Wops & Hooligans' which came out in 2010 and earned him five Grammy nominations. After a couple of years, he topped the Billboard 200 for the first time with the release of his sophomore record, 'Unorthodox Jukebox.'
In 2016, Bruno Mars dropped his latest studio effort, '24K Magic.' It went double platinum in the U.S. and was included in Rolling Stone's list of the, 'Best Pop Albums of 2016.' He later set out on, '24K Magic World Tour' in March of 2017 to support that record. So far, he has performed several gigs throughout Europe, North America, Latin America, Oceania and Asia. Mars is now all set to return to North America and will be playing concerts at different venues including, The Park Theater, the Pepsi Center and the Air Canada Centre. His tour is scheduled to end in November of 2018.
Journey &Def Leppard: North American Tour
Who would have thought Journey and Def Leppard will be heading out on a co-headlining tour again? Well, the stars have finally aligned and rock fans are excited to watch these two rock juggernauts share the stage again. Jonathan Cain of Journey said this about performing with the Rock and Roll Hall of Fame inductees, Def Leppard:
"We are all anxious to share our sound with the world again and, along with Def Leppard, we are part of a world-class package to the rock stage that spans decades and represents a multi-platinum legacy."
Journey and Def Leppard kicked off their joint tour on May 21, 2018 with a show at the XL Center in Hartford. From there, the group trekked through multiple cities like, Albany, Hershey, Buffalo, Cleveland, Cincinnati, Toronto, Pittsburgh, Raleigh, Knoxville and Philadelphia. They are yet to play shows at some of the most popular venues around including, the Verizon Arena, the BOK Center, the Intrust Bank Arena, the Wells Fargo Arena and the Toyota Center to name a few. They plan to conclude the tour in October by performing two consecutive gigs at The Forum in Inglewood.
Imagine Dragons – Evolve World Tour
In 2012, Imagine Dragons released the single, Radioactive. That song changed everything for this quartet. The single put them on the map as it not only went multi-platinum in eight countries but also marked their first track to record diamond level sales in the U.S. and Canada.
Radioactive served as the second single of their debut studio effort, 'Night Visions.' The record showcased their insane talents and featured many hard hitting tracks including, It's Time, Demons and On Top of the World. It also won them a Billboard Music Award for, 'Top Rock Album.' The guys followed that up by putting out their chart-topping record, 'Smoke + Mirrors' which sold more than a million copies in the U.S.
On June 23, 2017, Imagine Dragons churned out their third and latest studio LP, 'Evolve.' It got them their fourth Grammy Award nomination and their first in the category of, 'Best Pop Vocal Album.' In September of the same year, the group set out on a promotional tour for this record. They are now currently on the North American leg of their tour and are scheduled to perform live in multiple cities across the continent including, Clarkston, Omaha, Bristow, Nashville, Inglewood, Tulsa, Austin and Tampa. The band plans to wrap up the road trip in October of 2018.
Shinedown & Godsmack – North American Tour
What will it be like to watch Shinedown & Godsmack perform together? You can now get the answer to that question live as these two famous bands are going on a joint tour. Yes, that's right! These two acts have announced to head out on a road trip together in order to support their latest albums, 'Attention Attention' and 'When Legends Rise.' The lead singer of Shinedown, Brent Smith had this to say about their upcoming tour with Godsmack.
"We are creating a show for the fans that is powerful, passionate, and sonically inspiring. The audience has given us a platform to be ourselves, and create something spectacular. That being said SHINEDOWN and GODSMACK will most certainly NOT let them down."
Shinedown and Godsmack have announced to perform the first show of their tour at the DTE Energy Music Theatre in Clarkston on July 22, 2018. From there, they will go on to play music in cities like, Noblesville, Denver, Las Vegas, Albuquerque, Dallas, Atlanta, Bristow, Hartford and Syracuse. The bands have not unveiled when they will be ending the trek but have hinted to remain on the road till the fall of 2019. So, there is a chance they might reveal more tour dates soon.
Chicago & REO Speedwagon–North American Tour
This summer is about to get even hotter because Chicago and REO Speedwagon have announced a joint North American tour.  These legendary bands have been rocking the airwaves since the '60s and have come out with many multi-platinum studio records. Plus, they have sold over one hundred and forty million albums combined.
The tour will have them travelling to thirty plus cities and the trek is scheduled to begin with a show at the Concord Pavilion in June of 2018. The bands plan to end the trek in August after performing gigs in cities like, Denver, Chicago, Dallas, Houston and Nashville. Considering how rare it is for two rock bands of this stature to go on a tour together, it's no surprise to see that the demand for their tour tickets is soaring right now.