The 5 Most Sought After Concert Tickets For The Month Of July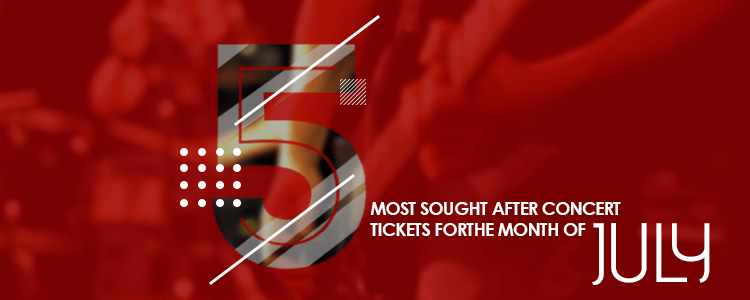 With the summer season at its peak, we want to keep the party going for all the music lovers out there. You would be delighted to know that some of the most popular musicians are currently on tour, including Shania Twain, Taylor Swift, Pink, Tim McGraw and Faith Hill, Harry Styles, Foo Fighters, Kesha and Macklemore and Kenny Chesney, among many others! Here is a list for the 5 most sought after concert tickets for the month of July – don't miss out on these!
Foo Fighters – The Concrete & Gold Tour
Tour Dates: June 16, 2017 – October 18, 2018
Led by Dave Grohl, former member of the grunge rock band, Nirvana, Foo Fighters has established itself as one of the most beloved rock bands in the US. The group first made it big with its debut record, Foo Fighters in 1995 and has since been on the charts quite frequently. Today, with nine albums, twelve Grammys and nearly a hundred award nominations to their name, the group is out on tour again.
The 'Concrete and Gold Tour' is the ninth concert tour by Foo Fighters, and is in support of their latest album, Concrete and Gold (2017). The tour kicked off in June 2017 and will go on till October, 2018 after multiple added dates. The rock band will be playing all across the world as part of this tour – which has 8 legs and 113 total performances so far! Get your tickets and you can expect to enjoy plenty of material from this amazing Greg Kurstin-produced album, and of course, many of the band's previous albums as well!
Tim McGraw and Faith Hill
Tour Dates: April 7, 2017 – July 24, 2018
Country music's favorite couple is back on the road – and now entering the final leg of their 'Soul2Soul: The World Tour." The tour has already been a massive success, with Messina Touring Group reporting more than $2 million in sales from just the first three cities in the 2018 run. The duo will be playing in 27 cities across the US and Canada and will eventually wrap things up in late July 2018. The opening 2017 leg of the tour grossed nearly $80 million, with almost one million in ticket sales. With such success, can you really afford to miss the remaining few performances?
The Grammy-winning superstars Tim McGraw and Faith Hill have been married for more than 20 years now – making them the true 'couple goals' in the world of country music. The two have won several Academy of Country Music Awards and have released numerous chart-toppers, such as their single "It's Your Love". They are a joint act not to be missed this summer!
Kenny Chesney
Tour Dates: April 21, 2018 – August 24, 2018
Kenny Chesney is another big name in the country music industry out on the road at this time, playing shows for his "Trip Around the Sun" stadium tour. He will be travelling through several major stadiums across the country with stops including in Atlanta, Chicago, Seattle and Nashville, among other places. Talking about this tour, Chesney was super-excited, just like we all are!
"There's nothing like a stadium full of people coming together to remind you what life's about. The energy, the moments, the fun. I personally can't wait to see this show hit the road."
This tour kicked off in April at the Raymond James Stadium in Tampa, Florida. Other guests featured on this tour include Thomas Rhett, Brandon Lay and Old Dominion. Kenny Chesney will wrap up the run at the Gillette Stadium outside Boston, MA in August, 2018. Get your tickets soon, as not many concert shows remain!
Kenny Chesney is one of the finest country musicians around, who first went gold with his album, Me and You in 1996 and platinum with I Will Stand in 1997. Since his early days in the industry, he has released 20 albums and has produced more than 40 Top 10 singles on the Hot Country Songs and Country Airplay charts.
With multiple awards and millions in sales to his name, Chesney is one artist you do not want to miss live!
Shania Twain
Tour Dates: May 3, 2018 – August 4, 2018
With over a 100 million in sales, Shania Twain was at the peak of her career when she lost her voice. "I never thought I'd sing again," she said of her troubled 15 years after she had laryngoplasty to reconstruct her vocal box. The two-inch long horizontal scar on her neck was a testament to her struggles.
But the pop-country singer bounced back and is currently on her "Now Tour", which kicked off early in May 2018. This is the fourth tour by the Canadian recording artist and is in support of her fifth studio album, Now (2017). The tour has four legs, with 46 shows in North America.
Shania Twain's success can be attributed to her ability to blend country and pop music together. Her major breakthrough came after the release of her 1997 album, Come On Over. The album contained multiple chart-toppers including "That Don't Impress Me" and "Man! I Feel Like A Woman" and became the stepping stone for the highly successful career in store for the singer.
Kesha and Macklemore
Tour Dates: June 6, 2018 – August 5, 2018
The infectious voice behind party anthems such as "Tik Tok" and "Right Round", Kesha has had quite a ride in the music industry. After getting breakthrough stardom in her early years, Kesha went through a long legal battle with the famed music producer, Dr. Luke, over allegations of sexual assault. She recently got to perform her hit single "Praying", at the 2018 Grammy's, leaving everyone stunned and nearly in tears. Supporting the #MeToo movement with her performance, Kesha was joined on stage by other artists including Cyndi Lauper and Camila Cabello.
And as the singer continues to turn her life around in 2018, she has hit the road for a brand new tour. "The Adventures of Kesha and Macklemore" co-headlining tour kicked off in June 2018 and will feature songs from the latest works of the singer and the rapper, Macklemore. The tour will play 20 shows in North America, and you would not want to miss this!