The 5 Most Sought After Concert Tickets for the Month of July 2019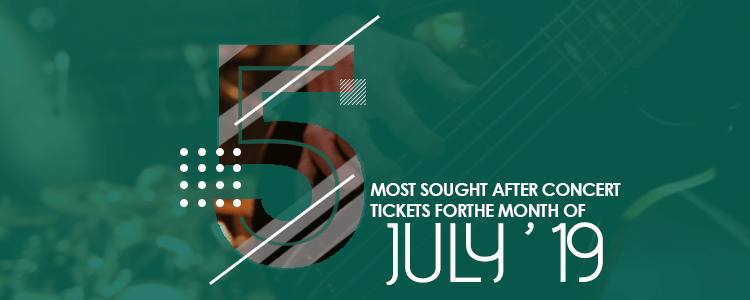 This summer season is about to get hotter as some of the biggest stars of the industry have announced tours. So, if you want to know who will be hitting the road during the month, these are the 5 most sought after concert tickets for the month of July.
Florida Georgia Line, Dan and Shay & Morgan Wallen – Can't Say I Ain't Country Tour
Tour Dates: March 14, 2019 – September 28, 2019
Florida Georgia Line have established themselves as one of country music's most dominant duos by dropping chart-topping singles like, Round Here, Stay, Dirt and Confession. The group made its debut with the release of its first single, Cruise and it became their only song to go diamond in the States. It also landed at the top spot on the Hot Country Song where it stayed for 24 weeks. The track also served as the lead single of their debut studio album, 'Here's to the Good Times' which came out in 2012. The record achieved double platinum status in the U.S. and was supported by four chart-topping singles.
Since the release of 'Here's to the Good Times,' FGL have gone on to churn out three studio efforts more including their latest, 'Can't Say I Ain't Country.' The album marked their fourth effort to peak at the first spot on the Top Country Albums chart and received a 61/100 rating from Metacritic. To support this album, the guys announced a promotional tour which kicked off with a show at the Cairns Conventional Center in Australia on March 14, 2019. From there, they went on to play shows in different cities across North America including, Rogers, Dallas, South Haven and Camden. The guys are yet to visit cities like, Syracuse, Hershey, Clarkston, Tampa and Atlanta before they end the tour in Irvine on September 28, 2019  .
Florida Georgia Line won't be touring alone as they will be joined by supporting acts, Dan + Shay and Morgan Wallen who are big country stars in their own right.
Jason Aldean & Kane Brown – Ride All Night Long Tour
Tour Dates: May 3, 2019 – September 28, 2019
Jason Aldean is the ultimate star of country music. He found stardom during the early years of his career thanks to releases like, 'Jason Aldean' and 'Relentless' both of which went platinum in the U.S. He continued to roll in the right direction and achieved even more success when he issued three consecutive multi-platinum studio records. Out of those albums, 'My Kinda Party' turned out to be his highest-selling effort to date as it went quadruple platinum in the States.
From 2012 to 2018, Jason Aldean came out with four studio albums, 'Night Train,' 'Old Boots, New Dirt,' 'They Don't Know' and 'Rearview Town' all of which debuted at the top of the Billboard 200. His last record from the list went gold in the U.S. and featured a collaborative single with Miranda Lambert titled, Drowns the Whiskey.
Jason Aldean is now currently touring with Kane Brown in support of, 'Rearview Town.' Called, 'Ride All Night Long Tour,' he began the trek by playing double shows at the Mohegan Sun Arena in Uncasville on May 3 & 4, 2019. From there, he went on to play concerts in cities like, Grand Rapids, Toledo, Columbia and Milwaukee. Aldean is yet to take his tour to Denver, Cleveland, Cincinnati, Indianapolis and Wantagh. He is scheduled to end the road trip in Detroit on September 28, 2019.
Billie Eilish – When We All Fall Asleep Tour
Tour Dates: April 13, 2019 – November 17, 2019
Billie Eilish came to the public's attention when she released her hit song, Ocean Eyes. The song became her breakthrough success as it not only sold over a million copies in the U.S. but was also praised by the critics. Due to the song's viral success, Eilish decided to release her extended play, 'Don't Smile at Me' which came out in 2017. The EP was certified gold by the RIAA and featured eight songs including, Bellyache which became a number-one hit in Sweden.
On March 29, 2019, Billie Eilish released her debut studio album, 'When We Fall Asleep, Where Do We Go?' The album turned out to be a global hit, topping the charts in fifteen countries and earning platinum certification in Australia, Canada, Denmark and New Zealand. She is now currently promoting this record as part of her first headlining tour which started with a show at the Empire Polo Club in Indio on April 13, 2019. Eilish then went on to perform gigs in cities like, San Francisco, Portland, Vancouver, Morrison, Minneapolis and Chicago. She is yet to hit the stage in Foxborough, Prague, Leeds, Austin, Dallas and Houston before the Bad Guy singer ends the road trip in Mexico City on November 17, 2019.
Slayer – Final World Tour
Tour Dates: May 10, 2018 – November 30, 2019
Slayer debuted in the early '80s and have put out twelve studio albums so far. They reached their prime during the mid '80s when they went on to release four consecutive gold studio albums, 'Reign in Blood,' 'South of Heaven,' 'Seasons in the Abyss' and 'Divine Intervention.' They released their most recent record, 'Repentless' in 2015 which received a 70/100 rating from Metacritic.
The band has now announced to call it a career and is currently on the 'Final World Tour.' The trek began with a show at the Valley View Casino Center in San Diego on May 10, 2018. From there, the guys have gone on to trek through different North American, European and Oceania cities. The quartet is not done yet as it still has shows to perform in cities like, Manchester, Raleigh, Salem, Hershey, New York City and Columbus. Slayer will be ending the road trip on November 30, 2019 by playing two consecutive gigs in Inglewood on November 29 & 30, 2019.
Wiz Khalifa & French Montana – The Decent Exposure Tour
Tour Dates: July 9, 2019 – August 15, 2019
Wiz Khalifa achieved mainstream stardom when he released his single, Black and Yellow in 2010. It topped the Billboard Hot 100 and was certified sextuple platinum by the RIAA. Since the release of this song, he has gone on to produce five studio albums including, 'Rolling Papers 2' which came out on July 13, 2018. The record went gold in the U.S. and reached the second spot on the Billboard 200.
Now the ten-time Grammy nominated MC is currently on 'The Decent Exposure Tour' with French Montana who is behind platinum hits like, Pop That, Lockjaw, No Shopping and No Stylist. The duo started the trek by performing a show at the Cellairis Amphitheatre at Lakewood in Atlanta on July 9, 2019. The guys then went on to trek through cities like, Charlotte, Holmdel, Hartford, Boston and Wantagh. The tour is not over yet as Khalifa and Montana still have multiple shows to perform at some of the biggest venues around including, the Budweiser Stage, the Riverbend Music Center, the DTE Energy Music Center and the Fillmore Auditorium. They will be ending the tour in Boise on August 15, 2019.