The 10 Best Power Couples in Music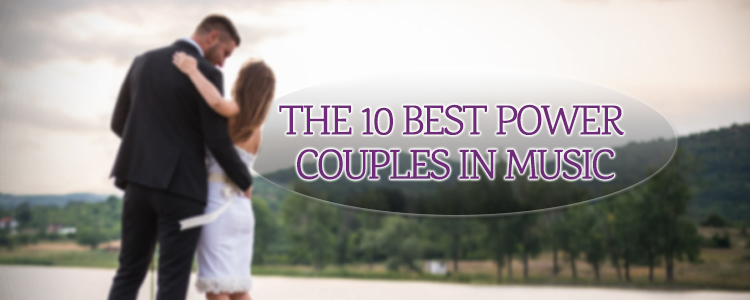 Music embodies, defines and reflects love better than perhaps any other art form. In almost every music album you'll find a song based on romance or heartbreak. A record is incomplete without a love song.
Listening to the heartfelt vocals and the touching lyrics transports listeners into a world of colors and good vibes. The emotion of love is universal and hence everyone can relate to these songs on a personal level. This is what makes them all the more special.
But how often have you seen a music couple that is as much in love with each other as the audience is with their music.
Let us tell you about ten such power couples in music who have not only made their music a success but their relationship too.
Tina Weymouth & Chris Frantz of Talking Heads
Not many are aware of the fact that Tina Weymouth and Chris Frantz were a couple even before the formation of Talking Heads. The two studied at the Rhode Island School of Design along with David Byrne, during the 1970s. David and Frantz formed a band called, The Artistics, in 1973 and Weymouth who at that point in time was dating Frantz used to drive them to and from gigs.
Later on with the dissolution of the band, the three friends moved to New York and tried to form a new band. They could not find a bassist and after much persuasion by her boyfriend Weymouth took up the role and Talking Heads came into being. The band gave their first live performance in summer of 1975.
In 1981 the couple (Frantz and Weymouth) founded the band Tom Tom Club while continuing to perform as members of Talking Heads. The two have been together for over four decades and are still going strong.
 Tom Waits & Kathleen Brennan
Tom Waits and Kathleen Brennan met on the sets of Paradise Alley in 1978 while they were pursuing their respective acting careers. They got along really well and soon got married. While speaking about Kathleen in an interview, Waits said "I didn't just marry a beautiful woman, I married a record collection." Although the two have worked on numerous soundtracks together, Waits says that a lot of his songwriting is credited to Kathleen as she was the inspiration for it. For example the song 'Johnsburg, Illinois' is a song that's named after Kathleen's birth place.
The couple has three children together and the oldest one plays drums in the Wait's band. It's a happy go lucky family, who loves music and translates their positive energy into their music and live performances.
Dean Wareham & Britta Phillips of Luna and Galaxie 500
Dean Wareham formed the band Galaxie 500, in 1987, with two of his fellow Harvard University graduates. In April of 1991, he left the band and founded the indie pop band Luna with Justin Harwood and Stanley Demeski. Later on Demeski's place on the drums was taken up by Lee Wall, while Britta Phillips of Bellflower joined as the bassist for Luna following Justin Harwood's departure from the band in 2000. Phillips and Wareham were immensely attracted towards each other. They began dating almost immediately following Phillips' inclusion in the band. The two eventually tied the knot in 2007.
The duo continued to release a number of collaborative records under the moniker Dean & Britta. Besides they have also contributed film scores including the one that featured in the movie The Squid and the Whale (2005).
Satomi Matsuzaki & Greg Saunier of Deerhoof
Deerhoof is among the most talented music acts in the last twenty years. They've not only been successful as a group but each member individually has been able to carve his or her niche in the music industry.
Deerhoof was formed back in the year 1995, when Rob Fisk and Greg Saunier met their future vocalist Satomi Matsuzaki. Saunier was mesmerized by Matsuzaki's bubbly and pleasant personality and two soon began dating.
Although a specific date of their wedding day hasn't been made public, but they are in fact married and happily so. In fact, the steady nature of their relationship has many people under the impression that they are best friends.
This relationship is a reminder of the fact that public display of affection is not needed in a relationship; what's important is friendship and companionship.
Alan Sparhawk & Mimi Parker of Low
American indie rock group, Low was founded by Alan Sparhawk and Mimi Parker, who were later joined by bass guitarist Steve Garrington. Alan and Mimi first met each other while they were in elementary school. They became good friends and developed a crush on each other. Although they had started writing songs together at the age of thirteen, it was at 24 years old that they teamed up to form the band, Low.
The first album by Low 'I Could Live in Hope' was released in the year 1994 and since then their music and their relationship is going strong and steady. They've been married for about 25 years now and even today their music is as romantic and appealing as it was while they were in their honeymoon phase.
Beyoncé & Jay Z
This couple certainly needs no introduction. Beyonce and Kay Z are among the hottest celebrity music couples in the US. They were first noticed when they appeared on the cover of the music issue of Vanity Fair. In an interview with Vanity Fair about ten years later, Jay Z said while referring to the shoot, it was at that point in time that they were trying to start dating each other.
Then in the year 2002 the pair's first duet "03 Bonnie And Clyde' was dropped. In the song, the two are shown singing about their girlfriend and boyfriend. Both played the parts so well that it led to rumors about whether they were actually dating. What followed was the hit music video 'Crazy in Love' which further intensified the rumors. Not long after they were spotted at public places together. Today the couple is married and their careers and love lives are both thriving.'
Kathleen Hanna of Bikini Kill & Ad-Rock of Beastie Boys
At one point in time it looked as if no woman could tame a Beastie Boy. But in the year 1997, Adam Keefe Horovitz better known as Ad-Rock fell madly in love with Bikini Hill, front woman Kathleen Hanna. The two had a long courtship of ten years before they finally got hitched in 2006. Who would've thought that a guy who sang 'Girls to do the dishes/ Girls to clean up my room/ Girls to do the laundry' would end up with a feminist like Kathleen.
But they are definitely not a miss-match. In fact it almost seems like they are made for each other. They complement each other's strengths and support each other in every which way possible. From their various political commitments to environmental activism, the couple has shared everything and stuck by each other through thick and thin.
Win Butler & Régine Chassagne of Arcade Fire
The next pair on our list of the best power couples in music is Win Butler and Régine Chassagne of Arcade Fire. The band was formed by Butler and Josh Deu back in 2001 when they met in high school. Soon they got acquainted with Chassagne and asked her to join them. Although the duo had no material to show her what kind of music they made, she agreed readily. In an interview later Deu said 'Maybe there was a little spark with Win.'
Butler and Chassagne became involved during the writing recording process of the album 'Funeral.' They got married in 2003 and released the album the following year. 'Funeral' met a very positive response from the critics that year.
Bruce Springsteen & Patti Scialfa of Bruce Springsteen and the E Street Band
The love story of Bruce Springsteen and Patti Scafia goes back to the early 80s. The two had actually met at a local New Jersey bar where Patti was performing while Bruce was sipping beer. They hit it off almost instantly but fate had some other plans. Bruce ended up marrying Julianne Philips in 1985. The marriage ended in a divorce after him and Patti became close again during a tour. The two belonged to the same area and it was perhaps this very factor that drew them towards each other.
Their positive energy translates into their music and their chemistry is evident in their live performances as well.
Georgia Hubley & Ira Kaplan of Yo La Tengo
The semi-experimental indie rock band Yo La Tengo was formed by the couple Georgia Hubley and Ira Kaplan back in 1984. Following some changes in the lineup James McNew joined the band as a bassist and things started to look up for the band. Kaplan and Hubley's relationship has been smooth and steady all along their music careers. From their struggling period to their heydays, the two have supported and encouraged each other every step of the way. Their harmonious vocals are an apt reflection of their wonderful bond over twenty years of marriage.