Shows that are Likely to Dominate Broadway Box Office in 2018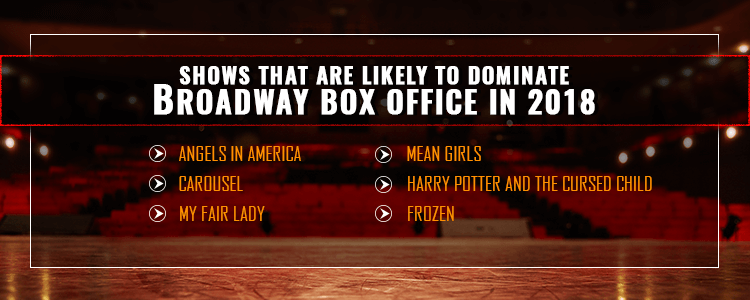 Broadway is a fiercely competitive place. New plays emerge and swipe the attention of theater enthusiasts towards them. It is rare for a production to last for more than a few months since another takes its place almost immediately. However, there are a few standouts that tend to last longer. Plays such as Les Miserables, Hamilton and even Cats have stood the test of time simply because audiences resonate with them and keep demanding more. Broadway depends on fans buying tickets, and so any play that is in demand is prolonged or brought back.
While one can never fully determine the success of an upcoming Broadway production, the buzz around soon-to-appear projects can give a fair idea of how it will be received. Often, the theatrical community brings back well-loved stories and revives signature plays because a demand is present for them. In 2018, many revivals are expected, along with Broadway premieres of international successes. Some original plays are also featuring this year, which have become highly anticipated because of their marketing teams and cast and crew members. Here's a list of shows that are likely to dominate Broadway box-office in 2018.
1. Angels in America
Tony Kushner's acclaimed drama "Angels in America" has graced the National Theatre in London in a revival production starring Andrew Garfield and Nathan Lane. The story, originally penned in 1993, depicts New Yorkers during the AIDs epidemic in Ronald Regan's conservative administration. It is heart-breaking, poignant and gripping, a story made for the political and social resonances of today.
As a result, this production is coming to Broadway in 2018 amidst potential Tony buzz. It will mark Hollywood superstar Andrew Garfield's (Spiderman, Hacksaw Ridge) Broadway debut and fans of him as well as Kushner are already looking out for tickets for this show. At present, it is announced as a limited run at the Neil Simon Theatre and previews begin on 23rd February.
2. Carousel
Perhaps one of the most successful musicals penned by Richard Rodgers and Oscar Hammerstein, Carousel envisions Ferenc Molnar's play Liliom in Maine rather than Budapest. Billy Bigelow, a carousel barker, falls in love with Julie Jordan, a millworker. They lose their jobs and attempt a robbery together to make a living for their unborn child, which lands them in a fickle. This highly entertaining musical ran through 1945 and won a DramaDesk Critics' Circle Award for Best Musical.
This play has been revived on numerous occasions over the years. It is a classic of musical theater and cherished by the community of artists as much as it is loved by audiences. Therefore, it is coming back to Broadway at the Imperial Theatre with a well-seasoned cast. Hamilton's Joshua Henry, Beautiful's Jessie Mueller and the opera singer Renee Fleming are announced as among the cast members.
3. My Fair Lady
This is another classic of not just the stage, but also film. Audrey Hepburn became America's sweetheart after she was seen on this play's on screen adaptation. Based on George Bernard Shaw's Pygmalion, this play recounts the story of Eliza Doolittle, a cockney flower girl who takes lessons and poses as a lady. The original cast for this show on Broadway and at the West End included Julie Andrews and Rex Harrison.
This play first premiered on Broadway in 1956 at the Broadhurst Theatre and then the Broadway Theatre. It has been revived three times in New York since this initial run and on many occasions in international theatrical communities.
In 2018, it is coming back to New York for a sixth time, courtesy of the Lincoln Center Theater. It is directed by Bartlett Sher, who has previously directed productions such as The King and I and South Pacific. Eliza Doolittle will be brought to life by Lauren Ambrose (Six Feet Under) and Harry Hadden-Paton (Downton Abbey) will play Henry Higgins. This beloved musical is expected to be greatly demanded since it is a classic of Broadway and being revived by an exceptional cast.
4. Frozen
The biggest animated film of 2013 is expected to become the biggest Broadway show on 2018 as a Disney approved live action musical is hitting the St. James Theatre from February. Ever since the original film, Frozen fans (and particularly children) have been waiting for a sequel. Arguably, they have something better in this on-stage version of the ice-filled classic. This story has everything – iconic songs such as "Let it Go", forces of evil, the need to prove oneself and the power of sisterly love. This musical will warm the heart and its songs will blow the mind.
This production has had a preliminary run in Denver, Colorado and the reviews for that show are mixed. However, it is still expected to have a high demand as families will frequent this production and keep it going well into the year.
5. Harry Potter and the Cursed Child: Parts One and Two
Anything new from the world of Harry Potter is a sure-shot success. In over twenty years, J.K. Rowling has created a universe that parents and children alike do not want to come out of. The novels, accompanying books, movies and now theatrical play are all well-received. This play is a sequel to the original Harry Potter books, depicting the next generations of Harry, Ron, Hermione and the other characters. The Cursed Child first premiered at London's West End in 2016 and it has not left it since. In 2018, it is set to premiere on Broadway with a fresh cast and crew. The Olivier Award winning show is expected to sweep a few Tonys once it begins its run at the Lyric Theatre.
6. Mean Girls
Tina Fey's hilarious 2004 comedy, Mean Girls has garnered legions of enthusiastic fans. They have built fan fiction around it and kept it relevant after more than thirteen years. Therefore, they were understandably thrilled when Fey announced a Mean Girls musical on stage. She made the announcement via twitter on what has become known as 'Mean Girls Day' (June 3rd, 2016). The play began its off-Broadway run at the National Theatre in Washington in October 2017 and ran through December. This run has been well-received and the play is now getting a Broadway treatment at the August Wilson Theatre. Previews will begin in March 2018 and the play expects a large audience of fans of the original movie and their friends.
Do you agree with our top picks for the Broadway Box Office successes in 2018? While there is every chance that these plays do not gain the level of success that is expected from them, it is equally probable that they may surpass all expectations. All we can do is go to a show that we like, and gain maximum entertainment out of it, while we can.