Pentatonix: The group that is taking over the world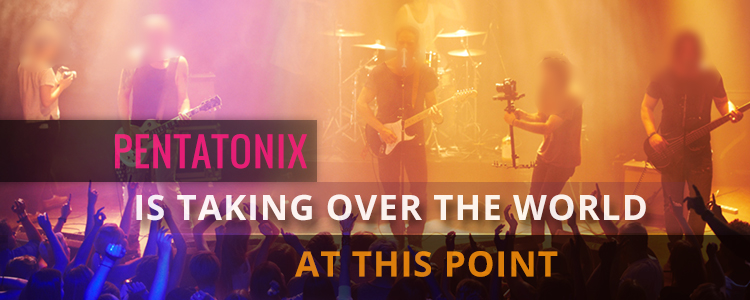 It was not easy for young, aspiring artists to get themselves noticed a few years back and they had to put up a lot of effort to make their tunes heard across the globe. Now, the arrival of the internet has made a big difference. Over the years, social media has helped bring some popular names like Justin Bieber, Shawn Mendes, Austin Mahone and Cody Simpson under the spotlight. The Texas group, Pentatonix also used the power of social media and found great fame thanks to the video sharing website, YouTube.
Pentatonix started making waves in the industry five years ago in 2012. After struggling for a couple of years, the band's music began to attract more followers and before long they had become one of the biggest a capella acts in the business. They are now taking over the world with the sheer power of their music.
How they made their mark
The three founding members of Pentatonix, Kristin Maldonado, Mitchell Grassi and Scott Hoying first gained attention when they recorded their version of Lady Gaga's hit single, Telephone for a local radio show competition. They then recruited, Avi Kaplan and completed the lineup by adding Kevin Olusola. The quintet later decided to take part in the third season of NBC's singing competition, 'The Sing-Off' in which it finished first. They were awarded a $200,000 recording contract but were dropped by the label.
They didn't lose hope and soon started to upload videos on YouTube of themselves performing cover songs which helped them develop an international fan following. A year later in 2012, Pentatonix were signed by Madison Square Records which released their first three extended plays, 'PTX, Volume 1,' 'PTXmas' and 'PTX , Vol. II.' All three EP's contributed towards their rise to stardom.
Making their mainstream debut
After the release of their third extended play in 2013, RCA Records signed Pentatonix. A year later in 2014, the group churned out its debut studio album, 'PTX, Vols. 1&2' which featured a compilation of previously released songs. The album didn't perform well on the charts. They followed it up by coming out with their second record, 'PTX' which included seven new songs.
Pentatonix's third studio effort was titled 'That's Christmas to Me' and it brought them mainstream popularity. The album went on to sell two million copies in the United States and reached the second spot on the Billboard 200. It achieved critical success and was described by Digital Journal as, "pure joy and one of the best projects I've heard this year." In addition to that, the record was also awarded platinum certification in Canada.
Taking over the world
Pentatonix had to go through some tough times to be where they are today but in the end it was all worth it. The band is taking over the world with their music and fans can't get enough of them. Their music has brought them fans from every corner of the globe. Pentatonix also became the first a capella group to be included in Forbes list of the, '30 Under 30.'
Pentatonix have produced two consecutive number one albums, 'Pentatonix' and 'A Pentatonix Christmas' on the Billboard 200 and that shows the kind of impact they are making. The former record was certified gold by the RIAA and was supported by five singles. It also received positive feedback from AllMusic who praised the group's efforts in words, "Ultimately, by moving away from cover tunes, Pentatonix have helped push the a cappella style even further into the pop spotlight." The band's fifth studio album, 'A Pentatonix Christmas' amassed record sales of over one million and featured a couple of original songs titled, Good to be Bad and The Christmas Sing-Along.
Pentatonix have also gone on to collaborate with legends like Dolly Patron and have also won not one but three Grammy Awards. Moreover, they were also nominated for a Daytime Emmy Award for, 'Outstanding On-Camera Musical Performance in a Daytime Program.' No wonder Pentatonix are at the top of the world right now.
The band is now on tour and will be wowing you with their vocal abilities in different cities including, Tokyo, Osaka, Los Angeles, Des Moines and Allentown. If you want to watch them perform live then now is your chance. Grab your concert tickets now and see for yourself why their music is taking over the world.