NFL Draft 2018: The Top 7 Prospects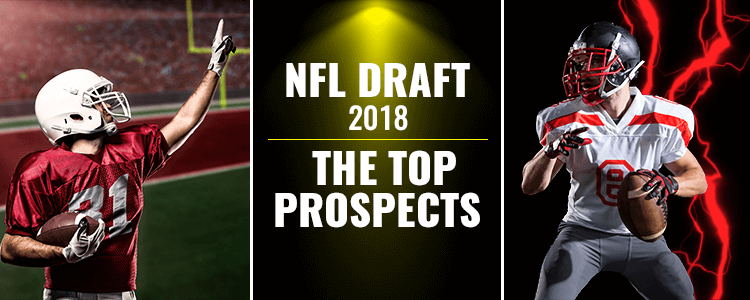 The NFL Draft of 2018 is now just a few days away. Scheduled to be held at the AT&T Stadium, it will be one of the most, if not the most, important days in the careers of a lot of young football players around the country.
The NFL Draft always brings with it plenty of excitement and anxiety at the same time for everyone involved in the process. The franchises get the chance to add new blood to their rosters but they have to be careful because a wrong move can cost them during the season. On the other hand, the players get the chance to sign for an NFL team but some of them buckle under the pressure while others thrive.
Some incredibly talented young players are eligible for the NFL Draft 2018. The teams will have shortlisted their picks and with that in mind, we decided to take a shot at picking the Top 7 prospects from the massive list of players. It wasn't easy but there are our Top 7 prospects for the NFL Draft of 2018:
1- Saquon Barkley-RB-Penn State
Saquon Barkley is an explosive player who has more than one side to his game. He is a fantastic runner and a very good passer and blocker. He is one of Penn State's star men and is physically strong. He has the attributes to become a top NFL RB and any side that picks him will be going for some amazing potential. He has notched up 5,038 yards from scrimmage for Penn State which puts him right at the top of the list of players with the most yards from scrimmage in the college's history.
2- Bradley Chubb-DE-N.C. State
What makes Bradley Chubb such an exciting prospect is his initial burst of speed when he takes off. That is a big asset to have when you are playing in the NFL because a DE that can get away from the opposition quickly always is unsettling for the players on the other side. Add his excellent passing range to the equation and you have a player that a lot of NFL sides will have their sights set on signing.
3-Quenton Nelson-G-Notre Dame
Combine quick feet and extreme power and you get Quenton Nelson. He is one of the most talked about players coming into the 2018 NFL Draft and it is easy to see why. The Notre Dame player is a destructive blocker who has the physical attributes to hold his own against any player in the NFL. Nelson is the ideal player to have at the point of attack because he can move players off the ball and disrupt the opposition's play.
4-Sam Darnold-QB-USC
Sam Darnold took a little time to get going but there is potential there for everyone to see. Darnold's numbers dropped in 2017 as compared to his stats a year earlier but a lot of that has to do with the receivers he was playing with. His biggest attributes are his strong arm, extremely quick release of the ball and mental toughness. He can make plays deep in the game and that alone is a quality worth its weight in gold.
5-Tremaine Edmunds-LB-Virginia Tech
Tremaine Edmunds is raw potential and that makes him all the more exciting as a prospect. This means that any team that gets him will be getting a player that they can mould into a special player. He is extremely quick and is very good at playing in spaces on the field. Not only that, but he is very tall and has quick hands that can disrupt even the opposition's best laid plans.
6-Calvin Ridley-WR-Alabama
During his tenure at Alabama, Calvin Ridley recorded over a 100 receiving yards on eight occasions. What makes this even more impressive is the fact that Alabama are not a passing side. He has been great for his college and likes to catch the ball using his hands instead of catching it against his chest. He is an excellent runner too and his speed and athleticism help him make spaces on the field.
7-Minkah Fitzpatrick-DB-Alabama
The second Alabama player on the list, Minkah Fitzpatrick is incredibly talented. Fitzpatrick is versatile when it comes to positional play and his coaching staff at Alabama rates him very highly. He can play in any defensive formation and that is an extremely handy attribute to have when you have to switch formations and plays in games. He likes to go head to head with receivers and tight ends in a good old fashioned battle.
This wasn't an easy list to come up with and it will certainly be interesting to see if these players are drafted by NFL teams. It will even be more interesting to grade these 7 players at the end of the upcoming NFL season if they make that step up to professional football.
The NFL Draft is headed your way and it sure is going to be exciting.