NFL: 2 Bold Predictions for the Denver Broncos in 2016
Can the Denver Broncos be tamed during the 2016 season?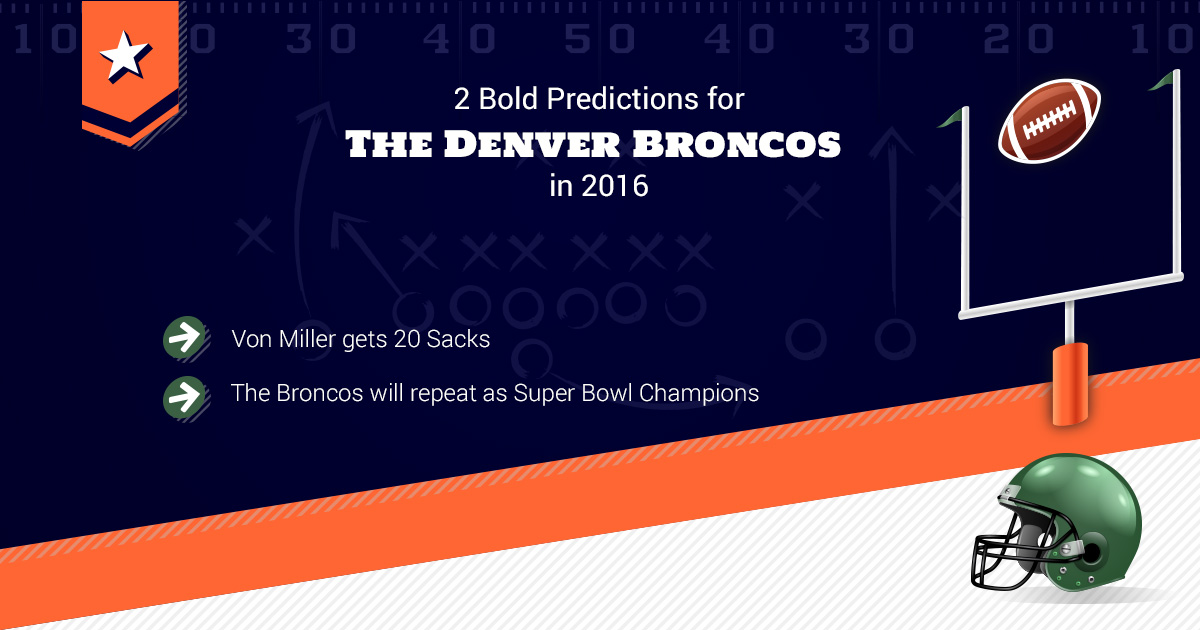 Ever since the founding of the National Football League (NFL) over ninety years ago, every season has experienced its own unique storyline and memorable moments. In 2011, the football world was hooked to the transfer saga of legendary QB Peyton Manning, who was coming off of a hugely disappointing and injury plagued season with the Indianapolis Colts. Due to several injuries to his neck and back, Manning required extensive surgery and missed the entire season, with some doctors even predicting that he would never take to the field again. As a result, at the end of the year, the Colts released Manning from his contract in order to focus on their new number one draft pick Andrew Luck.

Meanwhile, on the other side of the country, the
Denver Broncos
had been going through a rough patch that had resulted in only one playoff appearance in over six years. Most of the blame was put on their offense, with many people suggesting that they needed a new Quarterback in order to become competitive again. So John Elway, Broncos legend and Executive Vice President of Football Operations, as well as General Manager, got busy trying to convince Peyton that Denver was the best option for him. Even though many people had reservations about signing a thirty six year old quarterback who had missed an entire season due to multiple surgeries, the Broncos finally got their man in March of 2012.
That momentous day completely changed the outlook of the Broncos team and made them playoff contenders overnight. After Manning, the team managed to win at least twelve games each season, and it all culminated in the franchise's third Super Bowl win last term. But the announcement that Peyton would be hanging up his boots at the end of the year has left many fans wondering what they can expect from their team in the upcoming season. We wondered the same thing and here are our bold predictions for the Denver Broncos in 2016.
Von Miller gets 20 Sacks
Last season was dominated by news of Peyton Manning's inevitable retirement and the rise of the Carolina Panthers' QB Cam Newton. But when the Super Bowl came around, both of them were overshadowed by a beast of a performance from Linebacker Von Miller. For many people in the NFL his rise to prominence had been coming for quite a while now and had only been curbed by his injury in 2013.
Last season Miller played sixteen games in which he recorded thirty tackles, with a league high three recovered fumbles. His performance in the Super Bowl earned him the MVP title, with two forced fumbles, six tackles and two point five sacks in the final alone. In total, he had eleven sacks the entire season, but with the addition of other quality defensive reinforcements, we predict that in the upcoming season he will have a free reign to play to his full potential and finally record twenty sacks in a single season.
The Broncos will repeat as Super Bowl Champions
The last time a team won back to back Super Bowls was over a decade ago. Many quality sides have since tried to repeat this success but have failed, so why expect anything less from the Broncos? Well, because the franchise is in one of its best forms in history. Yes, they lost their leader in Peyton Manning but they have retained most of their other star players and have even managed to add to their league leading defense as well.
Last season they won the big game without much influence from their quarterbacks and there is no reason to suspect that they can't repeat the same tactics once again. Additionally they have brought in promising rookie QB Paxton Lynch for the long term, along with an experienced QB Mark Sanchez for the immediate future. These talented QBs and their excellent wide receivers and running backs like Demaryius Thomas, C.J. Anderson and Emmanuel Sanders, can push any team to its limit. You combine that with their amazing defense and the Broncos will be a serious threat to any side in the league this season as well.