Music Artists to Watch Out for in 2018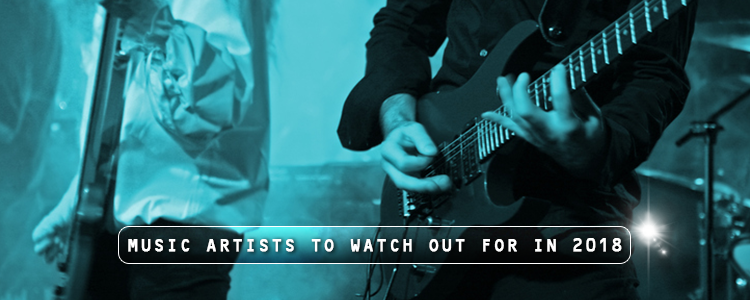 Music is an ever-evolving art form. Singers and musicians gain inspiration from the world around them, which tends to alter with time. As younger artists come to the forefront, their concerns and musical expression differ from that of the existing musicians. They bring something fresh to the table that may or may not work. However, the music talent in this list has made it work in a short span of time. Their unique influences and skills make them stand out of the mainstream and bring them a great deal of recognition. After all, this is how David Bowie and Freddie Mercury first garnered any attention. Hence, there is every chance that the following names become the future faces of the music industry. Be sure to watch out for these music artists in 2018.
1. Francis and the Lights
Frances Farewell Starlite is a California-based pop musician. He has received the blessing of rappers Drake and Kanye West early on in his career. The 66-year old has performed with both of these artists as well as Bon Iver on the single "Friends". His music has a zeitgeist allure to it, with dark and plaintive undertones. The artist has released four extended plays since 2008 but it is his collaborative work that has helped him become a famous name.
His debut studio album "Farewell, Starlite!" (2016) marked the launch of his moniker 'Francis and the Lights' and many expect a headlining tour from the "Thank You" singer in 2018.
2. Abra
The angst in Abra's solo music comes from a place of failure in her career. She was in a volatile band with her (now-ex) boyfriend and his roommates. They would constantly fight, refuse to practice together, eventually practice abruptly and then perform a gig. As a result of this, their live performances would be extremely driven and passionate which earned them many fans. However, the backstage dynamics were decidedly strange as there was more chemistry between Abra and the band's guitarist (not her boyfriend) than she had with her boyfriend.
The band was a short-lived one (for good reason) and Abra pursued a solo career after it split.
Her lyrics are unflinchingly raw, existing within the genre of electro-R&B and 80's synth-pop. She had a strictly Christian upbringing and hence was first exposed to gospel music.
Due to these diverse influences, Abra has created an interesting sound. Her stellar single "CRYBABY" is an A-grade blend between Britney Spears and Aretha Franklin. This track is off her 2017 mini-album "PRINCESS". The record is a nod to various genres of the previous two decades that otherwise do not have anything to do with one another.
3. Tamino
This singer is Jeff Buckley brought to life; that is, if Jeff Buckley had Egyptian roots. He has the same drawly, trance-sustaining voice that the great Buckley would utilize to grasp concert halls. Tamino is also reflective of contemporary artists such as Lana Del Rey in the dark and escapist mood he creates in his songs.
His music has a punk touch as well, as the artist performed in a punk rock band during high school. There is an anti-establishment cry in his unorthodox music as his tracks do not necessarily follow the verse-chorus-verse pop song structure. Now completely diverted from rock music, Tamino takes inspiration from his late-grandfather, Moharam Fouad – a famous Arab musician and actor. Even though he sings in English, he incorporates the story-telling of Arab music in his delivery which gives him an edge over other pop artists.
Tamino is certainly an act to watch out for. His single "Indigo Night" is a strong vocal performance which arouses curiosity for what the singer will bring next.
4. Whitney
Whitney is one of the most exciting new bands emerging from the Chicago indie-rock scene. They released their album "Light Upon The Lake" in 2016, shortly after signing onto the Secretly Canadian music label. Their songs mix elements of folk, indie-rock, soul and country music -genres that inspire each of the members of Whitney. Julien Ehrlich's chilling vocals are matched with folksy melodies that create an interesting light/dark contrast in their songs. The band's music is extremely interesting and fans of indie-rock speculate that their work will bring this otherwise niche genre to the forefront.
The band's second album is expected in 2018 and fans cannot wait for a headlining tour by the act. Whitney truly is a group to look out for in the near future.
5. Daniel Caesar
Daniel Caesar is a Canadian musician. One of the most promising new finds of 2017, he was brought to the forefront by a 2016 prodigy himself – Chance The Rapper. Chance introduced Caesar on The Late Show With Stephen Colbert in 2017 when he debuted an original duet with him. He became an instant success with many people complimenting his 'smooth' and 'angelic' voice.
Caesar has a very emotive vocal which delivers sadness, love and joy effectively. He mixes soul, gospel and R&B in his debut album "Freudian", which creates a relaxing mood that makes his delivery of a song extremely personal. Fans consider his performances an engaging experience, and therefore 2018 will be a decisive year in the Torontonian's music career.
6. Rex Orange County
Alex O'Collins is a nineteen-year-old British songwriter who goes by the moniker of Rex Orange County. He is dubbed as "exactly what the music industry needs right now." The artist's genre defying music is inspiring many others over a short period of time. He masterfully goes from hip-hop to pop to jazz and then to indie, all within one song. His music is upbeat and celebratory with a mix and match of rap and singing.
In his music career County has collaborated with rapper Tyler The Creator as well. Nevertheless the singer does not consider himself a rapper. He mixes and plays with many different genres. His recent album "Apricot Princess" aptly showcases the diverse range of music he produces. The album contains love ballads which rely on indie-inspired melodies in order to create upbeat, interesting new music.
Each of these artists brings something interesting and new to the music industry. It wouldn't be an overstatement to call them the future of western music. They have the potential to establish new movements in music, create timeless tunes and take over the reins of this artistic expression from its existing masters. For now, we have the opportunity to follow their rise to the top by looking out for their latest projects in 2018.