Music Artists Who Left Us in 2017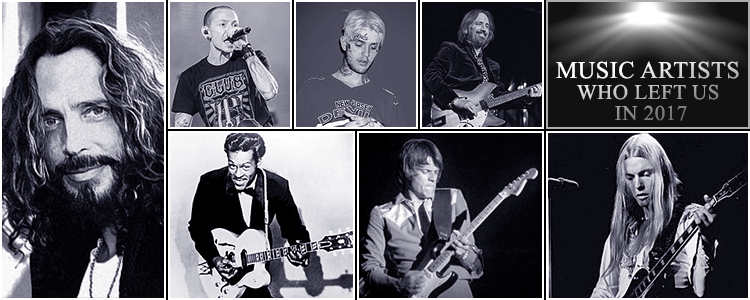 The music industry is a vibrant, ever-changing place. Each year, newer singers and artists step into the limelight, in hopes of being successful forever. They create a promising career that goes on for decades; a legacy that lasts well beyond their lifetime. They inspire the world and therefore, when they their journey ends, countless people are left heartbroken. Every year, we say goodbye to a number of musicians who have breathed their last. As we bid farewell to the year, let's remember the inspirational music artists who left us in 2017.
1. Chris Cornell (1964 – 2017)
The mastermind behind iconic bands such as Soundgarden, Audioslave and Temple of the Dog, Chris Cornell is considered one of the leaders of the 90s' Grunge movement. From the past few years, the singer had been enjoying an exceptional solo career. Therefore, when news broke in May 2017 that Cornell had died, the world was understandably shocked. Everyone, from the music community to his family and legions of fans paid tribute to the singer only to find out days later that he had in fact committed suicide. The musician will always be loved for his soul-piercing voice and hits such as "You Know My Name" and "The Promise".
2. Chester Bennington (1976 – 2017)
One person greatly impacted by Cornell's demise was Linkin Park front-man Chester Bennington. The singer was Godfather to Cornell's children and the two shared a strong bond. Bennington performed a moving version of Leonard Cohen's "Hallelujah" at Cornell's funeral and expressed his anguish at this loss.
Tragically, Bennington himself committed suicide just a few months later, on July 20th 2017. What makes this death more harrowing is that this date would have been Cornell's 53rd birthday. Bennington is known for his exceptional songwriting, high-pitched voice and music that represent battles with ones inner demons. He has left behind caring band members who are carrying his legacy forward.
3. Lil Peep (1996 – 2017)
Both Cornell and Bennington had heavy levels of alcohol in their system, despite that not being the cause of their death. However, the young EDM rapper Lil Peep tragically passed away on 15th November 2017 by a systemic drug overdose. He was only twenty-one years old and had begun his career in 2015. The artist was already being praised by famous musicians such as Ty Dolla $ign and Mark Ronson, who have expressed their sadness at Peep's sudden demise. According to medical reports, Peep overdosed on a combination of drugs including Xanax, Cocaine and Fentanyl.
Despite his tender age, the artist had been revolutionizing the rap world by infusing emo rock with hip hop. He had been experimenting with digital technology by using computers for instrumentation rather than working with actual musicians. His latest album, "Come Over When You're Sober Pt. 1" was released in 2017, leaving Peep's career at a sad, blatantly unfinished and ironic note.
4. Tom Petty (1950 – 2017)
Tom Petty became a staple of rock and roll with his band "The Heartbreakers". Petty was a hit-maker who created an exemplary career over four decades. He had worked with Jeff Lynne, George Harrison and Bob Dylan amongst many others in this time. The singer has sold more than 80 million records worldwide and songs such as "I Won't Back Down" and "Free Fallin'" have inspired musicians and fans alike. From Johnny Cash to John Mayer, artists old and new consider the guitarist an icon. Petty has influenced the world of country and rock, and shaped it to its present state.
Petty died of cardiac arrest on October 2nd 2017 in Santa Monica, California. He was only 66 years old at the time of his death. The music community was, and still is shocked. Musicians such as Dave Grohl, Jeff Lynne and Bruce Springsteen paid tribute to the legend, expressing their inability to believe that Petty is gone.
5. Chuck Berry (1926 – 2017)
Chuck Berry was a celebrated singer and songwriter who is considered one of the earliest rock and roll musicians in history. His hits such as "Maybellene" and "Roll Over Beethoven" are classics, and constantly discovered by newer fans of rock music. Berry refined blues and rhythm music, and infused jazz and rock to create the modern pop sound.
He has contributed greatly to modern music. His numerous records are a storehouse for musicians, with intricate layers that can be deciphered for hours and drawn technical lessons from. Amongst many other things, Berry recognized the use of guitar riffs to accompany the lyrical melody of the songs. Musicians such as Kurt Cobain and Chris Cornell have found these lessons not only useful, but the basis of their own storied careers.
Chuck Berry lived a full, long life and died at age 90 on March 18th 2017. He passed away in his home-state of Missouri surrounded by friends and family.
6. J. Geils (1946 – 2017)
J. Geils was an American guitarist and the front-man of the J. Geils band. He grew up in New York City, impressed by Jazz and Blues. Therefore, he initially called his band "The J. Geils Blues Band" but dropped the 'Blues' before releasing their first album, "Love Stinks" in 1970. Since then, Geils has created five studio albums with the band which have become part of the jazz-blues rock canon. The musician passed away quietly on April 11th 2017. The police conducted a well-being check in his house and found him dead. He died of natural causes in his living room. Geils was 71 years old.
7. Gregg Allman (1947 – 2017)
The soulful singer and songwriter, Greg Allman is one of the most influential names in Southern rock. He founded the Allman Brothers Band in 1969 and then reformed it after his brother and fellow band member, Duane Allman's death (1971). He produced eight studio albums over his lifetime including "Two the Hard Way" which he produced with the pop icon Cher. Allman was influenced by country and blues, but he translated both of these genres into a new form of rock music.
Having undergone a liver transplant in 2010 after contacting Hepatitis C, the music artist had health problems. However, he lived a productive life for many more years, until he was diagnosed with liver cancer. On May 27th 2017, Allman succumbed to the disease and passed away peacefully in his Savannah home.
Having touched millions of lives between them, the names on this list will be sorely missed. They affected people as well as art forms, often redefining them completely. Here is hoping these artists' families and loved ones find peace and the capacity to move on. May their souls rest in peace.