MLB players expected to retire after the 2017 season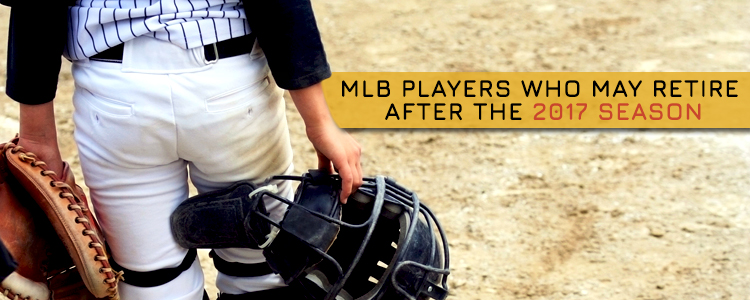 Retirement is usually a bittersweet subject in MLB, especially when it comes about for the greats. It has become customary for players to announce their retirement a year in advance, however there is always a chance of sudden announcements (Manny Ramirez, anyone?). While there are a handful of unmarked players retiring every year, a few good ones tend to bid goodbye very rarely too. This is our list of the possible MLB players who may retire after the 2017 season.
7. Koji Uehara
Koji Uehara has slowly become recognized as an amiable relief pitcher. Under the radar ever since he crossed over from Japan in 2009, he has played for the Baltimore Orioles, Texas Rangers and the Boston Red Sox. Currently, he is playing for the Chicago Cubs. While his MLB debut year became ill-fated, he has constantly improved since then.  He has proven himself to be an exceptional reliever, posting a 12 K/9 only last season.
At 47, the pitcher has begun showing signs of performable decline, particularly over the past two seasons. Last season, he almost went unnoticed. While his retirement is not official yet and he has signed a one-year contract with the Cubs this offseason, a retirement announcement seems in order.
6. David Wright
Captain of the New York Mets and just 34 years old, David Wright has had a few rough years. Having suffered from a herniated disk in his neck and spinal stenosis, he has had to miss majority of the 2015 and 2016 seasons. Nevertheless, he has had a golden thirteen years with the Mets, serving as their captain for the majority of this time period.
With two Gold Gloves to his name, Wright's retirement seems premature and unjust. While the third baseman is desperately trying to overcome his injuries and get back on the field, facts seem contrary to it. This is one retirement no one wants to take place, however it seems a likely event. Nevertheless, nothing has been announced as yet and Wright is taking some downtime, so we'll see how it goes as the season progresses.
5. Ryan Howard
While Ryan Howard has been a franchise player for the Philadelphia Phillies, there is little reason for the player to be remembered outside of Philadelphia. Despite being introduced to the Big Leagues as a Rookie of the Year with an NL MVP award, the 37- year old has not been able to sustain it or leave an impressionable mark. In actuality, he has been an all-around batter for only six or seven years before his consistency began diminishing below replacement value. Perhaps the only reason his career has gone for this length of time is his legacy with the Phillies franchise. However, after leaving them, retirement seems the most likely option for him.
4. James Shields
2016, James Shields' debut year with the Chicago White Sox, proved to be his worst Major League performance yet. Also cutting it in half since 2015, he had the worst ERA and FIP, worst home run rate and the fifth highest walk rate of among all the qualified starters of the season. Throughout his career, Shields has been an ordinarily good pitcher and the White Sox trade did not better his position. Therefore, it only seems a matter of time before the 35-year old announces his retirement. Let's see if this season is the one.
3. Jason Grilli
Currently going on forty, Grilli has had an exemplary career since the early 2000's. He started off with the Marlins, and has played for an astonishing nine teams since. At the moment, he is playing for the Blue Jays and keeping up a stellar performance at that. However, it does not go unnoticeable that Grilli has sustained quite a few injuries over the years. In 2015, he had to sit out the season given to a ruptured Achilles, even though he bounced back in 2016 and more than compensated for that.
This seems like a good season for Jason Grilli to announce his retirement because his contract expires in a year. It would be a fitting step-down for the exceptional player, if it happens.
2. Jimmy Rollins
Despite making the Phillies Hall of Fame, Rollins has little or no chance of making the MLB Hall of Fame. He has spent over fourteen years with the Phillies, won two Golden Gloves during this time, All-Star nods and a National League MVP award in 2007.
Since the Phillies, however, Rollins' career has come to a bit of a standstill. He has been at replacement level with the Dodgers and part of a White Sox season before his release. Only able to get a minor League deal with the Giants, it seems unlikely Rollins will feature this season unless the Phillies give him a spot. Fans are already demanding this, as a proper "send-off" to the 33- old. Retirement seems inevitable.
1. Carlos Beltrán
After having reportedly announced a probable retirement last year, this seems like the final or penultimate season for Beltrán. However, he would be leaving behind an exemplary career. According to JAWS, he has the potential of being an MLB Hall of Famer in a few years. He boasts a nineteen year career which started to a Rookie of the Year nod and ended with a one-year deal return to Astros, his first team. His numbers are impeccable, with a .845 OPS in regular session, going up to a staggering postseason 1.078. In short, Beltrán's career has come full circle. Whether he announces his retirement this year or the next, Carlos Beltrán is surely going to be missed.