MLB: The 10 Unbreakable Records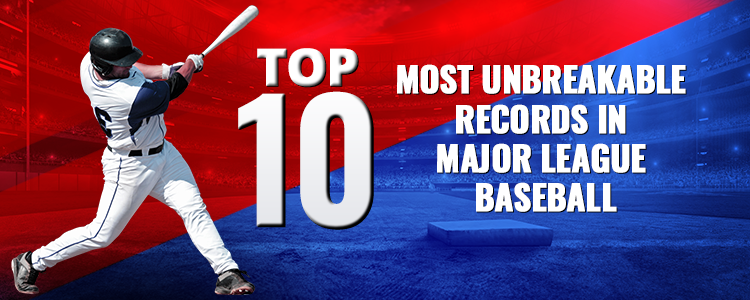 MLB's history is full of players that have delivered some unforgettable performances over the years. In the process, they have set records and raised the bar for others to follow. Quite a lot of the records that were set in the past have been broken over the years but then there are some records that are unbreakable.
Here were take a look at 10 MLB records that we think have raised the bar so high, that no one will be able to touch it.
1-Joe DiMaggio- 56 Game Hitting Streak
Anyone who has even a passing interest in baseball knows that the iconic Joe DiMaggio is one of the greatest players in the sport's history. He won an incredible nine World Series titles with the New York Yankees during his stint with the side. On the way he delivered some incredible performances too. One of his biggest achievements was the record he set for the longest hitting streak in the league's history.
DiMaggio, in 1941, went on a rampage and put on a hitting exhibition that lasted for an astonishing 56 games.  No player since then has been able to come anywhere close to the record. Good luck to anyone who has their sights sets on bettering that streak.
2-Cy Young- 511 Career Wins
Cy Young has two American League awards named after him and that just goes to show the pedigree of the man himself. Young was some player. Over the course of a stellar career, he recorded an incredible 511 career wins. A lot of pitchers would just be lucky to even play 511 games over the course of their careers, let alone break this record. This is one record that simply is not going to be broken.
3-Cal Ripken Jr- Consecutive Games Played (2,632)
Cal Ripken Jr. played in 2,632 games on the spin. Yes, you read that correct, he played in two thousand six hundred and thirty two games without missing even one encounter. This basically means that he played for more than sixteen full seasons without being absent once. Do you think anyone can top that? We don't think so.
4-Ty Cobb- Best Batting Average
Ty Cobb is an all time great who it is said set ninety records during his legendary career. Some of those have been broken but there is one that has stood the test of time and is yet to be bettered by any player. That record pertains to his batting average of .366 or .367, depending on the source you are getting the figure from. No one has ever come close to even matching Cobb's astonishing batting average.
5-Pete Rose- 4,256 Hits
Now we come to Pete Rose and his out-of-this-world hitting abilities. In a career that began in 1963 with the Cincinnati Reds and ended in 1986 with the same team, Rose became one of the all time greats. He retired with 4,256 hits to his name, the most by any player in history. To put this in perspective, if a player records 250 hits over 17 seasons on the bounce, then he would get to within 6 hits of Rose's record. It is safe to say, this record will forever remain unbreakable.
6-Nolan Ryan-5,714 Career Strikeouts
Nolan Ryan had a twenty seven year long MLB career that saw him turn up for the Mets, the Angels, the Astros and the Rangers. He retired with 5,714 career strikeouts to his credit. Randy Johnson is second on the list of career strikeouts with 4,875. We will just leave it here.
7-Rickey Henderson-1,406 Stolen Bases
Rickey Henderson is without a doubt one of the fastest players in MLB history. His pace helped him steal an astonishing 1,406 bases over his long career. Henderson remains the only player in MLB to have amassed over one thousand stolen bases. Second on the list is Lou Brock with 938 stolen bases to his credit. Nobody is going to take the record away from Henderson.
8-Orel Hershiser- 59 Straight Scoreless Innings
Orel Hershiser of the Los Angeles Dodgers holds the record for pitching for 59 straight scoreless innings between August 30, 1988 and September 28, 1988. This is some stat. He only allowed thirty one hits during this incredible run. Don Drysdale of the Dodgers is second on the list with 58 consecutive innings pitched without conceding a run. He set the record in 1968 and twenty years later, Hershiser broke it.
9-Mariano Rivera- Most Career Saves (652)
Mariano Rivera is considered to be one the list of the greatest relievers the sport has ever seen. He was a force of nature that set many records and played an instrumental part in helping the Yankees' win five World Series. The 13 time All-Star set multiple records and one of them is his career saves of 652. Second on the list is Trevor Hoffman with 601. Apart from these two, no player has even hit the 500 mark when it comes to career saves and this statistic is enough to prove it will take something astonishing from someone to top Rivera's record.
10-Barry Bonds- Most Home Runs In a Single Season (73)
Regardless of all the controversies that surround Barry Bonds, there is no doubt that he remains one of the most potent hitters in the sport's history. In 2001, he proved that by hitting a record breaking 73 home runs. He broke Mark McGwire's record of 70 Hrs in a season and topped it by 3. The closest anyone has ever come to matching Bonds' record since 2001 was Giancarlo Stanton who blasted 59 home runs in 2017.
So these are 10 MLB Records that we think will never be broken. If we have missed out any other record that you think should have been on this list, then let us hear what you have to say.