Maluma: The Man Behind F.A.M.E.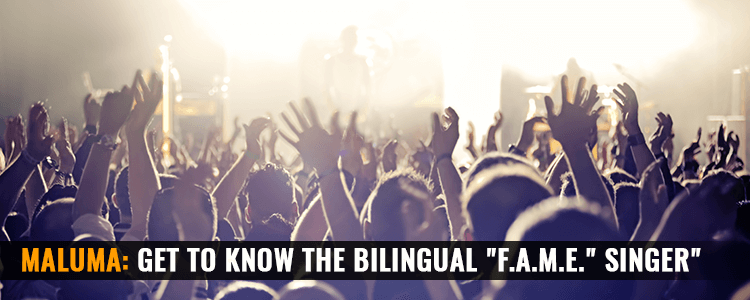 Columbian heartthrob, Maluma has hit the road again, with a new series of shows to light up your 2018! The tour, called "F.A.M.E. Tour" is in support of the 23-year old singer's third and latest studio album, F.A.M.E., released in early 2018. The concerts kicked off in Washington and will wrap up in Milan, Italy in the fall.
The singer is as excited as you are for this tour. Talking about his upcoming shows, he said, "I couldn't be more excited to announce my return to the United States on tour, exactly one year after announcing my first-ever US tour — and so much has happened since! The best part for US fans is that I will be coming with an entirely brand new show."
Who is Maluma?
For those of you who are still unaware of this Columbian sensation, Maluma is a reggaeton singer who first hit international fame after a collaborative single "Chantaje" with Shakira. Currently signed on to Sony Music Columbia and Sony Latin, the star now has multiple Billboard hits of his own, including "Borro Cassette", "Felices los 4", "Corazon" and "El Perdedor."
Early Career of Maluma
Maluma got involved in the music industry in 2010 by recording singles. His song "Farandulera" became a hit in the local Colombian markets and he was soon signed on to Sony Music Colombia. Soon after signing on to the major label, the young star released his debut album, Magia, which was well received in the local markets. The song "Miss Independent" from this album became a popular hit, reaching the second spot on the Colombian National-Report songs chart.
Maluma's first entry in the US Latin charts came with the single "La Temperatura", released in 2013 as part of his mixtape, PB.DB The Mixtape. The song peaked at number 25 on the Tropical Songs chart and made it to number 24 on the Billboard Hot Latin Songs chart. It also charted at number 4 on the Latin Rhythm Airplay songs chart and reached number 8 on the Latin Pop Airplay songs chart.
With the success of "La Temperatura", Maluma quickly began to develop a strong fan base in the US.
Career Development – Pretty Boy, Dirty Boy and Collaborations
With a strong foundation set for his entry into the US charts, Maluma began releasing music meant for international audiences, rather than just the local Colombian markets. In 2014, he released several music videos, for singles such as "Carnaval" and "La Curiosidad". He also lent his vocals for the theme song of the 2014 FIFA World Cup, along with the singer Elvis Crespo.
In 2015, Maluma dropped his second studio album, Pretty Boy, Dirty Boy. This album incorporated elements of urban music, reggaeton and pop and struck the right chord with American audiences. Multiple singles from this album, including "El Perdedor" and "Sin Contrato" made it to the top ten on the Billboard Hot Latin Songs chart.
With the success of this album, Maluma began catching the attention of other popular Latin musicians as well. In 2016, he got the chance to collaborate with Thalia and Ricky Martin and was also featured on the remix of "Me Llamas" by the Colombian group, Piso 21.
"Chantaje" and Massive Success
Maluma's breakthrough success came in 2016, when he travelled to Barcelona, Spain, to work on a song with fellow Columbian and global sensation, Shakira. The two artists collaborated on the single "Chantaje", which debuted at the top of the Hot Latin Songs chart. "Chantaje" became Maluma's first ever single to top the charts. It also made it to the Billboard Hot 100, opening at number 96, eventually moving up to number 51 in eight weeks.
F.A.M.E and what's next?
Maluma released his third studio album, called F.A.M.E. in May, 2018. The acronym stands for "Faith, Alma (meaning Soul in Spanish), Music and Essence". Producers who worked on this album include Jay Cash and Vinylz and musicians that Maluma has collaborated with for songs on this album include the likes of Jason Derulo, Daddy Yankee and Prince Royce.
Talking about this album, Maluma said that in this record, he wants to talk about his faith, from his soul. He added, "I want to make good music, and I want to keep showing my essence. I want to tell the stories of the people that are close to me, I want F.A.M.E. to be heard all over the world."
Discussing the artistic elements of the new album, the Colombian sensation said, "It's very different because I've grown a lot on an artistic level, and also on a personal level, which has helped me in the composition on this new album." The reggaeton superstar has widened his horizons for this album, taking multiple risks with the sound and the compositions, while bringing artists from other cultures into the Latin music world.
Maluma is super enthusiastic about the release of this album and can't wait to hear what his fans have to say about it. "I am thrilled to finally be releasing F.A.M.E. I hope that those who follow my music finally get to know what I have been up to, who I am today, but mostly to enjoy it, sing and feel the music."
The Colombian singer is now out on tour in promotion of this album, with shows selling out faster than you would imagine. Maluma tickets are certainly a hot commodity these days!
Awards and Nominations for Maluma
Maluma has managed to take the Latin music industry by storm in a very short time. And for this, he has been rewarded multiple times. In 2013, he was nominated for many prestigious honors such as the MTV Europe Music Award for the Best Latin America Central Act and the Latin Grammy Award for the Best New Artist.
Success continued to follow the talented star as he got nominated in two categories at the Billboard Music Awards in 2017 and is currently nominated for the Top Latin Song for "Felices Los 4", with results due at the 2018 ceremony. The song "Felices Los 4" was also nominated in five categories at the Billboard Music Awards 2018. His song with Shakira, "Chantaje" has also been nominated for multiple honorable awards.
A total of 46 shows have been planned as part of the F.A.M.E. tour, but only 23 of these are in North America. If you want to catch the sensational new talent live in concert, now would be a good time to get your hands on the tickets!