Luke Bryan Is The Third Highest Earning Country Performer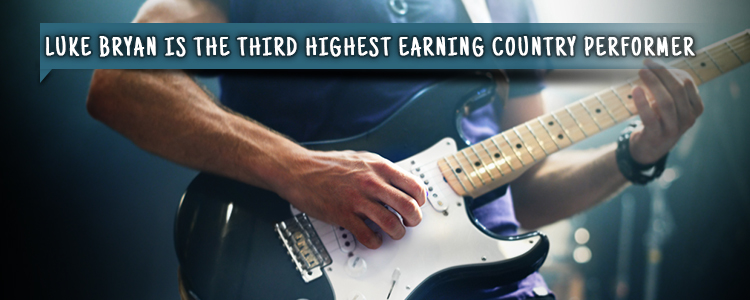 By recording over fourteen number one singles and headlining sold out shows all over the globe, Luke Bryan has become one of the most successful country singers in the world. Emerging from Georgia, this 40 year old Country Music Association Award winner has been ruling the music charts since he entered the industry a decade ago in 2007. After his first two albums, 'I'll Stay Me' and 'Doin' My Thing' hit the markets, Bryan has been unstoppable and has gone on to sell more than seven million records and in excess of twenty seven million singles worldwide.
Making his mark
Keeping true to his reputation of a bonafide hit-maker, Luke Bryan churned out his fourth platinum selling album, 'Kill the Lights' two years ago in 2015. The album charted at the first spot on charts like, the Top Country Albums, the Billboard 200, the Canadian Albums and the ARIA. It also received three stars out of five from the Rolling Stone. Moreover, it gave six singles out of which, Kick the Dust Up, Strip it Down and Huntin', Fishin' and Lovin' Every Day went on to sell more than a million copies in the United States.
Then later in the year, he set out on his, 'Kick the Dust Up Tour.' Bryan began his trek by performing his first show at the Alerus Center in Grand Forks on May 8th. He ended his tour on October 30th by playing a gig at Detroit's Ford Field.
In the same year, Forbes mentioned Luke Bryan on its list of the, 'Country Cash Kings.' He was at the fourth spot by earning $42 million that year. That income came not only through his music and tours but also with his partnership with Miller Lite and Cabela's. In the process he bested stars like, Kenny Chesney, Tim McGraw, Florida Georgia Line and Zac Brown Band.
Heating things up
Luke Bryan likes to produce music which is why in 2016, he spawned his eighth extended play, 'Farm Tour… Here's to the Farmer.' The EP received response from the critics and Chuck Dauphin of Sounds Like Nashville stated, "It makes for a little bit different appreciation of an artist, and shows another side of what he can do." He also wrote that EP was, "One of his most entertaining [bodies of work] in quite a while." The extended play debuted at the first spot on the Top Country Albums chart and featured five songs on the tracklist.
Apart from putting out new music, Bryan also went on his, 'Kill the Lights Tour' which began on February 18th, 2016. He went on to play concerts in multiple cities throughout North America including, Houston, Baltimore, Charleston, Atlanta and Toronto before he wrapped things up by performing a couple of shows at the Amphitheater at the Warf in Orange Beach on March 17th and 18th, 2017. 
In the summer of 2016, Forbes put out its list of, 'The World Highest Paid Country Music Acts' in which the I See You singer was ranked at the third spot. He did that by leaving behind stars like, Toby Keith, Jason Aldean, Shania Twain and Dolly Parton. According to Forbes, he earned $53 million last year.
Ruling country music
As of now, Luke Bryan has not announced any plans about releasing any new music in 2017. However, the good news is that he is currently performing live as part of his, 'Huntin', Fishin' and Lovin' Every Day Tour.' He started the road trip by performing two shows on May 5th and 6th, 2017 at Nashville's Bridgestone Arena.
His trek then took him to cities like, Bristow, Hartford, Moline and Cincinnati where he entertained fans by performing songs like, Roller Coaster, Fast and I Don't Want This Night to End. Bryan is yet to perform at venues like, the Sprint Center, the PNC Music Pavilion and the Concord Pavilion. He is scheduled to end his tour by performing his last show on October 28th.
On July 13th, 2017, Forbes revealed that Luke Bryan has earned $42 Million so far which put him in the third spot on the list of, 'The World's Highest Paid Country Stars' of 2017 till now.  
2017 Farm Tour
In May of 2017, he announced the dates of his, 'Farm Tour 2017.' He plans to go on his road trip in September and will be playing six shows in total. Some of the venues where Bryan is expected to perform include, the Benes Farm, the Don-Ale Farm and the Ziel Farm. He will be ending his trek on October 7th by performing at the Stowers Farm. So, get your concert tickets ready if you want to enjoy his performance live.