A look back at the career of Steely Dan's Walter Becke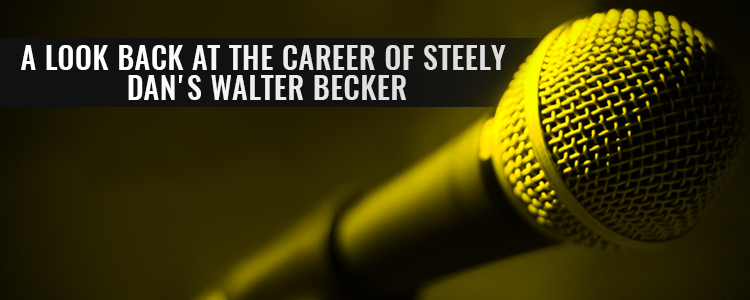 One of the most iconic jazz bands in history, Steely Dan, started in the mid of 1972, when Walter Becker and Donald Fagen first met in college. The two began as sessions musicians and ultimately formed their own group. They added a completely new dynamic to the music recording process. They would constantly re-record their songs till they had achieved a satisfactory sound, something that was not done at the time. Present-day musicians have followed suit even though this process is more expensive, simply because it yields better result. Steely Dan therefore has gone down in history as the first act to identify and maintain a difference between live performances and studio recordings.
Despite being serious (and celebrated) jazz artists, they had a peculiar sense of humor and named their band "Steely Dan" after a sex toy from the inspired yet bizarre William S. Boroughs' novel "Naked Lunch". It is this peculiarity and some ingenious songwriting that put Fagen and Becker on the map, and has kept them there more than four decades down the road. Becker's death in 2017 has been a substantial blow for the act and its many fans. However Fagen is launching another Steely Dan tour soon.
But who is Walter Becker? And how has he ended up becoming one-half of this celebrate duo? Let's have a look Back at the Career of Steely Dan's Walter Becker.
How It All Began
Born in Queens, New York City, Becker spent a troubled and tumultuous childhood. Although not many details have been disclosed with regards to it, band mate Fagen has said "Walter had a very rough childhood – I'll spare you the details … He was cynical about human nature, including his own, and hysterically funny. Like a lot of kids from fractured families, he had the knack of creative mimicry, reading people's hidden psychology and transforming what he saw into bubbly, incisive art."
It seems Becker was destined to find his way into jazz from the start, as he began playing the saxophone in high school. Later, he learnt to play blues on a guitar by Spirit's Randy Wolfe (or Randy California). This was around the time when Becker entered Bard College, which was an important moment in his life because this is where he met Donald Fagen. The two began playing in a number of colorful, short-lived bands as a session duo.
Given to the little-found rhythm with these bands, the two quit college in 1969 and moved to New York City where they began looking for gigs as professional musicians. Becker found some backing with Jay and the Americans, whom he joined with the stage-name of Gus Mahler, which later led to a songwriting position for him in Los Angeles' ABC Label. Here, Becker pushed the idea of Steely Dan, with him and Fagen. It was accepted, and Denny Dias, Jeff Baxter and Jim Hodder were added to the band on guitars, bass guitars and drums, respectively.
Early Days of Steely Dan
Steely Dan was launched to three years' worth of extensive tours in support of their albums "Can't Buy a Thrill", "Countdown to Ecstasy" and "Pretzel Logic". These tours were instrumental in putting Steely Dan on the map, however, the group decided to become a studio-centric project after the third tour, for the rest of the decade. This was an excellent idea, as it resulted in their most decorated LP to date, "Aja" released in 1977. This album particularly brought critical acclaim to Becker's musicianship, particularly as a reputable guitar and bass player from his generation. Later, in 2001, Becker and Fagen were inducted in the Songwriters' Hall of Fame.
The Recording Process
Other than constituting of great musicians, Steely Dan is also credited with introducing the modern studio-recording process. Being perfectionists, Fagen and Becker would record several versions of their songs, until they felt they had perfected it. This was more time-consuming and expensive than other recording artists, who would record it once like a live performance. However, this innovation paid off as their studio albums sold over forty million copies, received four GRAMMYs and ended in a Rock and Roll Hall of Fame induction.
Coping with Fame
Steely Dan's catchy, poignant lyrics gained them instant recognition up till the 1980's. The group dominated studio-spaces, radio stations and airtime. However, Becker did not cope well with this fame at all and resorted to drugs, which led him to withdraw himself from the band. In January 1980, his then girlfriend, Karen Stanley, died from a drug overdose which left a great deal of stress on his mind. The same year, he got into a reckless car accident which led him to complete Steely Dan's "Gaucho" in a wheel chair. In 1981, his mother accused Becker of getting his sister addicted to cocaine, heroin and morphine and demanded seventeen million dollars in compensation for this damage. Becker won the lawsuit that followed, but it left a scar on his mind.
The Quiet Life
Thereafter, he became a recluse for many years and shifted to Hawaii where he recovered from his drug-related problems. He also met his wife, Elinor, there and started a family with her. There, he built an in-house studio and became a music producer. He is credited with recording China Crisis, Michael Franks and Rickie Lee Jones' albums.
Becker's life was truly a fully lived one, with its fair-shares of ups and downs. In the end, he was successful in fighting his demons, discovering love and peace and his death has left behind loved ones who remember him. Partner-in-crime, Donald Fagen is one of them who still keeps the Steely Dan legacy alive. Walter Becker will be sorely missed, but he has left an everlasting mark on American music which is not wiping off any time soon.