Lana Del Ray Announces LA to the Moon Tour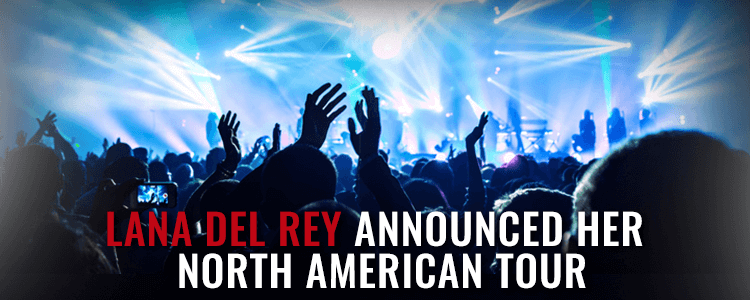 Most artists think long and hard about the steps they should take towards releasing new singles and albums. They try to build anticipation and speculation with teasers and social media campaigns before the work is released. Lana Del Rey, the thirty-two year old singer hailing from New York however did not use such tactics for fame and publicity. Ignoring the momentum other artists build before releasing a work, she simply uploaded her blockbuster 2011 single, "Video Games" online and ended up as a mainstay on the pop charts in the UK. She released her second album "Born to Die" the next year, which sold a staggering seven million copies.
A Little About Her Work
Lana Del Rey's first two albums and single "Video Games" depict a world from long before; the soft-rock ballads of the 60s and 70s, a time long before the artist even existed. Her soaring notes and drawled out vocals create an eerie feel which fans have learned to relate to her. In 2014, she covered the Disney classic "Once upon a Dream" for the Snow White remake "Maleficent" which contributed to a possibly gothic escapist direction for the young artist.
However, Del Rey channeled her unorthodox style and sound into her next career move by completely side-stepping the mysterious, old-soul-in-young-body persona in her latest album. Titled "Lust for Life" the 2017 politically charged album is a drastic shift in tone which fans are responding to favorably, but also with immense surprise. For the album art and promotion, Del Rey has ditched her other-worldly look, instead brushing down the beehive to a lightly hair-sprayed do, minimal makeup and wide-toothed grin. Gone is her classic American flag backdrop and instead, she poses in a plain white dress in front of a parked truck: this could be anywhere from a parking lot to her front lawn.
A Versatile Performer
Ever since she emerged onto the music scene, fans and critics have been struggling to place Lana Del Rey into any one genre. The minute they put her up as a gothic artist, she sings "Groupie Love"; as a pop artist, she records the melancholic "Young and Beautiful"; a commercial (perish the thought) singer, she releases the "Ultraviolence". While Del Rey's style is reminiscent of many other artists past, her overall genre really is a league of its own.
She is an 'alternative' musician in every capacity and is already inspiring many of her contemporaries, such as Lorde and Courtney Love. Lorde has mentioned that she was influenced by Del Rey's style on her song "Liability". Courtney Love, the 90's grunge rocker has toured with Lana Del Rey two years ago, and told her in a magazine interview that she is inspired by her artistry.
A New Direction
Lana Del Rey's music has completely been redefined with this album and the world is still reacting to it. The sky truly is the limit for the 32-year-old as she completely shifts gears on this work, by collaborating with artists such as The Weeknd and A$AP Rocky. The album comes two years after the release of her last record, "Born to Die" and therefore a promotional tour is long overdue. Del Rey, of course, does not aim to disappoint and has just announced an all new national tour titled LA to the Moon.
LA to the Moon
The possibilities are endless and completely unexpected in this tour, as Del Rey lets go of everything her fans associate with her. More than dissatisfied with the current political climate, the singer has picked up the revolutionary torch of rockers from the 60s with the anthemic 'When the World was at War We Kept Dancing'. The blunt "Is it the end of an Era? Is it the end of America?" pre-chorus to this song voices the singer's concerns aptly. Vocal against sexism, "Beautiful People, Beautiful Problems" is her collaborative song with Stevie Nicks which seems inspired by the March 2017 Women's March on Washington. In short whereas "Little Lana" was once an artist depicting a land far, far away, Del Rey's latest work pays homage to the world of today and everything wrong with it.
Speaking in an interview, Del Rey mentioned that she is not comfortable representing the 'red, white and blue' on stage anymore because of its invariable attachment to the present political setup. Instead, her stage lays bare with occasional transcendental graphics to back certain upbeat songs. "LA to the Moon" is all about connection and growing affinity between Del Rey and her fans, with a collection of smaller venues and large arenas being booked for it.
A Fan's Best Friend
In recent shows, the singer took in song requests from the audience and incorporated them into her set list. Never one to disappoint, Del Rey makes sure her set list include the classic hits her fans have grown to love, and then a few new songs from "Lust for Life". After her shows, Del Rey descends from the stage to take selfies with the fans and have a little chat with them.
Lana Del Rey has a good rapport with her fans. In fact she just invited a dozen of them to celebrate her birthday with them in July, 2017. The 32-year-old holds her fans in high esteem and is much grounded despite all the fame surrounding her. The internet is full of Del Rey's praises with dozens of fan-sites dedicated to her.
LA to the Moon tour is scheduled for the end of 2017 and throughout 2018 and Lana Del Rey's fans cannot wait for the magic to begin.