Justin Timberlake, Prince and the Super Bowl Halftime Show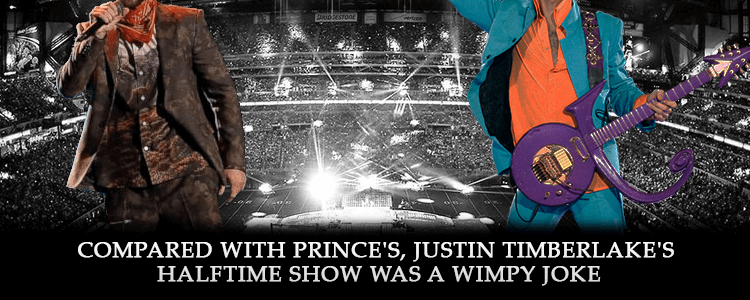 When Justin Timberlake was announced as the performer for the Super Bowl LII halftime show, a lot of hype was generated instantly. Some of this hype was due to the fact that Timberlake was expected to pay a 'hologram' tribute to Prince, who died in April 2016 and was a Minnesota resident. Even though most of the reaction surrounding this aspect of the Super Bowl performance was negative, because of the fraught relationship Timberlake had with Prince, it made people look forward to Timberlake's performance even more.
Expectations were also high because of previous years' amazing shows, including Lady Gaga flying into the venue from the stadium roof in 2017. The stage was set for Timberlake to shine and this is how it all went down at the US Bank Stadium.
Timberlake and the Super Bowl
Timberlake first performed at Super Bowl XXXV, in 2001, at the peak of his career with the beloved boy band, NSYNC. They rocked out to the fan-favorite "It's Gonne Be Me," along with legends Steven Tyler and Britney Spears. His second performance at the Super Bowl was after the launch of his successful solo career, when MTV recruited a lineup of stars for the Super Bowl XXXVIII halftime show. This was the show that also featured Janet Jackson and featured the controversial wardrobe malfunction.
Now that Timberlake was returning to the Super Bowl, a lot of people wanted to see what he had in store. Most importantly, they wanted to see if he could live up to the hype surrounding his performance. For the most part, it wasn't really that good.
The Timberlake-Prince History
Considering that Sunday's Super Bowl was held in Minneapolis, a tribute to Prince during halftime was almost certain. Prince, who was a Minneapolis native, was widely regarded as the local king of pop. In addition to that, Prince's own Super Bowl Halftime show in 2007 was truly one of the most iconic performances in Super Bowl history.
As far as the history of Prince' and JT's relationship goes, it was a rocky road. In the past, there have been times when Timberlake mocked Prince in public, like taking at dig at his 5'2" height at the 2007 Golden Globe Awards. Timberlake also dedicated a verse in his song, Give It To Me, in order to disrespect Prince openly.
With the Super Bowl being played in Minnesota and his history with Prince, comparisons between Timberlake's performance with that of the late artist were inevitable. So did Timberlake live up to the mark or did he fall short?
Did Timberlake match Prince' Performance in 2007?
In comparison to Prince, Timberlake certainly fell short. While Prince sang his songs during his halftime show, Timberlake relied heavily on background singers. On top of that, the opening song had a really bad sound quality, kicking off the show with an unimpressive muffled sound, with fans barely being able to make out the lyrics.
As the show progressed, Justin Timberlake seemed to intentionally compromise the quality of the vocals, in favor of choreography and kicking of the mic stand. He can be seen desperately trying to hit high notes towards the end of his famous song, Mirrors.
While Prince knew how to strike the right balance of classic songs and risky performances with new renditions of his hit songs, Justin Timberlake seemed to fall short on those counts. Timberlake's attempt to create remixes of some of his own classics resulted in some really bad arrangements of tracks like Cry Me A River and My Love.
To top it all off, Prince wrapped up his performance with one of the greatest moments in the history of Super Bowl Halftime shows – an outstanding rendition of his hit single, Purple Rain. Timberlake wrapped up his show with a lackluster performance of Can't Stop The Feeling – an appropriate ending song but with nothing special.
There was no hologram of Prince at the show, as was expected by most people. However, there was a projection of the late artist performing his famous single, I Would Die 4 U on a multiple storey high white sheet.
Timberlake's Tribute to Prince
Even though Prince's 2007 half time show eclipsed Timberlake's latest visit to the Super Bowl show, Timberlake's performance still had some positive moments that made sure the audience had a decent time. One of those was the tribute to Prince.
Timberlake hit the Super Bowl halftime show stage in a style true to him, more than anything else. He performed a series of his greatest songs with a never ending energy and some amazing dance moves. He also gave a tribute to Prince with a beautiful piano ballad with a video footage of the late star playing above him.
The entire city of Minneapolis was lit up in purple to join in the tribute to Prince.
The spectators seemed to enjoy the show, all the way from Leslie Odom Jr.'s rendition of America the Beautiful to Pink's bold and impressive national anthem performance and eventually to Timberlake's 12 minutes to impress. Timberlake's performance at the Super Bowl halftime show did have some more than decent moments but it still could not eclipse Prince's legendary show in 2007.