How to Find the Best Seats for a Concert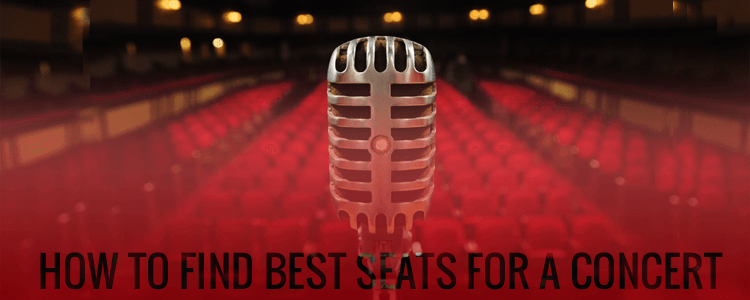 Whenever you plan to go to a concert, one of the most important considerations is choosing the right seats for yourself and your friends/family. Irrespective of whether it is an indoor or an outdoor show, there can be hundreds or even thousands of seats at a concert venue which makes it somewhat challenging to pick and book the right seats.
Types of Concert Seats and What to Expect If You Book Them
Most concert venues have different sections and types of seats. These are the most common ones.
Aisle Seats
These are places on both ends of a row. The good thing about them is the extra space towards the side which makes it easy for people to get up if needed.
Balcony Seats
These are likely to be the cheapest seats in the arena but won't be a great choice. If the concert arena consists of just one upper level, it is normally known as the balcony. It tends to be a fair way away from the stage and the seats in this section do not make for a great viewing experience, unless you've got your binoculars or goggles with you.
Balcony Overhang
This is normally the lowest part of a balcony in a theater/arena or the first couple of rows in a balcony.
Floor Seats
If a concert venue has a floor seating section, this means that the concert is probably taking place in a big sports stadium. These are places right at the front or very close to the front. You can have a floor seat reserved if you plan to choose a seat in this section. That way, you won't have to arrive hours in advance to enter the venue.
Club Seats
These seats are normally considered an exclusive section which are higher-priced and provide the audience with certain other amenities apart from the seating.
Box Seats
These seats tend to be further away from the stage but the views are generally fine and the sound is also good enough most of the time. Some box seats are on orchestra level as well. So, box seats can be a preferred option for you to enjoy a great show.
Tips to Book the Best Seats
We have put together a list of tips to help you find good seats at a concert. What constitutes a good seat for you will depend on a number of factors including your preferences and the type of experience you want to have when going to a concert. You will need to keep all this and a few more things in mind when booking your seats. Read on to find out how you can pick better seats and have a great time at any concert.
Scope Out the Concert Location
Plan a trip to any concert by taking a good look at the concert venue if possible. Keep an eye out for the seats that are likely to have obstructed views because you really don't want to end up with seats that won't give you a clear view of the stage.
You can do this by either contacting the venue' staff or heading down to the venue to take a look around if the staff allows you to. Also check if the online seating plan of the arena mentions where the visual obstructions are likely to be.
Do Some Research On the Venue
This will help you find out where the best seats are at a particular venue. There are lots of reviews and articles available online about which seats are the best at different venues. Interactive online seating charts are also available for many venues today which can help you pick the right seats.
Go for Box Seats In the Middle If Possible
Box seats that are near the center provide much better views. If you choose box seats near one of the sides of the hall, then only a part of the stage might be visible to you. Also, there won't be any other audience members in front of you and you will have a totally unobstructed view while the sound will also be better than at other places in the arena.
Try to Steer Clear of Rows That Are Directly Below the Overhangs of the Upper Balcony
There are many old-fashioned concert venues around the country where the upper balconies extend over the last few rows of seats on the ground floor. This tends to restrict the sound that the audience members sitting in those seats are able to receive and you may also experience obstructed views.
Consider Seats At the Upper Level
The advantage of choosing these seats will be that you would be able to see the whole stage even if it might be further away from you. Plus you won't have to deal with obstructed views owing to the inclined design while the sound also floats well to the upper levels.
Consider Your Height
This might sound strange but is actually very important. If your height happens to be on the short side, then floor seats may not be a good idea for you because the people standing in front will block your view quite significantly.
However, floor seats won't be a problem if you are tall. We even suggest getting a seat in the aisle if you have longer legs. That way, people moving past you to get to their seats or leaving the place won't have much difficulty.
Keep In Mind the Expected Crowd Before Going for Floor Seats
The most expensive seats at a concert are normally the floor seats but they can also be a nightmare for you if you have a different personality to the crowd around you. If the performers tend to attract an energetic crowd and you have a laid back nature, then it is better to steer clear of floor seats. Also, people taking the floor seats may huddle close to each other and might even be pushy.
If you don't mind being close to other people and like the energetic and electric vibes that are likely to be generated by the performers, then floor seats might be a good choice for you. If not, then it is better to choose some other section of seating for yourself and your friends/family.
Consider All the Positives and Negatives of Front Row Seats
If you just want to be as close to the performers as possible and don't mind paying extra for your tickets, then front row seats can be a good choice. Also consider the height of the stage.
Shows in big arenas and stadiums are likely to have very high stage setups and you will probably have to look up the entire time to watch the performances. A sore neck might be the end result of this. But if you just want to be as close to the action as possible, then the second, third or fourth rows might be better options.
Most of the time, the seats you choose at a concert are likely to define your entire experience there. So, make sure that you pick good ones. The tips and techniques mentioned in this piece will go a long way in helping you make the right choice. Good luck at your next concert!