How to avoid online ticket scammers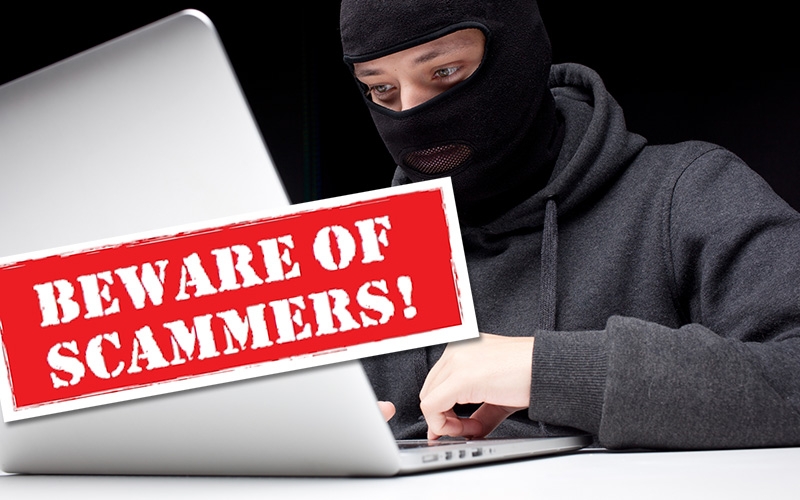 If you wait too long to purchase tickets for a highly anticipated event, chances are that tickets are going to sell out. Many people realize too late that they've waited too long to get tickets to a show they're actually very eager to attend. When you're backed into such a corner, what do you do? Do you have any options? Are there ways to get tickets from another source? The faint glimmer of hope of finding tickets leads people to some pretty desperate ends.
People who are desperately looking to purchase event tickets sometimes resort to looking online. Many individuals claiming to have tickets for sold out events and selling them online are actually fraudsters. It is therefore very important for people to be cautious when looking to purchase tickets online. Here are a few tips on how to avoid online ticket scammers in your search for tickets to a sold out event.
If possible, make the transaction in person
This cannot be stressed enough; try to make any transaction in person. Most scammers are looking to bait people online. They claim to have the tickets that you want in the specific quantity you require. They know you're desperate and so they feel as if they have you backed into a corner. Not only do they charge very high prices for the tickets, they typically disappear as soon as you wire the money to them. That'll leave you with no tickets and money you won't be getting back.
Therefore, when looking to purchase tickets for a sold out event, if someone claims to have them, arrange to meet them in person. You can request to meet them at the event venue. That way you can verify that the tickets themselves are authentic, and you can physically inspect them for any discrepancies. You can also make the transaction immediately and receive your tickets without any risk of the seller disappearing on you.
Be vigilant; look for the details
One of the ways that online sellers rip off people is by rushing them into making the transaction. Chances are you already feel rushed because tickets are sold out. Once you've found someone who supposedly has the tickets, you're going to be eager to get the tickets in your possession.
Scammers know this. That's why they try and rush people into making a quick sale. If this happens, and you feel uncomfortable at the pace at which the transaction is unfolding, chances are something is not right.
Think like a scammer
Since you're not buying tickets from an authorized seller, it's very important to be very alert during the transaction. You have to think like a scammer and assume that the person you're dealing with may just try and pull a fast one on you.
If you were a scammer, what are certain things you would say to a customer to make them feel comfortable about the purchase? How would you pace the transaction? How would you request for the payment to be made?
Getting yourself in the state of mind of a scammer will help you spot the tactics of a scammer the minute they present themselves.
Try to make a personal connection
For people trying to pawn off tickets online, their main goal is to get rid of the tickets as fast as possible for a good price. If they don't have any tickets and are trying to scam people, they'll want to adopt a similar strategy and try to get the money from you as soon as possible.
In order to avoid getting ripped off, you should strive to make some sort of a personal connection with the seller. This could involve making a phone call to them and getting their contact details, or getting their personal email.
It could also involve setting up a personal meeting where you can hash out the details of the purchase in person.
Do not wire transfer any money
This is one of the most important tips to remember when looking to purchase tickets online; do not under any circumstance wire transfer the money to the seller. If a seller tells you to send them the money via Western Union or MoneyGram, or another similar money wiring surface, this is a clear indicator that the seller is likely a scammer.
Be wary about sharing personal information
Most legitimate sites will clearly warn customers about sharing personal information online, especially when the information is financial in nature. Where strangers are concerned, do not share any information of yours that could put your financials in jeopardy.
There are other things that you need to watch out for as well. This includes attachments. Never download attachments from the seller if they seem dubious to you. Many times, sellers will send attachments or links with viruses or malware to buyers.
Also, never sign into websites like PayPal through hyperlinks. This may redirect you to a fake website with the purpose of stealing your information.
Be cautious when it comes to exclusive items
This is one of those occasions when you have to exercise extreme caution. If a seller is claiming that they have certain tickets or items which are incredibly rare or exclusive, take that claim with a huge grain of salt. Chances are the seller doesn't actually have the items and is trying to rip you off.
In the case of so called exclusive items, buyers are very desperate and are ready to make purchases without stopping to think. However, this is one of those situations where you need to carefully analyze the seller and what they are claiming to offer.
Use online payment with protection
If you can't make the purchase in person and the money has to be exchanged online, make sure to use a payment method which offers some form of protection. There are services such as PayPal which have their own protection policies which come into play if a seller tries to rip a buyer off.
Trying to purchase tickets online can be a risky business because scammers are a dime a dozen on the internet. If you follow these tips, you can significantly reduce your chances of being ripped off by an online ticket scammer.