Future Makes Billboard 200 History with 'HNDRXX'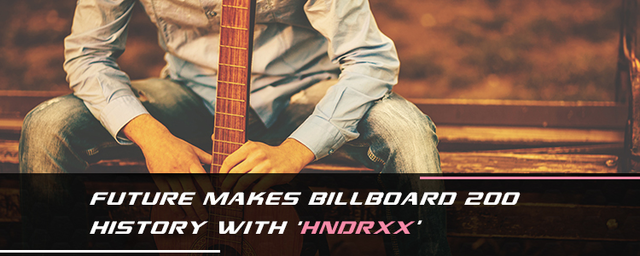 Future is an American rapper and hip hop artist who broke out on to the music scene in 2010 with a series of popular mix tapes. In an astoundingly short period of time, he has gone on to become one of the most critically acclaimed artists in his genre. His latest achievement is a monumental one: Future has made history on the Billboard 200 by becoming the first artist to debut two different albums at the Number One spot in consecutive weeks. His latest album, HNDRXX, follows his self-titled release to dominate the coveted top spot on one of the biggest music charts in the world.
'HNDRXX' makes History
On February 14th, 2017, Future took to Instagram to announce that he would be releasing his fifth full length studio album on February 17, 2017. A week after his self-titled album would hit the shelves, Future would release another full-length studio album, HENDRXX. This would be his sixth full length studio album and would be the one which would make history for this young artist.
HNDRXX (pronounced "Hendrix") was released on February 24th 2017. In its first week, the album sold a total of 121,000 copies. Future's self-titled album sold 140,000 copies in its opening week. These impressive sales helped to solidify their dominance on the Billboard 200.
When asked about the album, Future said: "I embraced what I thought people was gonna hate about me. I was gonna turn the hate into love".
Furthermore, his two latest releases seem to be in stark contrast to each other. According to Billboard magazine, HNDRXX is an album which explores "the softer, vulnerable side" of Future as compared to his self-titled album.
Billboard notes that this is the first time a solo artist has ever topped the charts in two consecutive weeks with two separate and distinct albums. The last time this was done was in 1968 when Simon & Garfunkel released the Bookends and The Graduate soundtrack. However, neither of these albums debuted at the number one spot on the chart.
Another impressive fact about this remarkable story is that after HNDRXX was released, Future dropped to the number two spot on the chart. This made Future just one of nine artists to have occupied both the number one and number two spots on the Billboard 200 at the same time. The last artist to have achieved this was Prince in 2016 following his death with the Very Best of Prince and Purple Rain.
Future's Rise to Fame
In 2011, Future signed onto the major record label A1 Recordings. This was all done days before the release of his mix tape, Streetz Calling. Leading up to all of this Future had spent the majority of 2010 and 2011 releasing a series of mix tapes which caught the attention of numerous people, both fans and critics alike.
When Streetz Calling was released, XXL magazine described the debut effort as "simple and soundly executed boasts" , "futuristic drinking and drugging jams", and "tales of the grind". Another review done by A Pitchfork pointed out that the mix tape was "as close as anyone to perfecting this thread of ringtone pop, where singing and rapping are practically the same thing, and conversing 100% through Auto-Tune doesn't mean you still can't talk about how you used to sell drugs. It would almost feel antiquated if Future weren't amassing hits, or if he weren't bringing some subtle new dimensions to the micro-genre."
Future then released another mix tape, Astronaut Status, in January 2012. XXL magazine had this to say of the album: "While Astronaut Status is up and down and never really hits the highs like 'Racks', 'Tony Montana', and 'Magic' that fans have come to expect from Future, it's apparent that he's poised to continue the buzz of 2011 humming right along into 2012."
Nevertheless, Future was included among the annual XXL Freshmen by early 2012.
Growing Success and New Material
Future released his debut album, Pluto, on April 17 2012. The album featured a number of his old hits remixed such as "Tony Montana" featuring Drake and "Magic" featuring T.I.. This was the first musical work that rapper T.I. worked on after his stint in jail. "Magic" would be the first single by Future to break into the Billboard Hot 100 chart. The album also featured guest performances by a number of other artists including Snoop Dogg, Trae Tha Truth, and R. Kelly.
Pluto was followed up by the release of Pluto 3D. This was a repackaging of his debut effort which featured an additional three new songs as well as two remix songs. This album featured guest appearances by P. Diddy and Ludacris, as well as Kelly Rowland.
Also in 2012, Future was featured on "Loveeeeeee Song", a single from Rihanna's seventh studio album Unapologetic. This was a song that Future also wrote and produced.
In early 2013, Future released a compilation mix tape called F.B.G.: The Movie. In 2011, Future founded a record label called Freebandz and the artists signed on the label are called the "Freeband Gang" (FBG). On F.B.G.: The Movie, Future featured a number of artists in the Freeband Gang including Slice9, Maceo, Young Scooter, Casino and Mexico Rann. The mix tape was quickly certified Platinum.
Refining the Future Sound
Future initially announced that the name of his second full length album would be Future Hendrix. He also remarked that his new album would feature a distinctly new R&B sound while still retaining its old 'street banger' quality and that the music would be more substantive. The album would also feature a number of popular artists including Rihanna, André 3000, Kanye West, Kelly Rowland, Ciara, Diplo, Drake, Jeremih, and more.
Shortly afterward, Future announced a name change for the album and stated that it would now be called Honest. The lead single from the album, "Karate Chop", was a massive hit. The album, after numerous delays, was released in April 2014. Following its release, Future went on tour with Drake on the Would You Like A Tour?
In the summer of 2015, Future released his third full length studio album DS2. The album debuted at the number one spot on the Billboard 200 and earned raving reviews from fans and critics alike.
Collaborations and Continuing Success
In the fall of 2015, Future and Drake teamed up to release a collaborative mix tape called What a Time to Be Alive. The album debuted at the number one spot on the Billboard 200, Billboard R&B Charts, and Billboard Hot Rap Songs. This made Future the first rapper in 11 years to have two number one albums in one year.
In early 2016, Future released another mix tape Purple Reign. The following month he dropped his fourth studio album, EVOL.
2016 was a big year for Future as he became the fastest artist to have three number one albums on the Billboard 200 since 2010.
Breaking Records
To add to all of his successful releases, the beginning of 2017 brought the release of two consecutive studio albums by Future. Both albums debuted at number one in consecutive weeks, making Future the first solo artist to dominate the top spot on the Billboard 200 with back to back albums.
In a very short space of time, Future has been able to release incredibly-popular chart topping music which has helped him break numerous records. If this is any indication of what Future is capable of, expect more groundbreaking work from this fresh rapper.