Five Things to Look Forward to on Metallicas WorldWired Tour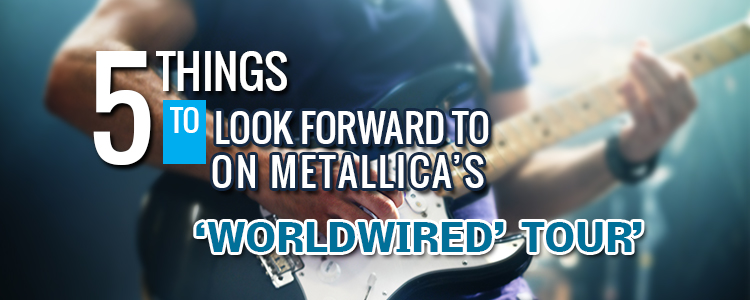 Metallica is the best thing that has happened to metal music. Just listen to their songs like, Turn the Page, Hero of the Day, No Leaf Clover and Cyanide and you get to understand the power of their music and why they are regarded as one of the greatest acts in metal music history. It goes without saying that they are one of the biggest heavy metal groups in the world.
The group that made us fall in love with heavy metal, Metallica has now made a comeback after a hiatus of eight years and Metallica tickets for their concerts are in demand. Their tenth studio effort titled, 'Hardwired… to Self-Destruct' hit the shelves last year in 2016 and it catapulted them back under the limelight. If you listen to some of their latest songs like, Hardwired you will see that the legends have finally returned to their roots. They are now setting out on, 'WorldWired Tour' to support 'Hardwired… to Self-Destruct' and here are five things you can look forward to as they come to rock your city next.
The hard hitting sounds of heavy metal  
One thing that you can definitely look forward is to enjoy the best of heavy metal music. After all it's a Metallica tour and they made the genre popular thanks to their hard hitting hits like, Enter Sandman, The Memory Remains and Whiskey in the Jar. Millions of fans fill venues whenever they go on tour and who can blame them? Metallica are eight time Grammy winners for a reason.
Metallica, a band that has inspired names like, System of a Down, Travis Barker, Creed and Slayer to name a few emerged on the metal scene in 1983 and their music resonated with the masses with their first record, 'Kill 'Em All.' The album became a critical hit and was included in Rolling Stones' list of, 'The 100 Greatest Albums of the '80s.' The band has not looked back since then and has recorded several hit records like, 'St. Anger,' 'Load' and 'Reload' all of which found their way to the top of the charts in many countries and brought them mainstream popularity.
It's been over three decades since Metallica's arrival in the industry but they haven't stopped rocking just yet. If you are planning to attend their 'WorldWired Tour' then expect them to perform live versions of their most successful hits which will surely take you back to the golden era of metal music.
Live performances of new songs from 'Hardwired… to Self-Destruct'
Metallica has got a new album out and it's called, 'Hardwired… to Self-Destruct.' Yes, we are so excited about it that we cannot stress this enough. What that means is that you can look forward to the band playing their latest anthems from their tenth studio effort live. The record came out one year ago in the fall of 2016 and climbed to the first spot in several countries like, the United States, the United Kingdom, Canada, Australia and Germany among others.
'Hardwired… to Self-Destruct' has been praised by the critics and ranked at the top spot on Rolling Stones' list of the, '20 Best Metal Albums of 2016.' It received five stars out of five from Kerrang! and The Guardian called the album Metallica's, "finest record in 25 Years." Moreover, it has been certified gold by the RIAA so far and has singles like, Atlas! Rise, Moth into Flame and Hardwired. The album also contains other metal hits and you will get to see Metallica perform those tracks when they embark on the 'WorldWired Tour.'
Earth shattering performances
Metallica have been touring since they came out with their debut record, 'Kill 'Em All' in 1983. They have played music all over the world including in festivals like, Monsters of Rock, the Download Festival, Days on the Green and the Reading Festival.
If you are a fan, then you know that it simply is not possible to attend a Metallica concert and not be blown away by the quartet's powerful performances. With James Hetfield's vocal talents, Lars Ulrich's drumming skills and Robert Trujillo & Kirk Hammett's epic guitar playing ability, you are about to see them bring the house down every time they hit the stage as part of their latest road trip.
You can look forward to experiencing a show packed with high energy where everything is loud. From screaming fans, to extremely loud music and all the way to Metallica raising the bar even higher in terms of live concerts, it promises to be an experience unlike any other. Make no mistake about it, Metallica will do things their way because that is what they do best.
Opening acts
If you think Metallica will be headlining, 'WorldWired Tour' without any support from their fellow metal bands then you have got another thing coming. Groups like, Volbeat, Gojira and the Kerrang! winning quintet, Avenged Sevenfold will be taking the stage along with the Rock and Roll Hall of Fame inductees, live.
Each of these bands has enjoyed success in the industry and are known internationally for their music. They have also come out with many hit records and have won numerous accolades for their contributions in the music industry. Now, Avenged Sevenfold, Volbeat and Gojira will be rotating the opening act duties throughout Metallica's road trip and this is your chance to watch multiple metal acts live at one concert.
An epic stage production
Since we are talking about Metallica, how is it possible that their amazing stage production is not discussed? One of the founding members of the multi-platinum recording group, Lars Ulrich said, "You want to make the shows into events. We've got a few things, obviously, that are tied into the record and a few different bits and tugs that's gonna make it fun."
This statement from Ulrich has already created a lot of excitement among their fans who they are waiting desperately for the group to perform in their city. Metallica is about to hit the road and this is as good as it gets for heavy metal fans. If you are one of them, get ready for an experience you will not forget for a long time to come.