Fifth Harmony "7/27" Tour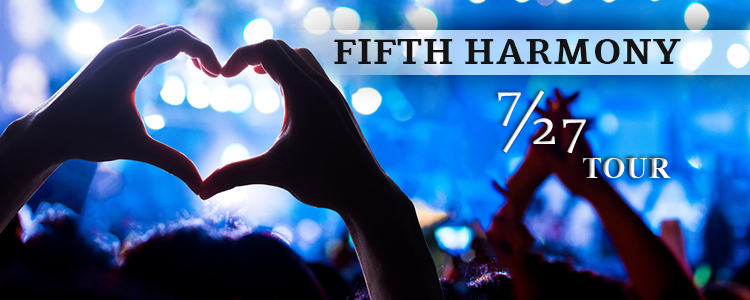 Getting your big break in the music industry is a matter of luck as well as hard work. It requires dedication and belief in one's abilities, as well as the talent required to back that belief. However, as time goes by and the entertainment industry catches up with the current technology, several other avenues also keep presenting themselves for upcoming artists.
The advent of websites like YouTube and Soundcloud alone have been responsible for launching the careers of countless artists, while television has been trying to make its mark as well. Reality singing shows are growing in number and for many struggling musicians they are a great platform to find mainstream success, as well as worldwide exposure. However, the major problem with this particular path to fame has been the artists' inability to maintain their popularity and image even after they've left the show. Most of them fall off the radar, and only the truly exceptional ones have managed to stay in the limelight. One such group that has maintained its popularity is the all-girls group, Fifth Harmony.
Group Members
Ally Brooke
Allyson Brooke Hernandez was born in 1993 and is the oldest member of the group. From the very day of her birth, it became clear to her parents that she was destined to be a singer. This was due to the fact that she was born as a premature baby and doctors feared for her life. However, even then she could not stop screaming at the top of her voice, which was highly unusual for a child in her condition. She grew up listening to popular contemporary music, with a special interest in classical Mexican musicians like her idol Selena and used this knowledge to improve her voice.
Brooke auditioned for the X Factor in its second season, in the city of Austin, Texas and sang "On My Knees" by Jaci Velasquez. A notable moment from the audition was that she kept on singing the song, even though the judges has ordered the music to be stopped. However her perseverance paid off, as she was given the nod of approval from all four judges, with Simon Cowell even calling her a future star.
In the Bootcamp round, she first sang "Somebody That I Used to Know" by Gotye and performed a duet with Julia Bullock, singing "Knockin" on Heaven"s Door." However, after these performances she was eliminated from the show and left to question her abilities as a singer.
Camila Cabello
Karla Camila Cabello Estrabao was born in 1997 and is the youngest member of the group. She spent most of her early life in Cuba, and moved to the US when she was six years old. As a result most of her early education in music involved listening to popular Spanish and Mexican singers. Her love for music developed when she discovered karaoke and it became her favorite past time.
Cabello auditioned for X Factor in North Carolina and initially performed for the producers of the show, who informed her that she could only present her song in front of the judges if they had time. She waited almost the entire day, but her turn never came. This news devastated her as she had dreamt of this moment for a very long time. It was like this that Simon Cowell eventually found her, and gave her permission to audition properly for the judges, all of whom gave her a thumbs up.
In the next round, she performed the songs "Back to Black" by Amy Winehouse, and "Your Song" by Elton John. Both were well received, however they weren't good enough to keep her in the competition and she was later eliminated.
Dinah Jane
Dinah Jane Milika Ilaisaane Hansen Amasio was born in 1997 and is considered to have one of the best vocals in the group. She had a difficult upbringing early on in life as she had to share her house with over twenty other family members. However she never let that interfere with her passion for music, and by the time she was four years old, she was already singing for her family. By the time she was a teenager, she had already performed in several public settings including her school and had made quite a name for herself in the local community.
Jane auditioned for the X Factor in 2012 and sang the song "If I Were a Boy" by Beyonce. She got high praise for her performance, with renowned record producer L.A. Reid even going as far as to say, her version had been better than the original in some instances. In the next round she sang "Hero" by Mariah Carey and again wowed the judges with her vocal ability. However, during her next performance, she sang Kelly Clarkson's song "Stronger (What Doesn"t Kill You)", and tragically forgot some of her lines, which resulted in her elimination soon after.
Lauren Jauregui
Lauren Michelle Jauregui was born in 1996 and it became clear from an early age that she was a natural born talent. She began singing at the age of two and continued through most of her school life, performing in various events and even playing the national anthem in front of a large group of people once. By the time she became a teenager, singing had become an important part of her life, and she knew she wanted to pursue it professionally.
Lauren auditioned for the second season of the X Factor by singing Alicia Keys' famous song "If I Aint Got You" and was awarded with four yeses from the judges, with Demi Lovato in particular quite impressed with her control over her voice. In the next round, she performed "E.T." by Katy Perry and Otis Reading's song "These Arms of Mine", and even though both were very well received by the judges, they were not deemed well enough for the show, leading to her eventual elimination.
Normani Kordei
Normani Kordei Hamilton was born in 1996 and lived most of her early life in New Orleans. As a result she grew up listening to mostly soul and gospel music, along with strong female singers that had a huge impact on her music direction later on in life. In 2005, Hamilton and her family had to move to Texas after Hurricane Katrina devastated New Orleans, and this was a difficult period for her family. However her love for music kept her going, and eventually led her to the X Factor.
Kordei has been multitalented from an early age and tried her hands at several extracurricular activities throughout her life. She took part in various singing events, as well as gymnastics competitions, and even played a small part in the HBO series titled "Treme." In 2012 she auditioned for the X Factor, singing the song "Chain of Fools" by Aretha Franklin, and impressed the judges enough for them to give her all four yeses. In the second round she sang "If I Ain"t Got You" by Alicia Keys and One Direction's "What Makes You Beautiful" but couldn't do enough to book a place in the next round, and was eliminated at the end of the Bootcamp round.
Formation
By the end of the Bootcamp round of the second season of the X Factor, all five girls had been eliminated from the competition. However the two judges, Simon Cowell and Demi Lovato, had high hopes from each performer, and they decided to bring them back together in the form of a music group. They initially called themselves LYLAS or 'Love You Like a Sister' but due to various problems, later changed it to "1432."
During the Judges home round, Cowell paid close attention to the group and criticized their name as he felt it was not catchy enough. However he loved their singing ability and the harmony among the different members of the group and it earned them a move to the next live performance rounds. By the end of the first such round, they impressed the judges with a performance of "We Are Never Ever Getting Back Together" by Taylor Swift, yet the issue with their name came up once again. In the end, the group's name was left up to a public vote, at the end of which the majority voted for the name Fifth Harmony.
Over the course of the X Factor, the group enjoyed quite a few memorable performances and managed to make it all the way to the finals, with the help of audience votes. In the final they sang Ellie Goulding's "Anything Could Happen" and the Beatles' "Let It Be" along with a duet with Demi Lovato, on her song "Give Your Heart a Break." Each performance earned them high praise from the judges and the fans of the show, as millions of people voted for them. However, in the end their competitor Tate Stevens managed to get more votes and was named the winner of the season two of X Factor.
Music Career
Albums
Losing out on the X Factor title, after making it into the top three was a huge disappointment for each member of Fifth Harmony, yet it did not dampen their spirits. Instead they build up their resolve to stick together and keep their music dreams alive. Fortunately, within a month of leaving the show, they got a recording deal with Simon Cowell's record label, and were soon busy working on their own original material.
In October, 2013 they released their debut Extended Play "Better Together.". Over the next few months, four more versions of the album were released with two containing Spanish versions of their songs, while the other two contained acoustic and remixed versions instead. The original made it all the way to number six on the Billboard charts and was a great success, while one of the Spanish versiona made it to number two on the US Latin music charts. The remixed album also made it to number twenty on the Billboard Dance/Electronic Albums, while a single from the album  'Miss Movin" On" became the breakout hit for the group. It made it into the top thirty of the Billboard charts, and was certified Gold in the US.
Over the next few months, the group stayed busy with promotional and concert tours that kept them on the road for extended periods. However by the middle of 2014, they decided to get down and start working on their debut full length album, which was eventually released early next year. Called "Reflection", it made it to number five on the Billboard charts and number eight on the Canadian music charts. It made it into the top twenty of the Australian and UK music charts, and was also certified gold in the US.
Tours
The first major headlining tour for Fifth Harmony was their 'Reflection Tour' in 2015, which lasted for over sixty shows across North America and Europe. Now that they have a new album coming out soon, they are once again heading out on a concert tour, named after their upcoming album called "7/27". Starting from June, this tour will last for over three months and the group will once again be travelling to different cities in North America. However, they will also be visiting South America as well, to play a few shows in Brazil, Chile, Peru and Argentina. With over forty shows planned for the next few months, this will be the opportunity all 'Harmonizers' have been waiting for. If you don't want to miss out either then get your Fifth Harmony "7/27" Tour tickets and enjoy the spectacle live from the stands.