Farewell Tours – 'Goodbye for now, see you at the reunion!'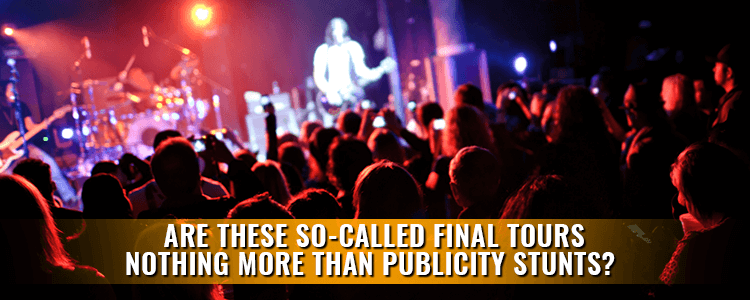 Haven't we all been fooled by bogus 'final tours' time and again? Every time we bid farewell to a band, we know a comeback would soon be announced.
Take Elton John for instance. "I've made a decision tonight that this is going to be the last show," he said when retiring from touring.
The funny part? This isn't an announcement from the past few weeks – it's from 1977.
But why is this apparently 'blatant lying' happening on such a frequent basis? One theory is that we, as the consumers, love to be fooled. Let us explain.
Even though we know that most farewell tours are just money-making shams, we still go along with it and attend them. It is all a play on the emotions of the fans. The bittersweet ending, a rush of memories, the longing for more, all become the common feel of a farewell tour, that will make us purchase the tickets, no matter what. And add to that the euphoria of an unexpected reunion, many years down the road – and you have the perfect farewell tour sham package.
Let's take a look at artists who seemed to have used the farewell tour formula in the past.
KISS (2000)
KISS first announced their farewell tour in 2000, featuring the classic KISS lineup. The tour travelled to 142 cities in 2000 and 2001 and eventually went into the promised retirement. It took only two years for the band to reverse the retirement. Even though the classic lineup from the farewell tour has yet to reunite, the band is touring, to this day.
Ozzy Osbourne (1992)
In 1992, Ozzy Osbourne began his "No More Tours Tour", intended to be his last series of performances, in promotion of his latest album at the time, No More Tears. He claimed that he was going into retirement to spend some time with his family. The tour played 64 shows and wrapped up in November 1992. Osbourne took just three years to realize that retirement sucks. He was back on the road in 1995 with his Retirement Sucks Tour.
The Who (1982)
Lead singer, Roger Daltrey of The Who, talked about the band's farewell in 1982, saying that, "We can't get any bigger than we are, it's good to go out on top". Their farewell tour called The Who Tour in 1982 was not much of a farewell as the by end of the 80's, the band had already reunited twice.
The Eagles (2004)
The Eagles called their final tour, Farewell 1 Tour, with a joke implying that of course, there will be a Farewell 2, like all other bands who announce farewell tours. The group continued to perform up until the death of Frey in January 2016.
Black Sabbath (1999)
Black Sabbath's recent tour, The End Tour, was not really their first farewell tour. Even though this tour concluded in early 2017, there still hasn't been news of a potential comeback. The group embarked on its first farewell tour back in 1999, called The Last Supper tour. Less than a year later, the band was back into music making and touring.
Barbara Streisand (2000)
In 2000, Barbara Streisand gave two concerts in Los Angeles, followed by another two in New York. These concerts were supposed to be her swansong. Her reasons for retiring from live shows at the time were personal, mainly revolving around her marriage to actor James Brolin. The tickets for these concerts ranged from $150 to a whopping $2,500! Six years later, the legendary singer was on the road again, with one fan that had spent a fortune on her supposed farewell tour, threatening to sue her.
Cher (2002)
The iconic singer kicked off her Farewell tour in 2002 and convincingly told her followers that "This truly is it". Well it truly wasn't, as time would tell. She even joked about her Dressed to Kill Tour being her final "farewell, farewell, farewell tour" in 2014. Since then, she has completed a 70-show residency in Washington and Las Vegas.
Scorpions (2010)
The rock band from Germany told their fans that after the end of their promotional tour for their latest album, Sting In the Tail, released in 2010, the band would finally end their journey. It didn't take them a long time to realize, 'who're we kidding!' The group decided on the tour that this would not be the end of the road for them, after noticing a lot of young fans coming to their concerts.
With all these big examples right in front of us, should we really expect all farewell tours to be jokes? Maybe not. And here's why.
The Aging Legends
Even though we have been fooled countless times with farewell tours (and we love the thrill of it), this time around, things seem to a bit different than before.
Sir Elton John recently announced his Final Yellow Brick Rock Tour, with 300 shows and an ending date for 2021. He will be 74 years old by the time this tour wraps up. Adding to this age factor is the death scare he had last year, when he caught a deadly infection on tour. After spending two nights in intensive care and cancelling multiple shows in the US, Elton John was finally back on the road.
Ozzy Osbourne is 69 years old. And with the years of abuse he has put his body through, you can only imagine what the condition of his health would really be. In 2016, Osbourne was forced to postpone multiple dates of his concert tour after he suffered a sinus infection. Talking about his illness, his wife, Sharon Osbourne said, "He's doing so much better. He had sinusitis, which went to bronchitis and he said that he felt like he had the Pacific Ocean in his ear," she relayed. "And he couldn't hear properly. It's been a nightmare."
There are many such examples of the legends of the music industry reaching the "genuinely" retiring age. Paul Simon is 76 as he continues his much-hyped about "Homeward Bound" farewell tour. Neil Diamond is 77 and his announcement was not that of a farewell tour, he retired immediately because he was diagnosed with Parkinson's disease.
So should we really we taking these farewell tours for granted in hopes that there will 'obviously' be another chance, or should we rush to see the pop culture legends while we still have the chance? The choice is yours – hefty ticket prices versus potentially the last chance to see your favorite music icon perform live.