Enrique Iglesias and Pitbull will get the party started in North America this summer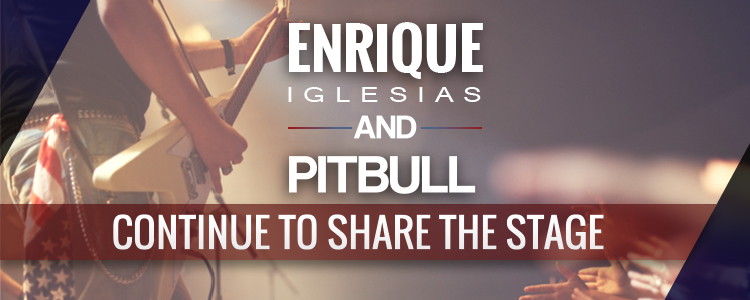 This summer two of the most successful names in music, Enrique Iglesias and Pitbull will embark on a joint tour. Both are great friends who have worked together on several occasions before and have treated the world to collaborative gems like, I Like It, Messin' Around, Let Me Be Your Lover and I'm A Freak. Enrique and Pitbull will not be the only ones sharing the stage. You will also get to enjoy the music of Latin pop group, CNCO as they will be joining the duo as a supporting act.
As of now Pitbull, Enrique and CNCO plan to perform 35 shows throughout North America. They are scheduled to play their first show of the trek on June 3rd at the Allstate Arena. They will then continue to rock the fans in several cities and will also make a stop at New York's Madison Square Garden where they will perform two dates. They are expected to end their tour in October. This is your chance to watch your favorite stars live. So, grab your concert tickets now and have a great time at the show.
Pitbull is on fire
Pitbull is a bonafide superstar who has gone on to become a household name. His incredible work ethic has transformed him into a very successful businessman and a two time Grammy winning global superstar. Moreover, he has also recorded music for a number of popular films like, 'The Penguins of Madagascar' and 'Men In Black III.' He even voiced the character of Bufo in the animated movie, 'Epic.' On top of that, he has also produced number one hits in more than fifteen countries and has sang the official theme of the 2014 FIFA World Cup titled, We Are One (Ole Ola) with Claudia Leitte and Jennifer Lopez.
Pitbull came to prominence when he released his debut record, 'M.I.A.M.I' in 2004 which reached the second spot on the Top Rap Albums. The album brought him success in the United States as it achieved gold level sales in the country. His records like, 'El Mariel,' 'The Boatlift' and 'Armando' didn't make much of an impact though but all that changed when 'Planet Pit' hit the stores in 2011. It entered the Billboard 200 at the seventh spot and was awarded gold certification in a number of countries. After that, Pitbull went on to make the world dance to his platinum selling songs like, Timber, Wild Wild Love, Fireball and Time of our Lives among others. He has also collaborated with stars like, Jason Derulo, Stephen Marley and Ty Dolla $ign.
Armando Christian Pérez or Pitbull has become a global phenomenon. He has not only received the key to the city of Miami but also has his own wax figure at Madame Tussauds. In addition to that, Pitbull has also garnered five Billboard Music Awards and seven American Music Awards.
Enrique's journey to the top
Undeniably one of the biggest stars in Latin music history, Enrique Iglesias has done it all. He has sold millions of records worldwide and has produced multi-platinum selling albums in several countries. Moreover, Iglesias has headlined a whopping ten world tours so far and has performed music in almost every corner of the world in places like Mexico, Santiago, Belgrade, London and New York among others. To top it all off, he has surpassed Michael Jackson's record by releasing fourteen number one singles on the Hot Dance Club Songs chart.
It is not easy to follow in the footsteps of your father especially if he is a Latin pop legend like Julio Iglesias, but Enrique did just that. He released his first self-titled album in 1995 which catapulted him to stardom. It recorded double platinum level sales in Spain and charted at the fifth spot in the country. Enrique's popularity steadily grew in Spanish speaking countries and soon his music started to receive airplay in the United States when his albums like, 'Enrique,' 'Escape' and 'Euphoria' arrived in the market. His most recent album, 'Sex and Love' hit the stores three years ago in 2014 and it collected positive reviews from different publications.
Enrique Iglesias has been honored with many accolades throughout his stellar career. He has won every major award in the business including, Grammy, AMA, ASCAP, Premios Juventud and Billboard Music Award. Enrique has also done songs for a number of films like, 'Step Up 2: The Streets,' 'Beverly Hills Chihuahua' and 'Hot Tub Time Machine.'
CNCO: A new Latin sensation in town
Latin pop music's newest sensation, CNCO came under the spotlight when they won the first season of the very famous singing competition, La Banda in 2015. The quintet took little time in grabbing the attention of the masses with its music and immediately became the talk of the town. They released their first album titled, 'Primera Cita' in 2016 through Sony Music Latin. It climbed to the first spot on the Top Latin Albums chart and gave singles like, Tan Fácil, Quisiera and Reggaetón Lento (Bailemos).
Thanks to 'Primera Cita,' CNCO's music crossed boundaries and they were honored with four Premios Juventuds. Moreover, they also won three Latin American Music Awards and Premios Lo Nuestro each.
Are you ready to party?
The "King of Pop," Enrique Iglesias, "Mr. 305," Pitbull and Latin music's fastest rising stars, CNCO are now ready to party with you live. They will be playing music in your city soon so, get ready to jam to their music live. If you are a music fan, then this is one tour that you cannot afford to miss out on. Simply book your tickets in time and dance to all your favorite songs live.