Eminem's 9th Album To Be His Biggest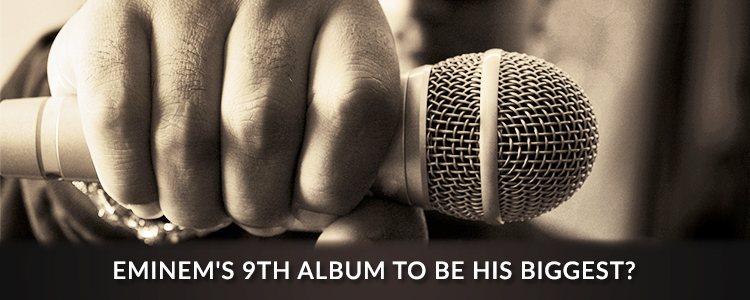 Eminem has risen from the ashes and begun circulating in the news again. Whether it's his new bearded look or sudden twitter activity, the rapper has been generating a lot of buzz within the media and his fans alike. This is surprising because it has been over two years since the hip-hop star released an album, titled Marshall Mathers LP 2 after his real name. Dubbed a "notorious non-tourer" by fellow-rapper Jay Z, Eminem has only performed on a few scattered events since the release.
As a result, it came as quite a surprise when a docu-series director let slip that Eminem is working on an album with long-time producer Dr. Dre. The Defiant Ones is an HBO documentary about Dr. Dre and Jimmy Iovine, and Eminem features on it as well. In a promotional interview, its director Allen Hughes had this to say about the music producer; "Dre records every day. Literally, he's in there recording songs every day. He's like Picasso in that way. He's always painting. Right now he's producing, in the eleventh hour, a track for Eminem's latest album."—Allen Hughes, Uproxx
Since this statement, critics and fans are guessing at what this new record could be. The singer has released eight albums previously, all in collaboration with Dr. Dre. The duo has not let down their fans before, with each record surpassing the previous one. So, many speculate that there is a possibility for Eminem's 9th Album To Be His Biggest one yet.
Is Shady back?
It would not be inaccurate to say Eminem's been on hiatus for two years. The Slim Shady singer has performed a few exclusive festivals since 2013, laying low on any new material. 2015 onwards he began doing some new collaborative work. He produced a movie called South Paw with the Weinstein Company for which he recorded a new single, "Phenomenal". He also collaborated with Gwen Stefani on "Kings Never Die" and with Big Sean on "No Favors".
Despite these individual projects, Eminem remained out of the limelight throughout these years. In 2017, he has been showing some public activity by promoting a jointly created single with 2Chainz and wishing 50 Cent a Happy Birthday on Twitter. Furthermore, he features on Allen Hughes new docu-series about Dr. Dre, titled "The Defiant Ones". He recounts his first meeting with Dr. Dre and they show exclusive footage of their first recording sessions.
Given to all this activity, fans are expecting a new project by the rapper to be announced shortly. They also anticipate the possibility of a brand new tour, but let's not get ahead of ourselves just yet. Given to Hughes proximity with Dr. Dre and Eminem over a considerable time period, however, it is safe to expect that a new album is definitely in the works.
Why All this Secrecy?
Well, why not? If there's anything that all these rumors prove it is that the more speculative the public is, the bigger impact an actual announcement is bound to have. Of course, there's always the possibility that this is all just incorrect and there is no album in the works. The fact that Shady Records, Dr. Dre and Eminem have not yet added to Hughes' statement may be a sign of this. Nevertheless, all of this buzz does emphasize on one point; whenever Eminem drops a new track or album, it will certainly will have an eager and expectant audience.
Eminem and Dre
In The Defiant Ones, Eminem and Dr. Dre recount their first recording session. Dre ran an instrumental backing track he had just recorded and within a few minutes, Eminem was rapping the hook to their first collaborative single, My Name Is. It was a partnership just waiting to take place, and thank God it did.
Together, the two certainly make a societal standards defying team. Dr. Dre is one of the few Black music producers in the industry, which is still a rarity, despite society's championing of diversity. He is also one of the richest producers in the industry, irrespective of race.
Eminem, when he first started out, represented the flipside. A white boy with blond hair, he was a misfit in the rapping world, ruled predominantly by Black artists. Disillusioned by what he was being taught at school, despite the color of his skin, Eminem entered his hometown Detroit's rap scene. After extensive rap battles, he was able to create a market for himself, to eventually be recognized by big time hip-hop producer, Dr. Dre. And the rest is history.
Their first session proved an instant success. Since then, this partnership has produced eight studio albums and two greatest hits LPs. Dr. Dre's success is contributed to greatly by Snoop Dogg and Eminem, amongst many other artists that he signed.
How Is Eminem's 9th Album His Biggest?
Other than the fact that this album would be a product of one of the most successful collaborations in hip-hop, if this album is released, it may well be the biggest in Eminem's career. Reasons for this include, but are not limited to, the fact that it has been a long time coming. In October 2016, Eminem teased a new record on social media by releasing a seven-minute track, Campaign Speech which sent fans into frenzy. However, since then there have been no further announcements and so the buzz had died down till Hughes' comments.
Now that the buzz is back again, fans are expectant of the long-awaited LP. If it is coming, this may well result in Eminem's 9th Album To Be His Biggest success given to the sheer anticipation. In fact, given to the rapper's sudden increase in activity on social media, he may announce his first official tour after a career spanning across two decades.