Eddie Alvarez vs. Conor McGregor: Get your Pulses Racing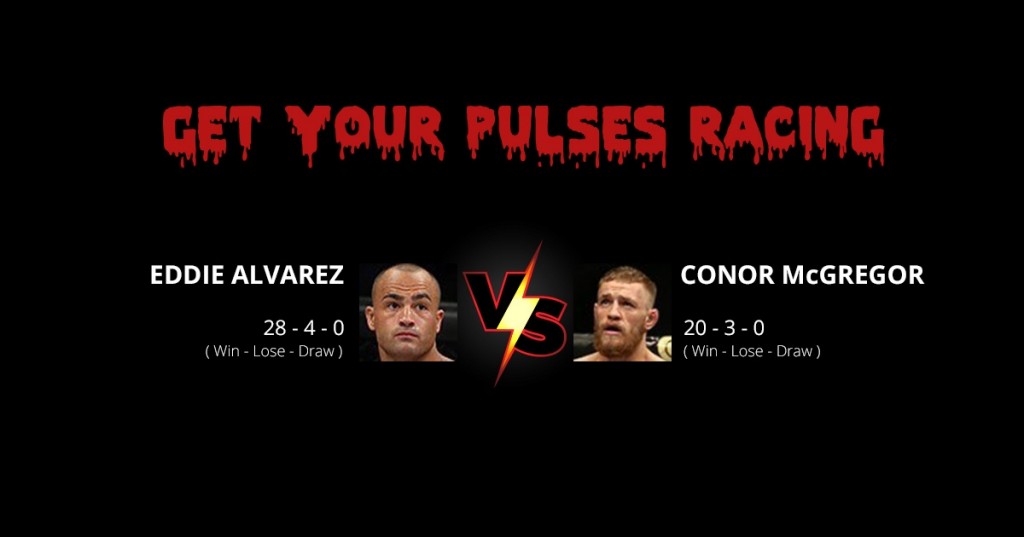 Conor McGregor and Eddie Alvarez are scheduled to go head to head in the main event at UFC 205. A war of words has already broken out between both men and the stage is perfectly set for a thrilling encounter in New York's iconic Madison Square Garden. There is a lot of excitement surrounding the fight since it is hard to predict a clear winner. Different fighting styles, different personalities and two reigning UFC champions will clash in the octagon in this encounter; so expect it to be one of the fights of the night!
Mind Games
The story going into this match is that McGregor is moving up a weight division to take on the lightweight champion. If McGregor wins, he will become the only man in UFC history to hold two titles in different weight divisions at the same time.
The current featherweight champion, in his usual brash manner, has claimed that Alvarez poses no threat to him and has predicted that he will knock him out during the fight. Alvarez hasn't held back and has launched his own mind games against McGregor by claiming that "Usually when I square off with a man, my heart rate goes up, I feel something," Alvarez said on The MMA Hour. "I never felt so unthreatened by a human being as when I was up on a stage with him. That's the God's honest truth. I've never felt so unthreatened."
Vastly Different Styles
McGregor and Alvarez represent two different eras of MMA. Alvarez is a classic, conventional fighter, a former wrestler who became a martial artist and is an embodiment of what MMA fighters were. He is an unflashy family man, who is a product of the grind of the regional and international scene.
McGregor, on the other hand, represents the evolution of the sport. He is flashy, brash and a product of social media. Capitalizing on the sport's unprecedented growth and due to his camera savvy persona, McGregor has become an Irish national hero and a symbol of the UFC.
Apart from the fact that the two fighters have vastly different personalities, their fighting styles are different too. Alvarez is a dynamic fighter, who adapts his fighting style based on his opponent. This means Alvarez has the ability to challenge his opponent at range, in the clinch and on the ground. McGregor has a very different style. Employing a more explosive approach, McGregor comes out hard and fast, peppering his opponent with body shots and kicks, before letting loose with his formidable left hand. He attempts to score a knockout as soon as possible so that the fight is short.
Weaknesses and Strengths
Coming to their forms going into this fight, it would seem as though McGregor has momentum on his side. McGregor won his grudge match against Nate Diaz after losing to him before that. Alvarez is also on a winning streak, but in his recent fights, he has been staggered by opponents and this does not bode well for him against McGregor.
The Irishman will look to go hard in the early stages in order to score a knockout victory considering that Alvarez looks most vulnerable in the early stages of a fight. However, if Alvarez can weather McGregor's early onslaught and take the fight into the latter rounds, then he has more chance of winning. The Diaz McGregor fight showed that there isn't a lot of gas in McGregor's tank and he looked tired as the fight continued. Alvarez could potentially take control of the fight and even win it, if it goes the distance.
Experts have also questioned McGregor's ability against a capable wrestler who can take the fight to the floor. Meanwhile, Alvarez's weakness against long opponents was showcased in his loss against Donald Cerrone. So there are visible weak spots in both fighters' defense and who ever exploits them the most should emerge victorious.
It is important here to point out that Alvarez has suffered four losses in his career and only one of those has come from a KO/TKO. At the same time, McGregor has won twenty fights in his career and those include 17 KO/TKOs.  The stats seem to favor McGregor scoring a knockout victory, but he will have to do so against Alvarez's strong chin.
McGregor has lost three fights in his career and all three losses have come from submissions. Alvarez has scored seven submission victories over his career and you can expect him to try and exploit this fact when the two meet in New York. McGregor must be aware of the fact and should try to avoid wrestling on the mat.
Predictions
There are so many unknown variables at play in this fight that it is hard to predict a clear winner. However, if we were forced to pick one, it would have to be Connor McGregor. This stems from the fact that McGregor is on somewhat of a roll and Alvarez hasn't seemed very strong in his last fights. Some fans will question whether McGregor will be out of his depth in a higher weight class, but McGregor's fight with Diaz should put the question to bed. Plus a difference of only one weight class should not be very hard to cover up for McGregor.
Our prediction is that McGregor will knock out Alvarez in the second round. However, if the fight goes beyond that, expect Alvarez to pick up the win. Regardless of who wins or loses, the real winners will be the fans, who will get to watch these two great fighters go head to head. You can ensure you have the best seats in the house at Madison Square Garden for UFC 205 by getting tickets today. Do not miss this!