Ed Sheeran is a genius: His songs prove that!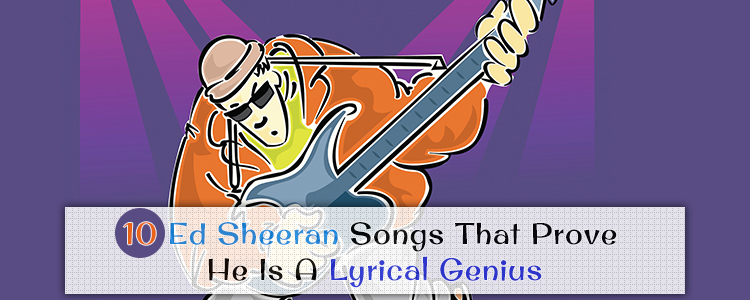 For a song to be a hit, it is important that the lyrics are meaningful. No one knows this better than Ed Sheeran. There is a reason why he produces chart topping tracks on such a regular basis. Ed Sheeran has a special knack of coming up with some really special lyrics. We have picked ten of the best Ed Sheeran songs that show he is a genius, plain and simple.
The A Team
Ed Sheeran got things started with his debut song, The A Team. The song is about some of the stories Sheeran heard when he was performing at a homeless shelter. The A Team is a track which shows how talented Ed is as a songwriter as he sings, "And they say she's in the Class A Team / Been this way since eighteen, stuck in her daydream / But lately her face seems slowly sinking, wasting Crumbling like pastries."
You Need Me, I Don't Need You
Another song which displays Ed Sheeran's incredible songwriting ability is, You Need Me, I Don't Need You. In this track he tells the world that he doesn't need another wordsmith to sell his music and make it resonate with the masses. Listen to the song if you haven't already.
Lego House
Ed Sheeran's Lego House is the kind of song you need to dedicate to someone special. The heart touching lyrics, "I'm out of touch, I'm out of love / I'll pick you up when you're getting down / And out of all these things I've done, I think I love you better now" can make anyone fall in love with the song instantly.
I See Fire
If you really want to see the power of Ed Sheeran's music then listen to his song, I See Fire. This beautifully crafted track also featured in the Hollywood flick, 'The Hobbit: The Desolation of Smaug.' The song's lyrics are very catchy and his silky voice will take you to a special place as soon as he sings the first verse of the track.
Sing
Sing is another song which reminds us why Ed Sheeran is loved throughout the world. The track charted at the first spot in many countries and was produced by Pharrell Williams. It also received positive reviews from different publications including, The Hollywood Reporter and The Guardian. Moreover, the track was also certified two times platinum in the United States.
Thinking Out Loud
The best thing about Ed Sheeran's music is that he has released songs based on almost every subject including love. His single, Thinking Out Loud is a perfect track for you to dance to with your partner on your wedding day. Just hold on to your loved one and move to the lines, "And, darling I will be loving you 'til we're 70 / And, baby, my heart could still fall as hard at 23."
Give Me Love
Ed Sheeran's platinum selling single, Give Me Love will simply make you want to cry a little. You will not be able to stop yourself from feeling the emotions that this song brings out in you. That is especially true for the line, "And that I'll fight my corner / Maybe tonight I'll call ya / After my blood turns into alcohol / I just wanna hold ya."
Photograph
If you are trying to figure out a way to tell someone that you have feelings for them then Ed Sheeran's Photograph will do the job for you. The song is so touching that it will instantly make your loved one feel special when you sing the lines, "We keep this love in a photograph / We made these memories for ourselves / where our eyes are never closing" to them.
Castle on the Hill
Ed Sheeran's Castle on the Hill is another song which showcases his talents. This song is about Ed's past and how he has grown up over the years. It charted at the sixth spot on the Billboard Hot 100 and was awarded gold certification by the RIAA.
Shape of You
Last but definitely not the least, is, Shape of You. The track has dominated charts all over the globe and has been certified multi-platinum in several countries. Ed's Shape of You is not only catchy and but it is a song that will tug at your heartstrings because of its brilliantly written lyrics.
Ed Sheeran is now embarking on a tour in support of his third album, '÷' and will be playing his shows in North America soon. If you want to listen all these songs and more, live then get your tickets now as they are already selling fast.