Drake's Scorpion Shatters Records with One Billion Streams in a Week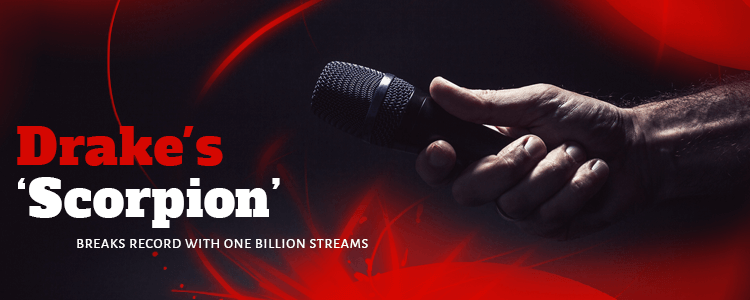 Drake's fifth album, Scorpion, is riding a high wave of success, smashing records all across the globe. It has racked in more than 1 billion streams globally in its first week, according to Drake's label, Republic Records. Featuring popular tracks such as "Don't Matter to Me", "Nonstop" and "Nice for What", Scorpion also broke the record for most debut-week streams within four days. The previous record holder was Post Malone's Beerbongs and Bentleys, which was streamed almost 700 million times in its first week of release.
Scorpion was a much awaited album by the Canadian musician. In its 25 tracks, the album has a guest appearance from the rap god, Jay-Z and some previously unreleased vocals by Michael Jackson, who died in June 2009.
The album is also linked to a worldwide viral dance challenge called #InMyFeelingsChallenge. Videos by various celebrities and fans have been posted on Twitter, including one from Odel Beckham Jr., the NFL superstar.
Another reason why this was a highly anticipated album is that Drake confirmed rumors that he has fathered a child on the tracks, "March 14" and "Emotionless".
Drake is no stranger to success. Scorpion is the rapper's eighth number one album on the Billboard 200 chart. He has also broken the record for the most RIAA certification with digital sales of over 142 million to date. The "Work" and "Hotline Bling" rapper has managed to dominate the music industry in just over nine years, hitting milestones that most artists can only dream of. And the winning does not stop.
In 2016, the Canadian rapper nabbed more than 100 hits on the Billboard Hot 100. He got the title of the most streamed artist on Spotify in 2016 and collected an impressive thirteen awards at the year's Billboard Music Awards – more than any other artist.
2017 was also a big year for Drake. He got the American Music Award for the Favorite Rap/Hip-Hop Artist and his album, More Life ended up becoming his seventh consecutive No. 1 Billboard 200 album. This album was the perfect example of Drake pushing on the traditional rap and hip –hop boundaries. He depicted his amazing ability to play around with Jamaican dancehall in the song "Passionfruit". His soft vocals in a genre that is mostly harsh and loud has given him the ability to create his own niche within the hip-hop market.
Drake has been present on the Hot 100 charts for an impressive eight years, and seems to be nowhere near the end. He first made it to the prestigious Hot 100 list back in 2009 with his debut single "Best I Ever Had" and has since always had a spot on the famous tally. Drake has had at least one song, as the lead or as a featured artist on the Hot 100 for 420 weeks in a row – or eight years. To compare where other big names fall on this list, in terms of the longest running unbroken streak on the Billboard Hot 100, we have Lil Wayne with 326 weeks in a row and Rihanna with 2016 weeks. Both these artists also have multiple chart entries with Drake as well.
Adding to his list of successes, Drake also has the most hits ever on the Hot 100. He has charted more than 154 songs on the tally, with not even a decade of music making under his belt. The TV show, Glee, is the only act that is still ahead of him in this regard, which has more than 200 appearances on the Hot 100. However, in case of solo artists, Drake has no comparison. And at the rate that he is going at, it is only a matter of time before he takes over the kids from Glee as well.
Drake also holds the record for the most appearances on the Hot 100 in one week. With the release of More Life, Drake saw every single song from this compilation make it into the Hot 100 list for at least a week.
Everything now boils down to the success of his latest masterpiece, Scorpion, which has already broken every Apple Music record. It has become the No.1 album in 92 different countries on Apple Music Charts, making it the faster growing album to ever hit the service. Within one day of the album's release on Apple Music, it recorded 170 million streams – 9 out of the top 10 most streamed songs on the day came from this album. This new record broke Drake's own previous record with More Life in 2017.