Disney On Ice Frozen: Elsa not only rules the Ice but she with her awesomely warm snowman is ruling the hearts of people all around the US.
Disney On Ice: Frozen is to Frozen what snowflakes are to winter; a beautiful necessary complement to each other
The story of Frozen is what the Disney On Ice camp had been waiting for!
Here is the movie's most famous song, "let it go"
No wonder it was a great hit, because you just can't stop singing along !!
"Let It Go" will be remembered forever as a Disney classic alongside hits such as "HakunaMatata," "Beauty and the Beast" and "A Dream Is a Wish Your Heart Makes."

But did you know that the first version of "Let It Go" portrayed Elsa in a villainous light in which she destroyed an entire village with her army of snowmen?
Surprising as it is, this video tells us how the creators of Frozen altered the song and Elsa's character. Simply put, Elsa went from pitch dark evil to the misunderstood woman we all now love just because she let it go…
Frozen craze continues!
It's hard to believe that it has been two years since Disney's Frozen came out. Yes, this was in 2013! The hype of the movie was creating waves when the musical version was introduced and it kept Frozen's magic alive. Go to the theatres or venues and you will see that Disney's Frozen is still rolling.

A throwback to serious Disney musicals such as The Princess and the Frog and The Hunchback of Notre Dame, Frozen is a like a fresh breeze that is being enjoyed and liked by audience as well as critics.
It is easy to say that Frozen has found its place among the animated classics to come out from Disney's castle.
This intricate tale of sisterhood, love and acceptance has won international fame, becoming the Cinderella of this day and age.

It accepts the challenge each time and delivers efficiently upon this unspoken promise. One thing that is a constant with Disney are its fans. Disney fans who were kids back in the day now have children and grandchildren who love the same characters and stories. So it's the same love affair all over again!
As time has evolved, so have the company's themes, stories and characters. From Snow White and the Seven Dwarfs to Big Hero 6, most of us have our own favorite memories of these.
About two years ago, the Disney castle let out another memorable decade-defining movie – Frozen.
Disney Frozen On Ice
Disney On Ice Frozen brings some of the most loved Disney characters, such as Mickey and Minnie Mouse, Goofy, Disney Princesses and Timon and Pumbaa, to the ice rink. These characters skate along singing songs from yesteryear and introduce Frozen.
Frozen super-fans will be pleased with Disney On Ice Frozen, as its script stays true to the movie. So much so that if you know the movie by heart, at times you may find yourself speaking the dialogues with the performers.
Since this is a live show, some scenes from the movie have been dropped or edited for the ice rink. The rest of the story remains the same as in the movie.
Frozen Fans From Nearby Igloos:
There was this creative Ohio traffic reporter who parodied the song whilst telling the road and weather conditions. The episode of an artist who mashed up Frozen with other hits such as Orange is the New Black and Breaking Bad also became quite a sensation!
In Dallas, Texas, Brian Hull achieved internet immortality after covering "Let it Go" using the voices of twenty one different Disney and Pixar characters. Hull does all of the characters himself with Seth O'Neal providing the audio recording and production. Characters like Scar (The Lion King), Sebastian (The Little Mermaid) Lumiere (Beauty and the Beast), Mickey Mouse and Goofy all make appearances.
At the Indiana Comic Con, Olivia "Livvy" Stubenrauch will make an appearance. She is the girl behind the mischievous voiceover of the younger version of Anna in Frozen.
The St. Louis County Library in Missouri held sing-alongs of the movie for people of all ages.
The Fairytale Headquarters' Houston chapter has already added Princess Anna, Queen Elsa, Olaf and Kristoff to their birthday party events repertoire.
The Daytona Beach resident Anna Faith Carlson became a nationwide sensation after she posted pictures of herself dressed as Elsa. The reception was astonishing as people started calling her the 'real-life Elsa'.
The police department of the Harlan City decided to have a bit of fun while everyone was caved in during the snowfall. They issued a warrant against Queen Elsa, the news was shared on our Facebook page, where they held her responsible for the extreme weather. This became viral overnight and resulted with a pretend photo shoot of Elsa being arrested while trying to freeze a public fountain. Courtney Fazley, the actress who played Queen Elsa in the photos, had been cast by a company that holds themed birthday parties.
Every city in every state has had fun with Frozen with their unique creativities.
This winter, the cold is being blamed on Elsa and everyone is out looking for the Frozen Fantastic Four (Anna, Kristoff, Sven and Olaf) to save the day!
Location:
Frozen, very much like a blizzard, took the entire US (and let's not forget the world) under its cold sheet but we're glad we had a warm-hug-giving' snowman with us.
Everyone's favorite snowman is now skidding on the ice rinks from city to city offering his cozy warm hugs dipped in love.
Click on the colorful boxes to see when he will be making an appearance in a theatre near you. Because when he does, he will bring the best Frozen party that will melt everyone's heart!
Since the winter of 2013, fans have shown their love for the story, characters and the movie on various media platforms.
YouTube keeps showing us innovative ways in which the fans have helped in making this piece a vital part of our pop culture.
From the Hilliard Twins of Ohio who lip-synched Frozen perfectly to Brian Hull who sang "Let It Go" in over twenty different characters from Disney and Pixar, there have been many interesting videos on the net.
And then there have been those fans who converted Frozen tracks to hip hop, rock, metal, dance and what not. The experiments with Frozen tracks have been quite amusing.
Characters:
Disney's Frozen is like a buffet of mixed cuisines when it comes to characters. Each one has a personality that is loveable in their own manner and yet relatable to audiences of all ages.
Story Line…

Olaf
First off, the character that is loved by one and all is Olaf.

He seeps into the audiences' heart with his endearing introduction:

This quirky snowman with a carrot for a nose is so innocent that he dreams of living in a tropical climate. His honest remarks and love for keeping everyone together is what make Olaf the most loved character from Frozen.
Born out of the imagination of the royal sisters, he has a strong bond with both of them and a dedication to love all.
"Do you want to Build a Snowman" marks Olaf's entry in the musical.
"In Summer" is the song where he wins everyone's heart.
"Some People Are Worth Melting For" is the memorable number with
which he has become another Disney classic character."
Elsa
Our main star is the Snow Queen, Elsa!
On the ice rink, the character is performed by the beautiful Becky Bereswill, who was the Finals Champion in the 2008 Junior Grand Prix of Figure Skating. Her prowess is highlighted most in the solo performance of the hit single;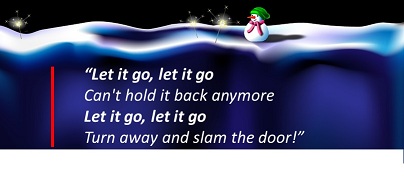 With no distraction of props and set, the audience has their eyes set on her during the show's de facto theme song and it's hard to "let go." She does it with such lovely repressed power, typical of her elegant character Elsa that you might be forgiven to think you've actually landed in the movie.
Anna
The star of Ice Castles 2010 remake,Taylor Firth, is another showstopper in Disney On Ice Frozen! Her wobbly and jerky skating maneuvers keep the audience on the edge of their seats. Hers is the hardest routine, as she portrays Anna, Elsa's awkward but kind-hearted sister.
Firth stars in almost every scene and manages to pull off the best skating sequences. Her Olympic level athleticism delivers the awe the show is renowned for.
Kristoff and Sven
Kristoff and his reindeer Sven similarly impress the audience with their skating skills. At moments, one simply forgets that Sven is a skater in a costume and you take him as a real reindeer who knows his way on ice.
Kristoff is highly applauded for his athletic skating that includes back flips and even a spread-eagle cantilever.
In total, more than thirty skaters perform as the residents of Arendelle including the dignitaries, Anna's fiancée, Pabbie and his trolls and other minor characters.
Why Watch The Show:
It is a must watch show for everyone; fans, super-fans or first-timers.
" When it comes to Disney it means fun for the whole family."
For skating enthusiasts and watchers, this show holds a wide variety of skill sets to satisfy even Olympic judges. So be ready to be impressed!
The expert level ice skating, choreographed by Ben Agosto and Cindy Stuart, includes some of the best maneuvers presented in a theatre ice show.
Among these are brilliantly executed figure skating spins, footwork and steps, ice dancing steps, spirals, flying camels, back flips, adagio pair skating, dance lifts and spread-eagle cantilevers among others.
Like the many animated movies from Disney, this show appeals to audiences of all ages. The hard-to-please grandparents, busy parents, career-driven or carefree teenagers and especially children; it manages to pull them all for some Disney moments.
The musical touches you in so many ways!
Most of the parents have been listening to their young ones sing "Let It Go" since 2013. Taking your kids to this show will make for a great day out with the family and make for a great bonding time.
Who Else Is Going:
We always bond quickly with people who have the same interests as ours. Which means that Frozen's devout fan following is always eager for meets and greets among themselves.
Here, we have listed a few magical parties where everyone is invited to indulge on everything Disney and Frozen!
Suggested Events