Depeche Mode: 10 Reasons We Love Them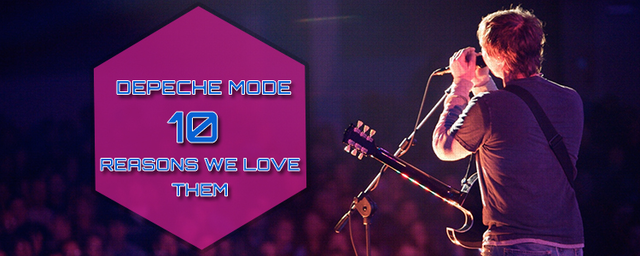 During the 80s, when the music industy was being dominated by bands like, U2, Duran Duran, The Smiths and AC/DC, came a group that went on to captivate everyone with its music. They were none other than, Depeche Mode. The group introduced itself to the masses thirty five years ago in 1981 and first gained popularity in the United Kingdom. They slowly started to achieve international fame and before long the entire world had been hooked to their music.
Depeche Mode made us dance to their hits like, Strangelove, Enjoy the Silence and Waking in My Shoes, and are now all set to make their comeback after four years. They are currently promoting their upcoming fourteenth studio record titled, 'Spirit.' You don't have to wait much longer to see what the album is all about because it is scheduled to hit the shelves on March 17th. To promote, 'Spirit,' they are setting out on the, 'Global Spirit Tour' which is expected to commence in May and fans are already rushing to get their Depeche Mode tickets. It is no surprise that people from around the world love the band, including us, and here are ten reasons why.
Their music makes everything better
In an era that was being dominated by rock music, Depeche Mode started producing synthpop tunes and immediately caught the attention of the masses. The group in their initial years became insanely famous in Europe thanks to their hits and soon their music reached the United States where they found massive success. It was not long before Depeche Mode's hypnotic sounds helped them reach new heights.
Over the years, the band has released some incredible hits that are still enjoyed to this day. Their songs have the tendency to make you groove. Just listen to their singles like, I Feel You, Walking in My Shoes and Policy of Truth and you will know the power of their music.
They have influenced some of the biggest stars in the industry
Depeche Mode have inspired some of the biggest stars in the industry. Names like, Muse, Linkin Park, Nine Inch Nails, Coldplay, Arcade Fire, Crosses and The Killers have all found inspiration from the band. The NME winning English duo, Hurts is also a fan of Depeche Mode's music and stated, "I think probably Depeche Mode, the biggest influence behind our music. I think the way they sounded at a specific time in their career was highly inspirational for us."
Their ability to write meaningful songs
Another reason why the world can't get enough of Depeche Mode is because of their ability to write songs with a deeper meaning. Over the years, they have released tracks based on different subjects like, teen suicide (Blasphemous Rumors,) fears about mortality (Fly on the Windscreen,) rampant consumerism (Everything Counts,) difficulties in letting go of past pains (The Child Inside,) outsiders predilections (Master and Servant, In Chains and Strangelove,) and the fight for individuality (Stripped.)
Chart topping records
Depeche Mode is famous for coming out with chart topping records and the fans love them for it. For the past thirty five years, the group has spawned many hit albums including, 'Songs of Faith & Devotion' and 'Ultra' out of which the former topped the Billboard 200 and UK Albums chart. The band has also received enormous success in Germany and has spawned six consecutive number one albums in the country including, 'Delta Machine' which received overwhelmingly positive response from the critics.
They have accomplished some incredible feats
While many bands experiment with their sound according to changing musical trends, there is one group that has remained loyal to its roots and that is, Depeche Mode. They have achieved many incredible feats throughout their stellar run in the industry. They have won numerous accolades like, Brit Award, Ivor Novello Award and MTV Europe Music Awards. Moreover, they have also been nominated for not one but five Grammy Awards.
Their achievements do not end there. Depeche Mode was also included in Q's list of the, '50 Bands That Changed the World.' They were also mentioned in VH1's list of the, '100 Greatest Artists of all time' and to top it off, the band has gone on to sell more than one hundred million records worldwide.
They know how to put on a show
If there is one group that knows how to deliver powerful performances, it is Depeche Mode. The band, with the help of visual effects, creates a highly entertaining live show which gives the audience an unforgettable experience. Most of their stage production is handled by the famed music video director and photographer, Anton Corbijn who has directed videos for many well known names like, Metallica, U2 and Johnny Cash.
No one can replace them
A lot has changed since the 80s as many new names have become part of the synthpop scene. Depeche Mode however are in a league of their own.  They are irreplaceable and their music is still getting airplay throughout the world. Apart from selling millions of concert tickets, the band has also recorded many number one hits which are loved not only by the fans but also other artists in the industry.
They are style icons
One more reason to Love Depeche Mode is that they know how to make style statements. The group has always carried itself with elegance and that shows in its numerous music videos. Whether they are in leather jackets or are suited up, the band members never fail to impress everyone with their sense of fashion. Even the Kerrang! Award winning rocker, Marilyn Manson stated, ""Depeche Mode have got sex appeal and their music is hypnotic."
They are still producing music
Depeche Mode have been actively producing music for over three decades and it doesn't seem like they are going to stop anytime soon. In fact the band has a new album coming out this year titled, 'Spirit.' The group has unveiled many interesting details regarding their upcoming studio effort. They have announced that the album is produced by James Ford and will contain twelve songs on the tracklist.
To add to the excitement, the Grammy nominated band also released the lead single from 'Spirit' titled Where's the Revolution earlier this year. The song premiered on the Polish radio, Trójka – Polskie Radio Program III.  If you are a fan of their music then mark your calendars and be the first one to get their latest record when it hits the markets on its scheduled release date of March 17th.
The band loves to perform for the fans
The fans have been instrumental in helping Depeche Mode make it to the top and the band members know that. This is why they love to play live music live and have gone on seventeen tours. They went on their most recent trek, 'Delta Machine Tour' in 2013. It lasted for almost a year and concluded in 2014.
Now after a gap of three years, Depeche Mode are making their return to the concert stage to support their upcoming fourteenth studio record, 'Spirit.'  They will be kicking off their road trip, 'Global Spirit Tour' in May and are scheduled to end it in November. The tickets to their shows are in high demand so, get yours now and find out why the world loves Depeche Mode so much.