Celebrity deaths in 2016 the huge stars weve lost this year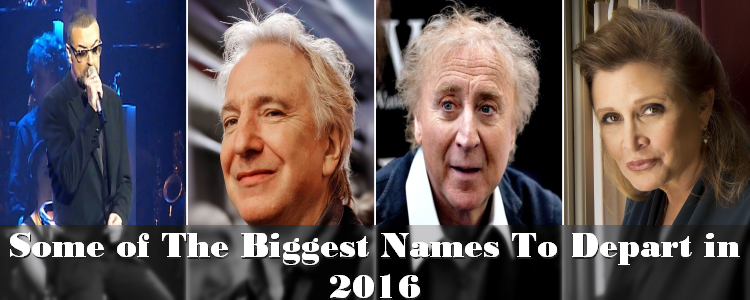 To say 2016 was a bad year would be an understatement. Many people have gone on record to say that this was perhaps the worst year in recent history. This sentiment stems from the fact that we lost so many icons, legends and stars over the course of the year. In this blog we look back at some of the biggest names to depart in 2016; these stars lit up our lives with their talent and their absence has made the earth a little less bright.
Alan Rickman
The man who brought to life one of the most popular characters in the Harry Potter universe left our lives significantly less magical after he passed away in 2016. It is a credit to Rickman's immense acting talents that there was a near unanimous praise in the Potter universe for his portrayal of Professor Severus Snape. But Alan Rickman's career was much more than his work on the Potter films. He was the evil Sheriff of Nottingham, the mysterious Grigori Rasputin and the dashing Colonel Brandon. With a host of awards to his name, Rickman made acting look easy and his passing was a huge blow to the people who love the art form.
Gene Wilder
Considered by many to be one of the greatest comic talents of all time, Gene Wilder brought laughter and happiness to countless people around the world. He made Roald Dahl's iconic character, Willy Wonka, as his own and starred in numerous critically acclaimed films like Young Frankenstein, The Producers and Blazing Saddles. With his outstanding comic timing, impeccable acting chops and an all-round love for life, Wilder has inspired numerous aspiring comedians and touched countless lives. He will be sorely missed.
Carrie Fisher
Star Wars' Princess Leia – for us she will always be royalty. Carrie Fisher was the last person on this list to die in 2016. She was the heartthrob of teenagers around the world and portrayed one of the strongest and most competent women to embrace the silver screen. As Leia Organa, Carrie Fisher not only led the rebellion that crushed an Empire, but showed us that women were as competent then men, and at times even more so! Apart from her role as Leia, Fisher starred in several other hit movies including The Blues Brothers, When Harry Met Sally… and Shampoo. However, it was her work in Star Wars which immortalized her and she will always be remembered as the bold, beautiful and brave Princess Leia. May the force be with her, always.
George Michael
With immortal hit songs like Careless Whisper, Freedom! 90, Last Christmas and Wake Me Up Before You Go-Go, George Michael was one of the most popular voices of the late 80s and 90s. Rising to fame as one half of the music duo, Wham!, Michael carved his own niche in the world of music after going solo. The two time Grammy Award winner sold over a hundred million albums over the course of his career and established himself as one of the premier British performers out there. But Michael was so much more than a singer; he was an active philanthropist and a leading figure for gay rights. His charity work, most of which came to the forefront after his unfortunate death, has simply highlighted what his fans already knew; he was a man who brought joy to others through his work.
These were some of the biggest celebrity names to depart in 2016. Let us know how they affected your life and how you remember them in the comments below.