Celebrities dying in 2016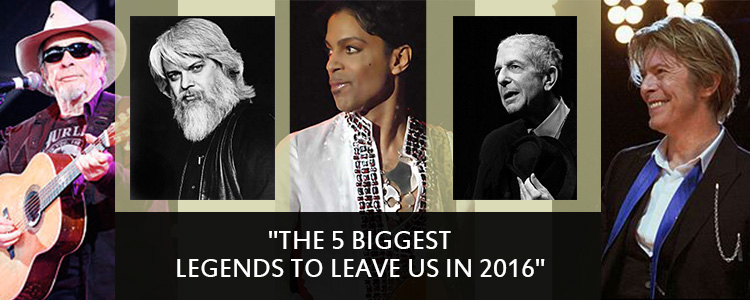 Death is an inevitable fact of life. You cannot escape it or run away from it. Over the years, the world has mourned the loss of some iconic names from the music world. The likes of Michael Jackson, Louis Armstrong, Frank Sinatra, Johnny Cash and Jimmy Hendrix among others left us to show that nothing lasts forever. 2016 has been its share of dark clouds. The year has seen icons like Leonard Cohen, David Bowie, Prince, Merle Haggard and Leon Russell all leave us.
Here we will take a look at the 5 biggest legends to leave us in 2016.
Leonard Cohen 
Leonard Norman Cohen was born in Quebec, Canada. He was inducted into both, the Rock and Roll Hall of Fame and the Canadian Music Hall of Fame. In addition to that, Cohen was also a Companion of the Order of Canada.
During his career, Leonard Cohen recorded fourteen studio albums, eight live and five compilation records. He made his debut in the industry when he was thirty three years old, in 1967, by releasing, 'Songs of Leonard Cohen.' The record was certified gold in the United States. He later went on to churn out many successful studio albums including his latest, 'You Want it Darker' which hit the markets three weeks before his death. It became his third consecutive number one album and received overwhelming response from the critics.
Leonardo Cohen also garnered many accolades throughout his journey in the industry. He won multiple Juno Awards and also received a Grammy Lifetime Achievement Award. The Hallelujah singer was also long listed for the Polaris Music Prize.
David Bowie 
The world was shocked to learn about the demise of the legendary singer, songwriter and actor, David Bowie who left us with his gift of music. He was one of the most accomplished names in the industry who sold in excess of one hundred and forty million albums worldwide. Bowie was also inducted into the Rock and Roll Hall of Fame in 1996.
David Bowie kicked off his iconic career in 1967 by coming out with his debut self-titled record. He went on to release twenty six more studio albums, nine live albums, forty nine compilation albums and thirteen video records. Moreover, he was also awarded seven gold and five platinum certifications in the United States. His last record, 'Blackstar' hit the shelves in 2016 and remained at the top spot on the UK Charts for three weeks. In addition to that, it also reached the first spot in countries like the United States, Australia, Canada, Germany and New Zealand among others. It was also nominated for a Billboard Music Award in the category of the 'Top Rock Album' in 2016.
Prince 
Another big name that left us in the spring of 2016 was Prince Rogers Nelson. He was known all over the world for his flamboyant stage presence and wide vocal range. Prince was also placed at the twenty seventh spot on Rolling Stones' list of the '100 Greatest Artists.'
Prince worked on thirty nine studio albums, four live albums, seventeen video albums and six compilation albums. Moreover, he also churned out thirteen extended plays in total. His last studio record arrived in the markets last year in 2015 titled, 'Hit n Run Phase Two.' The record earned him critical and commercial success. It charted at the fifth spot on the Top R&B/Hip-Hop Albums.
Prince won a lot of awards too, including an Academy Award for the 'Best Original Song Score.' He also bagged five American Music Awards, four Brit Awards and nine Grammy Awards among others. Prince was also inducted into the Rock and Roll Hall of Fame in his first year of eligibility in 2004.
Leon Russell 
The world lost another gem in Leon Russell this year. He was 74 when his soul departed from this world. His music inspired names like, Elton John, Billy Joel, Don Henley, Sheryl Crow, The Black Crowes and Shawn Colvin among others. Russell was also popular for his collaborative efforts and during his time, he partnered with icons like, Glen Campbell, Willie Nelson, Bobby Keys and Jim Horn among others.
Leon Russell came out with thirty one albums and released four hundred and thirty songs. He also penned down a song titled, Delta Lady which was performed by the Grammy winning singer and musician Joe Cocker. Moreover, his song titled, A song for You has been recorded by more than one hundred artists. The single featured on his debut self-titled studio record and reached the nineteenth spot on the Smooth Jazz chart.
His last album, 'Life Journey' arrived in the markets a couple of years ago in 2014. It was praised by the critics. Leon Russell left an incredible legacy. He won two Grammy Awards and was also inducted into the Rock and Roll Hall of Fame, in 2011.
2016 has turned out to be a very painful year for music fans. Legends have left us with legacies that will be cherished forever. The 5 names on this list not only stamped their authority on the industry, but also showed why music knows no boundaries. That is one trait that separates iconic artists from very good ones.
Merle Haggard 
Merle Haggard was a legendary name in the world of country music. He passed away at the age of 79 due to pneumonia. His music earned him several honors including a Kennedy Center Honor, a BMI Icon Award and a Grammy Lifetime Achievement Award. In addition to that, he was also inducted into many hall of fames like, the Nashville Songwriters Hall of Fame, the Country Music Hall of Fame and the Oklahoma Music Hall of Fame.
Merle Haggard recorded thirty eight number one singles. He also released forty seven studio albums in total out of which ten climbed to the first spot on the Top Country Albums. The Going Where the Lonely Go singer put out his last studio effort, 'Working in Tennessee' in 2011 which received three and a half stars out of five from AllMusic.