Celebrities and their Spirit of Giving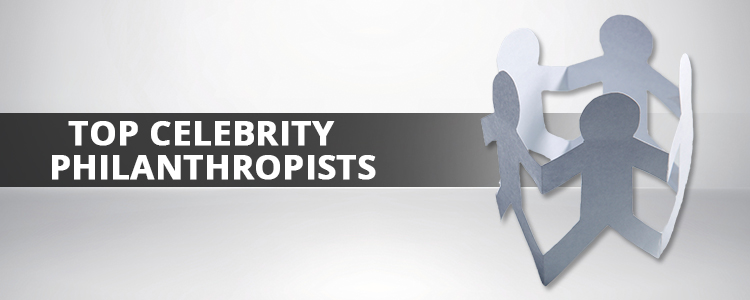 Two ideas that may not seem to go hand in hand when considering the unbelievable amount of money they earn, collect and spend on themselves. However, there are good eggs in every walk of life, and showbiz is no different. With great power comes great responsibility and the celebrities listed below have seized it. They have used money, influence, physical force and art in order to raise awareness about things that are going wrong in the world. They have also used their position to raise awareness about the role the public can play in fixing these problems.
The "Shake It Off" singer is quickly becoming a shiny beacon of light Hollywood thanks to her philanthropic efforts. At just the age of 27, her net worth is upwards of $200 million, according to Forbes, 2016. And the singer is not keeping all of it to herself. In 2016, she famously gave $250,000 to Ke$ha to pay for legal fees in her court case against label-owner Dr. Luke, whom she alleged had drugged and harassed her.
Swift is also known to have helped entire communities that had faced natural disasters. After the devastating Louisiana floods of 2017, the singer donated $1 million to the relief and rehabilitation efforts of those affected by it. The singer has also donated $50,000 to the Ascension Public School for its restoration costs. The singer became aware of the school's plight after watching their video which played her song "Shake It Off" in the background.
Bruno Mars announced on August 11, 2017, during his concert in Auburn Hills, Michigan that he will be donating $1 million to the victims of polluted water in Flint, Michigan.
The Flint Water Crisis started in 2014 when the source of the city's water supply was changed to the Flint River. Because of unprecedented high level of lead in this new source and insufficient water treatment to battle it, more than a 100,000 citizens got exposed to potential diseases. A state of emergency was imposed in January 2016 and citizens were instructed to use filtered or bottled water instead.
Numerous celebrities have raised the Flint Water Crisis issue, including Michael Moore and Blake Lively. Mars, however, has made a significant donation, and has received gratitude from the municipalities of the region for it.
John Legend is a philanthropist who likes to get at the heart of the problem before he pledges his time, effort and finances to a particular cause. His "Show Me Campaign" is a thoroughly researched endeavor which began when he read Earth Institute Director, Dr. Jeffery Sachs' "The End of Poverty."  He was so moved by the book, and its idea that entire villages could be pulled out of poverty for good, that he paid a visit to Dr. Sachs in Ghana and saw the work they were doing for themselves. Clearly putting his faith in it, Legend has since then started the "Show Me Campaign" in the U.S to raise awareness and funds for Sachs' cause.
As if this wasn't enough, the "All of Me" singer is also involved in local reforms of the criminal justice system of the U.S. He is committed towards ending mass incarceration and discriminatory practices in jails and workhouses of America.
In 2016, Cate Blanchett was announced as one of the numerous United
Nations Goodwill Ambassadors. Since then, she has been working towards raising awareness about the refugee crisis in Africa and the Middle East. Blanchett uses theater, social media and support of other celebrities in order to create a safe space for refugees when they are relocated. Her recently penned spoken-word poem "What They Took With Them" is a particularly poignant example of the kind of work she does.
Halsey was amongst the plethora of celebrities who were vocal about, and present in, the Women's March on Washington in March, 2017. She got there while still recovering from a recent surgery for the treatment of endometriosis, following a miscarriage.
Known as a supporter of Planned Parenthood, Halsey went to Twitter after the march and announced that she would donate one dollar for each retweet her post would receive by the next day. As a result, she ended up donating $100,000 to Planned Parenthood and continues to donate more.
The television heartthrob is a devout environmentalist and has established his own foundation, the Ian Somerhalder Foundation, in order to assist in environment conservation projects. Somerhalder attempts to collect funds for the progression of scientific study for the environment, by providing grants to conservation projects. One of these projects is the conservation of natural resources and fossil fuels.
Somerhalder's focus this year has been in discouraging the Ivory Trade by stating that individuals need to understand the value of elephants to their ecosystems and how beautiful these animals really are. Somerhalder is regularly invited to the United Nations as a Goodwill Ambassador.
Not only is the "Titanic" superstar one of the biggest celebrities in the world; he is also one of the biggest environmentalists in Hollywood. The celebrity's views became abundantly clear in his inspirational Oscar acceptance speech, where he asserted that "global warming is real and happening." This was a follow up to his detailed, freely distributed documentary on pollution in the marine world where he features experts in marine biology. DiCaprio is also a supporter of Our Ocean conference held in Washington every year where he warns the public against dumping waste into the ocean.
As is clear from this list, celebrities have the power to change the world, and many of them have recognized and utilized this power. Even now, there are many more celebrities doing very good work in, who have not made it to this list. The Angeline Jolies and Emma Watsons of Hollywood are many, and they have become inspirations to millions of people all around the globe. If anything, this list is testament to the goodness which exists within the top tiers of the society.