The Best Time to Buy Super Bowl 2017 Tickets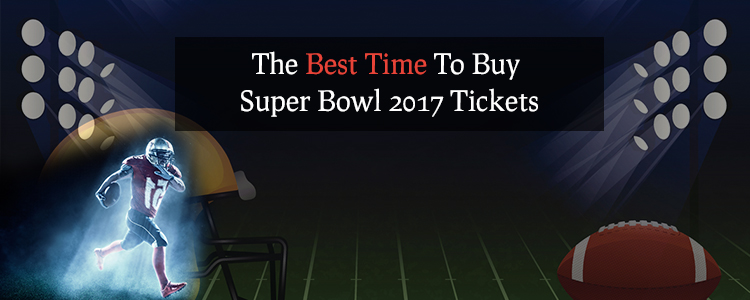 What Super Bowl LI Looks Like?
As we head into 2017, this is what we know for sure
Super Bowl LI is scheduled for Sunday, February 5, 2017 at the NRG Stadium in Houston, Texas
Multiple Grammy Award Winner Lady Gaga will be performing at Half Time
Super Bowl LI will kick off at 6:30 pm ET
According to many experts, Patriots and Cowboys will make it to the Super Bowl this year
Minneapolis, Atlanta, South Florida and Los Angeles are expected to be future Super Bowl hosts
Super Bowl XLIX (49) remains the most watched US telecast in history with 114.4 million
Going by what we've seen so far, Super Bowl LI is checking all the right boxes. The game on February 5 is expected to be both exciting and a close finisher. This is partly due to the highly tumultuous football season that saw Jimmy Graham emerge as a game changer for the Seahawks and Matt Ryan as an early MVP front runner.
With a few weeks to go, there is only one thing on every football fan's mind, how to get Super Bowl LI tickets.
NFL Viewership is Down – Their Loss is Your Gain
Super Bowl remains the most watched sporting spectacle in the US. With the BCS College Football Championship scoring 26.4 million viewers and the 2012 Summer Olympics at 40.7 million viewers, Super Bowl easily beats out other events by a cool 50 million viewers every year. So when NFL viewership takes a hit, there will definitely be some winners and losers.
Here is an illustration of the increase in TV viewership over the years with a dip in 2016.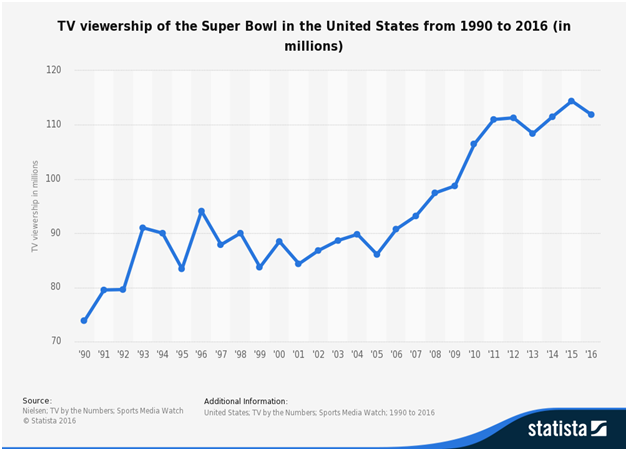 A couple of reasons for the slip
Firstly 2016 was election year. Americans elected themselves a new president last year. Even though the presidential candidates went through a two year grueling campaign, they successfully dragged the American viewer along with NFL ratings with them. NFL was not without blame with its PR nightmares on issues such as concussions and players being charged for domestic violence. And to top it off, the fans complained about too many commercials and games to follow.
All of this culminated in lesser viewership which meant a decline in ticket sales. However if history has taught us anything, that is, football viewers always bounce back, meaning if you're looking for a good deal on Super Bowl tickets, it's better to be prepared.
Super Bowl LI Tickets – The Rundown
Before you buy your Super Bowl tickets, you need to understand how the distribution of these tickets work. The NFL controls the distribution of all Super Bowl tickets. 75% are distributed among the teams, while the remaining 25% is given to sponsors, partners, media and ticket brokers. Here is the breakdown of the distribution
2017 is going to be a little different. NFL has decided to direct 6,000 tickets to their On Location Experience Company.
According to their official website, it is a premium experiential hospitality business owned by a group of capital ventures. By providing a complete hospitality experience which also includes booking of hotels for customers, the NFL On Location is a good choice but an expensive one. Most of their seats are being sold at above market price.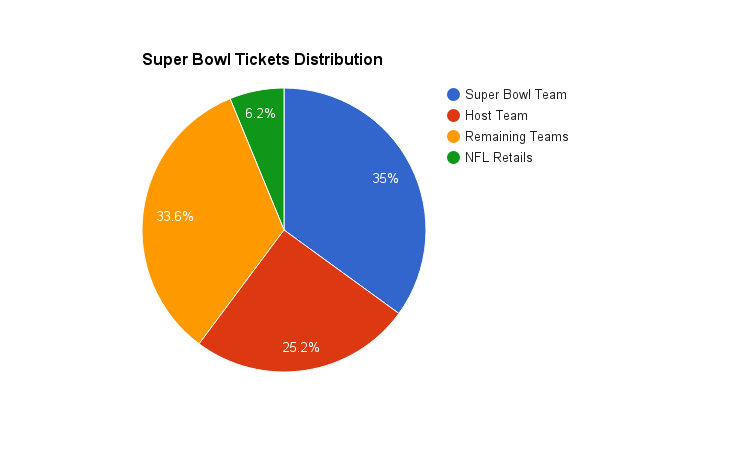 Super Bowl LI Tickets Through the Years
It would've taken $6 to $12 to get you through the gates at the first Super Bowl in 1967.By the time the eighties rolled in, the price had risen to $40. In another fifteen years it had gone up to $300. And if we look at 2009 when the New Orleans Saints faced off against the Indianapolis Colts, the price had gone up to $500 for 'cheap seats' and a whopping $1000 for the nicer ones. Let's take a look at last year's Super Bowl 50, the face value for these tickets ranged from $800 – $2500. This brings us to this year's Super Bowl LI, the face value price for these tickets is going from $900 – $2750.
Here is an illustration to give you a better idea of how the price of Super Bowl tickets has increased over the years.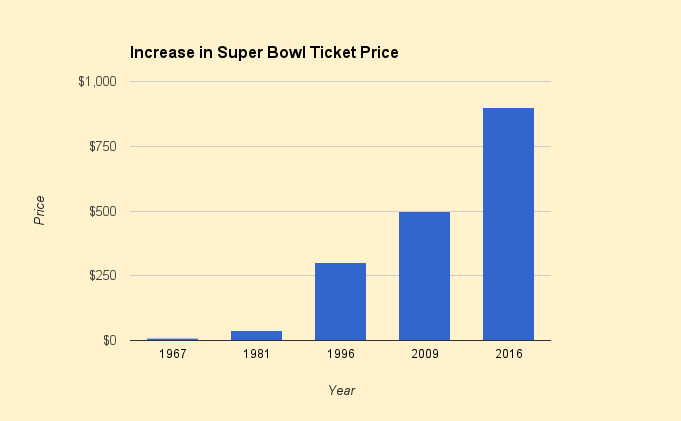 With such an increase, it makes more sense than ever to get the best deal on these tickets.
How to Get the Best Deals on Super Bowl LI Tickets?
This is where it gets tricky. Super Bowl 2017  tickets are the hottest commodity at the moment. And to get the best deal, a little bit of leg work will be necessary.
Here are a few ways in which you can get the best deals.
Your Best Bet No 1 – Send a Letter – Many football fans might ask when Super Bowl tickets go on sale. The answer is that they don't. Super Bowl is one event where tickets are not made available to the public for buying. The NFL reserves the right to sell these tickets and they do it in their own way. Football fans can't just camp out at a ticket venue. Instead, they need to send a certified letter to the NFL between Feb 1 and June 1 of the year before the Super Bowl they'd like to attend. So if you wanted to attend Super Bowl LI in 2017, you should've sent the letter in 2016. This remains the only way in which the public can buy Super Bowl tickets at face value. And only one entry per address will be considered.
Your Best Bet No 2 – Sweepstakes – This is so that you don't take out a sketchy loan or a second mortgage. Enter your name in a lottery for a chance to purchase these tickets from the NFL directly. Lottery doesn't mean you'll get it for free. The NFL will only let you buy these tickets at face value. Another way is to leave it too lady luck and see if it smiles at you in 2017. Many big corporations like Pepsi, Snickers, GMC, The United Way and the NFL themselves hold sweepstakes. Now there is no guarantee that you'll win, in fact your chances are quite slim, but give it a try, you never know.
Your Best Bet No 3 – Season Ticket Holders – If you're a season ticket holder then you have a better chance. You can enter your name in a lottery or it will be entered automatically for you by the NFL. It's better if you do it yourself; just to be on the safe side. This will be one or two weeks before the game. If you're a season ticket holder for one of the two teams playing in the Super Bowl, you'll have better odds – because of the distribution. Other factors for selection will also be considered. For instance the period you've had your season tickets, the location of your seats and how many season tickets you have. Being a season ticket holder can improve your chances for buying Super Bowl Tickets.
Your Best Bet No 4 – Scalpers – By now it's established that getting Super Bowl Tickets at face value are pretty difficult. Even though the NFL tries to keep the prices in check, they have no control over secondhand prices. Here scalpers make a killing, especially by taking advantage of unsuspecting sports fans. Scalping is not all illegal. It is legal in some states which gives these individuals an opportunity to charge any price they want. Scalpers can set the price on the basis of which teams are playing, what the face value of the ticket is and sometimes even on the weather. So if on game day it shows it'll be a sunny day, you might see these scalpers charge more. Scalpers are never a good option as they are never backed with a guarantee. This is where online ticketing outlets such as Excite Events come in.
Your Best Bet No 5 – Online Ticket Outlets – Sometimes called the secondary market, online ticket outlets are, in reality, your best chance to get Super Bowl LI tickets. There are a couple of reasons for this. First and foremost, reputable online ticket outlets such as Excite Events have taken out the need for traditional scalpers. They offer a better price and the tickets they sell are backed by a guarantee of its authenticity. These outlets employ the services of genuine brokers who not only guarantee the authenticity of the ticket but also 100% money back if the ticket turns out to be fake. Furthermore, they also provide customer assistance.
Super Bowl Ticket Prices at Excite Events
Excite Events for the past ten years has been a premium provider of entertainment and sports related event tickets. With thousands of satisfied customers, Excite Events makes sure all tickets to its customers are delivered on time without delay. This is one of the reasons why Excite Events has always followed best online sale practices. To give you an idea of Super Bowl prices offered by Excite Events, take a look at the following illustration.
 How much is super bowl tickets?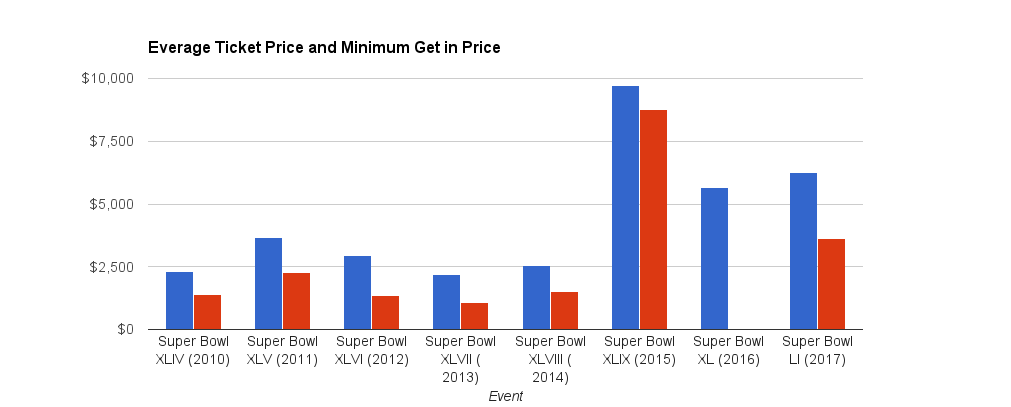 2010 to 2014 had been fairly consistent as far as Super Bowl ticket prices were concerned. However a huge spike of more than 300% was seen during the final weeks leading up to the Patriots/Seahawks face off in 2015. This sent the secondary market into frenzy with fans shelling out 10k for Lower Level Prime Tickets. Even during such mayhem, Excite Events was able to keep its prices low with the average price at $9722 and get in price at $8764.
The Big Short of 2015
If the 2015 multi starrer 'The Big Short' taught viewers anything, it was that you can never tell how the market will move. And 'speculative selling' does not pay off every time. Over the past few years (2010 – 2014) Super Bowl tickets prices had remained somewhat consistent. However with a couple of hours before kickoff, the tickets prices for Super Bowl 2015 had spiked to $11,246.50 per seat. Stub Hub had started noticing this surge in demand as early as January. Tickets sales at that time were up 197% from last year. A week later the sales jumped to 260% as compared to last year.
The reason for this spike was 'speculative selling'. Ticket brokers sell tickets that they don't yet have at higher prices. As the Super Bowl draws closer, ticket prices come down and the brokers take this opportunity to fill those spec orders. In the process they keep the margin as profit. This practice had worked for the brokers in the past. However, 2015 was a little different. 2015 showed significant more signs of speculative selling. This was especially true for the least costly upper deck seats. As these brokers tried filled their future orders, it resulted in a shortage of tickets and as a result the prices spiked.
2015 saw the biggest spike of Super Bowl prices to date. Even though the Seahawks gave the Patriots a run for their money, the biggest losers that year were football fans who had to pay exuberant amounts of money.
2015 saw the biggest spike of Super Bowl prices to date. Even though the Seahawks gave the Patriots a run for their money, the biggest losers that year were football fans who had to pay exuberant amounts of money.
Debunking Some of Super Bowl Myths
From 'Deflate Gate' to ticket prices, Super Bowl in 2015 may have been unique for a number of reasons – one of them being Katy Perry's Left Shark Guy' –, however this event on the whole has always had a little bit of mystery attached to it. To address this, here are a couple of myths that in reality can be explained.
Scammers Don't Target Super Bowl Fans – Absolutely Wrong. In 2016, the Jacksonville Sheriff's office recovered 146 counterfeit Super Bowl Tickets. A woman was also charged for selling 105 Super Bowl XL tickets who netted a profit of $42,000. It is always smart to buy tickets from credible online outlets, such as Excite Events. Super Bowl fans should also make sure they check the hologram on their tickets to make sure its original.
Online Outlets have made Super Bowl Tickets Expensive – Ticket websites have, in reality, made it more transparent for the fans to buy their tickets. In the past, fans could never find out the price of a ticket instantaneously. Now with ticketing websites, fans can not only find out the price but also get the best deals. Fans must always select the right website for their purchase as many online outlets charge high prices to make a quick buck. Check Super Bowl Ticket Prices here.
Tickets become Cheaper as you get Closer to the Game – This is partly true.  However, fans who bought Super Bowl XLIX (2015) will have a different opinion.  Usually tickets do become cheaper as the kickoff gets closer. But the prices can fluctuate. This depends on a number of factors such as, who's playing, what the odds are, how the ticket brokers and scalpers are balancing supply and demand and how many tickets are available in the secondary market.
Stay Clear of Super Bowl Scammers
In 2015, the Better Business Bureau received almost 2000 complaints against ticket sales and brokers. Customer complaints ranged from paying for invalid tickets to tickets never arriving. This increase in Super Bowl scams has resulted in fans preferring to watch the big game on television. If you're in the market for Super Bowl LI tickets, you should always check if the brokers are helpful. Legitimate websites will always provide helpful customer service, send a receipt for your purchase and verify their business information.
A couple of other things customers should always do before buying Super Bowl tickets
Do Ample Research – Do not settle for the first cheap price you get. Do your research. Check if the website you're buying from is reviewed at the Better Business Bureau. Check the broker's details and its complaint history. Also find out if they are a member of the National Association of Ticket Brokers. This organization works in collaboration with professional sports teams and law enforcement agencies.
Check if the Tickets are Real – The Super Bowl 50 tickets came with a number of security features to help fans confirm its authenticity. Some of the security features included custom laser cutouts, thermachromic ink, special holograms and uniquely made gloss varnish.
Look – The official Super Bowl ticket may feature a two tone hologram which will change in different angles in the sunlight. A counterfeit Super Bowl ticket will instead have a sticker to imitate the hologram which will not change when you move it. The images on the original Super Bowl ticket will also be clear, while those on counterfeit will be blurred and irregular.
Feel – The original Super Bowl tickets are printed on a heavy card stock with perfect perforations. Counterfeit tickets are usually printed on thin flimsy card stock and the perforations are irregular and rough.
Check the Refund Policy – Credible brokers refund policy will always favor the customer. Make sure the refund policy explains in detail the terms of transaction. Also what their policy is on reimbursement of cancelled events.
Keep an Eye Out for Hidden Fees – Websites include service charges and shipping fees. Check if these charges are clearly mentioned on the website. Some might pose as the cheapest, however when the customer is charged, they include all the hidden charges. Read the fine print and confirm the price before making a purchase.
Use your Credit Card – Credit cards offer extra protection as the money is retrievable. It gets especially difficult if you've wired the money. In this scenario, the customer has next to no chance of getting his/her money back if the deal goes sour.
Communication via E Mail – This is a big red flag. If the website prefers to communicate only through e mail and does not provide a physical address or a phone number, do not purchase anything from them. With e mail, the customer is kept in the dark with no idea of who they are talking to and where the broker is based.
What Is The Best Time to Buy Super Bowl Tickets?
To answer this question, we'll need to look at the Super Bowl price trends from previous years
Super Bowl XLVI (2012) – Let's look at the one between the Giants and Patriots in Indianapolis. When just 511 tickets were available in the aftermarket, the price was $3921. As more tickets became available (around four thousand) the price held at $4311. And when seven thousand tickets were available, the price of a Super Bowl ticket still held at around $3500. As the game got closer, it was then the price began to drop. In the end when there were only 1990 tickets in the aftermarket, the price of the tickets dropped to $2956. Here is an illustration to explain the drop.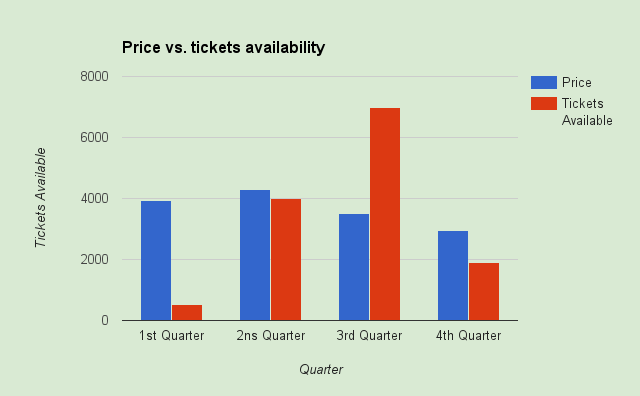 The quarters represent a rough timeline from when the tickets became available on the secondary market. The 4thquarter is just a few weeks before the game.
Super Bowl XLVIII (2014) – The game between the Seahawks and the Broncos may have been a one sided affair, however there wasn't anything one sided about the attendance. With 82,529 in attendance, Super Bowl XLVIII was one of the most attended events. When the tickets became available on the secondary market, there were around 3035 seats available at $3449 a ticket. With ten thousand tickets, the price stood at $4,084. But as the game drew closer, the prices began to come down to $3,077 around Jan 29,2014.
Super Bowl XLIX (2015) – The game between the Patriots and the Seahawks was attended by a little over seventy thousand fans on Feb 1, 2015. Even though, it was an evenly matched game with the final score at 28 for the Patriots and 24 for the Seahawks, it was the ticket prices on the secondary market that got every fan's heart racing. A lucrative strategy that had worked well for the brokers in the past fell flat in 2015. Reason – the confidence in the early market was due to the fact that Patriot fans are not considered to be the best travelers and the brokers were counting on the Seahawks to turn up in fewer numbers. It turned out that the Seahawks liked Arizona better than New York and this caused the prices to go up. Here is the price trend of Super Bowl XLIX tickets in weeks leading up to the big game.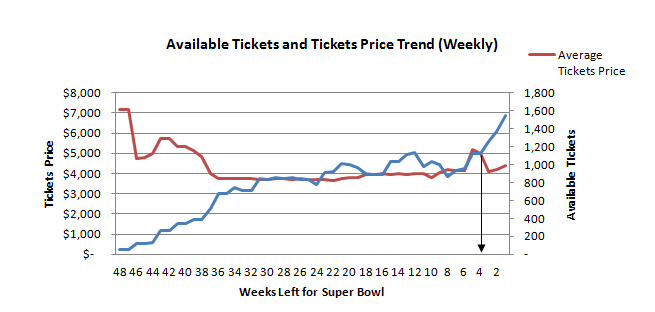 Notice how the average ticket price and available tickets diverge where the arrow is pointing. This is a little less than four weeks before the game. At this point the average price went down as more tickets became available on the secondary market. Fans who bought tickets at this point got a relatively better deal than the rest.
Super Bowl 50 (2016) – The Denver Broncos, in 2016, comfortably outplayed and outsmarted the Panthers. It was a bittersweet moment for the Bronco fans as the last time they won the Super Bowl was in 1998. And for Peyton Manning it brought him his second Super Bowl ring, equaling his brother Eli's Super Bowl tally. Throughout the season, Super Bowl 50 tickets stayed within the seven to eight thousand range. One of the reasons for this high price was the location. 1985 was the last time San Francisco Bay Area hosted a Super Bowl game. Since then this area in particular experienced an increase in wealth. It carries one of the highest median incomes of any metropolitan area in the US.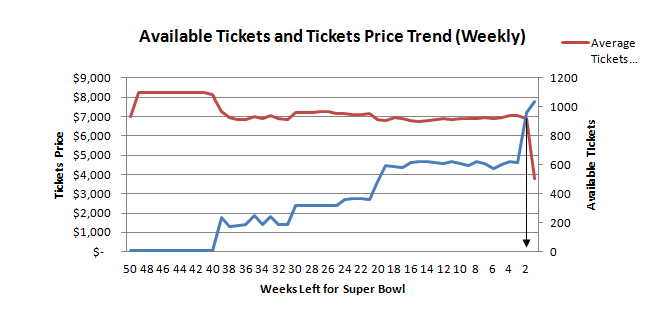 For 2016 the price drop happened less than two weeks before the game. This is in correlation with the increase in the number of tickets becoming available in the secondary market. At the mark pointed on the graph, Super Bowl 50 tickets experienced a drop of around 50%.      
Super Bowl LI (2017) – For Super Bowl LI, the ticket prices have been erratic throughout the year. With a big gap in the beginning, the average price has pretty much stayed below the number of tickets available on the secondary market. As we head into the last three weeks before Feb 5, 2017, the price seems to be leveling out. However, if the last two years have taught us anything, it's about this time we will see a surge in the number of tickets and a drop in the prices. Fans who are waiting for the prices to drop may want to start checking online outlets such as Excite Events and Stub Hub more frequently.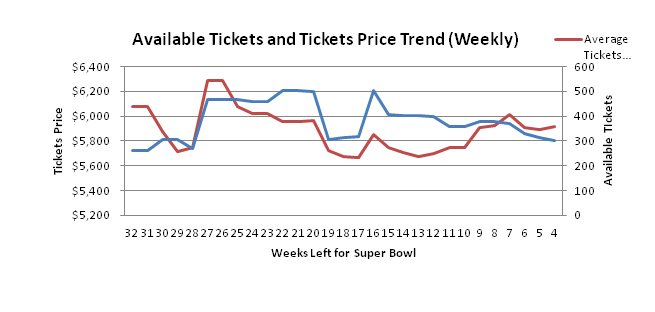 For Super Bowl 49, the price went down with a little less than four weeks left. Last year, the prices saw around a 50% drop with less than two weeks to go before the game. With less than four weeks to go this year, it's still not too late to score a good deal on Super Bowl LI tickets. 
So When Should I Buy Super Bowl LI Tickets?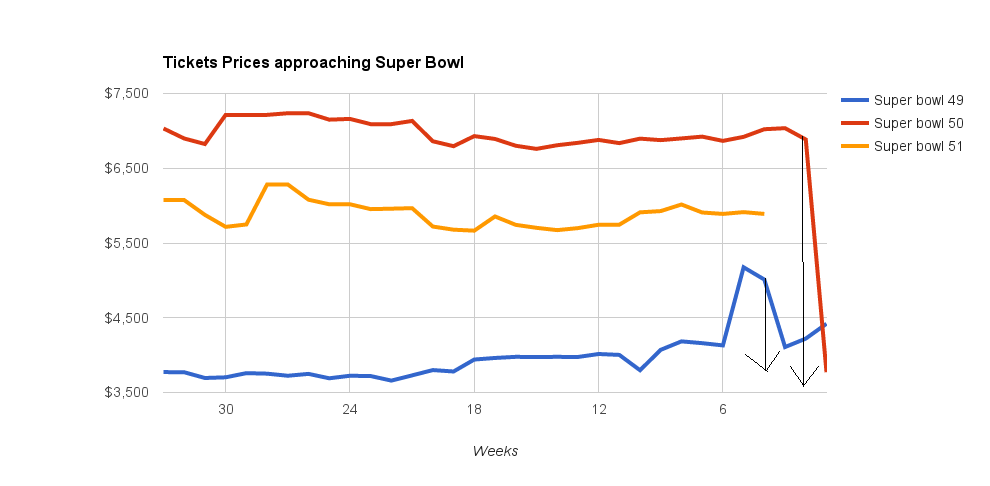 You need to identify that 'sweet spot'. The moment when there are enough Super Bowl tickets available in the secondary market and the price of these tickets is at its lowest.
Super Bowl tickets like any other commodity work on a supply and demand principal however, there is a catch. Time is a component which needs to be factored into this equation. As there is an expiration date on these tickets, brokers rather than take a total loss, reduce the prices to sell as many as possible when the game draws closer. This is if there are tickets available. If they don't have enough tickets available, they might not reduce the price as much as you'd like. This reduction in prices usually happens few weeks before the game.
Key Takeaway
In 2012, the prices began to drop in the second week of January. In 2015, it happened less than four weeks before the game and in 2016, less than two weeks before kickoff.
As we are already in the last month before the Super Bowl in 2017, there is a possibility prices might drop any day.
Your best bet for scoring low-priced Super Bowl LI tickets would be to keep a close eye on the prices being offered by all ticket brokers. Also check frequently with Excite Events to get the best possible deal.