Baseball's 20 top players entering the 2017 MLB season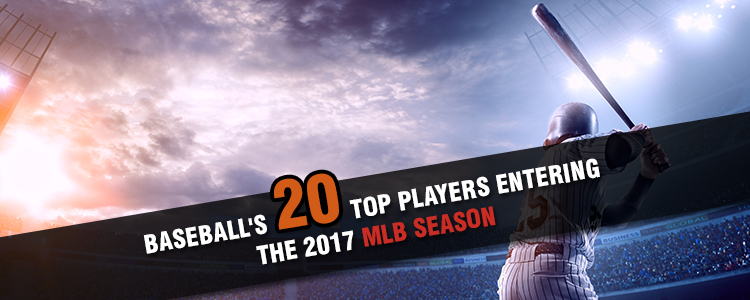 The MLB has around 750 players. They comprise some of the best baseball players in the world and we have undertaken the difficult task of choosing the 20 best from them. There will be people who disagree or raise eyebrows if they feel their choice has been left out, but that's why we have the comment section; we hope that a constructive discussion can ensue. Without further ado, let us begin our countdown to the 20 best players in the MLB heading into the 2017 season.
20: Joey Votto (Cincinnati Reds)
Votto was an almost unknown commodity as the Red struggled to leave a mark on the league. However, 2016 was another exemplary season for him as he finished with an impressive .434 on-base percentage. This was last season's best on-base percentage in the National League. He also hit 27 home runs with 97 RBI. Votto is a four-time All Star and was the National League's MVP in 2010. Despite turning 33, he has immaculate plate discipline and excellent control over his hitting, so expect him to keep on flourishing for several years.
19: Masahiro Tanaka (New York Yankees)
Tanaka showed the league his true capabilities during the 2016 season. It was his best season in the US, as he posted a 3.07 ERA in 199.2 innings. Talk about his elbow and his longevity in Japan makes people forget that the star is still only 28 and at the peak of his career. While the rest of the Yankees squad can be rotated, Tanaka simply cannot be left out.
18: Johnny Cueto (San Francisco Giants)
With two top six Cy Young Award finishes to his name, there is no doubt that Johnny Cueto is one of the top pitchers in the game today. Another aspect of his game is consistency; Cueto has thrown two hundred plus innings in his last five seasons.
17:Carlos Correa(Houston Astros)
Carlos Correa was 2015's AL Rookie of the Year. Considering that the 22 year old was lambasted for a poor season, despite scoring 20 homeruns with a 96 RBI, in his second season, it speaks volumes about his talent for the game. Astros fans believe that the glass ceiling does not exist for this talented youngster and it's up to him to prove his worth.
16: Miguel Cabrera (Detroit Tigers)
Cabrera will be 34 at the start of the new season and many will argue that his numbers will begin to sag with age. However, there is simply no denying that the two-time AL MVP, 11 time All Star and Triple Crown winner is one of the best at the job he does. He is part of the Tiger's core and will play a huge role in defining their 2017 season.
15: Francisco Lindor (Cleveland Indians)
Lindor looks like one of the brightest talents in the league. After coming second in the AL Rookie of the Year in 2015, he avoided a sophomore slump and posted .301 with homeruns, nineteen stolen bases and golden glove defense. His efforts helped the Indians reach Game seven of the World Series. The short stop has all the qualities to become one of the game's greats and it will be interesting to see what he brings to the ballpark this season.
14: Corey Kluber (Cleveland Indians) 
Lindor's teammate, Corey Kluber was also instrumental in getting the team to the World Series. His post season performances were otherworldly, with his pitching helping the team in crucial situations. With three straight two hundred plus innings and two hundred plus strikeout performances, the 31 year old looks better than ever. The 2014 Cy Young Award winner will hope he can help the team finally win the elusive World Series crown this time around.
13: Jose Altuve (Houston Astros) 
With 216 hits, a batting average of .388, thirty stolen bases, twenty four homerun and a 96 RBI, Altuve was one of the players of the season in 2016. He now has two hundred plus hits in three consecutive seasons and has stolen thirty plus bases in the last five seasons. He will definitely be one to watch in 2017.
12: Madison Bumgarner (San Francisco Giants)
Bumgarner added to his storied playoff legend by beating the Mets in the national League's Wild Card Game. Even though the Giants fell to the Cubs in the Division series, MadBum's left arm was still an imposing presence for the opposition. Bumgarner has two hundred plus innings every year since 2011 and has been an All Star four times.
11: Nolan Arenado (Colorado Rockies)
Arenado had a stellar 2016 season. He was tied in the National League for 41 homeruns in 2016. The 25 year old had had a 133 RBI in 2016 and his defense was near impenetrable all year round. The hitter has won a golden glove in all of his four years in the league, and that streak looks unlikely to be over anytime soon.
10: Buster Posey (San Francisco Giants)
Despite the fact that his numbers slipped a little last year, Posey was still one of the best players in the league. The thirty year old has won NL Rookie of the Year, MVP and a batting title and won his first Golden Glove. It's not a secret that Posey is the best player in the league in his position and the Giants will hope he rediscovers his form for the upcoming season.
9: Noah Syndergaard (New York Mets)
When Syndergaard began last season, many people considered him a talented pitcher. But over the course of last season, he proved to the world that he was one of, if not the best, pitchers in the game. In 183.2 innings, the twenty four year old posted an impressive 2.60 ERA with 218 strikeouts. He has bulked up during the break and will look to pitch harder than ever this year. Hitters better watch out.
8: Max Scherzer (Washington Nationals)
Scherzer made history in 2016 as he became only the sixth player in MLB history to win the Cy Young Award in every league. If that's not an indicator of how good he is, add a twenty strikeout game, two no hitters and five consecutive seasons with two hundred or more strikeouts. The thirty three year old did not look like he was going to let age get in his way and Nationals' fans must be excited to see how he does this year.
7: Bryce Harper (Washington Nationals)
Harper was the NL MVP in 2015. Many people thought he would dominate the league once again but his numbers dropped off last season. But that just means his OPS simple fell from the unbelievable 1.109 to a solid .814. His shoulder injury obviously played a part in this and has to be factored in. He looks healthier in Spring Training and the 24 year old has already hit 8 home runs. He has Rookie of the Year, MVP and three All- Star appearances already and it remains to be seen just how much he can achieve.
6: Josh Donaldson (Toronto Blue Jays)
At 31 years old, Donaldson may be on the downward slope of his prime; but man what a prime it has been. In between 2016 and 2013, he ranks second with a 30.5 WAR in the MLB and was a top ten name in the MVP list, finally winning it in 2015. He hit 37 home runs with a 99 RBI and .953 OPS. The Blue Jays will heavily rely on hi to make a third straight post season appearance in 2017.
5: Mookie Betts (Boston Red Sox)
Betts was a monster on the plate in 2016. He posted 31 homeruns, with a .897 OPS and stole twenty six bases. He was equally good on the field and saved a hugely impressive thirty two runs. Betts finished in second place in the MVP voting and will look to finally win the prestigious honor next year. That will certainly do wonders for the Red Sox.
4: Kris Bryant (Chicago Cubs)
Bryant's rise in the league has been nothing short of phenomenal. In two years, he has already won the National League's Rookie of the Year and the NL MVP Awards. Oh and he helped the Cubs win their first World Series in more than 100 years. With .939 OPS, thirty nine homeruns and a 102 RBI last year, he has certainly set the bar high. But such is his talent that people have predicted he might win the MVP again this year.
3: Manny Machado (Baltimore Orioles)
There is nothing sadder in sports than watching a promising career derailed by injuries. That was the fear with Machado as injuries messed up his first three seasons. However, he posted the season of his career in 2016. With 7 homers, 96 RBI, .294 average and a .876 OPS, his stats were phenomenal. He now has two consecutive top 5 AL MVP finishes. The 24 year old is perhaps the best 3rd defensive baseman in the MLB and he still has years of baseball left in him.
2: Clayton Kershaw (Los Angeles Dodgers)
A starting pitcher at number two? Indeed. The left hander is arguably the best pitcher of this era and would make a case for best pitcher in any era of baseball. That is saying a lot; and he's still only 28 years old. Three Cy Young Awards, one NL MVP, 9.8 strikeouts per nine innings, 2.73 ERA and a126-60 record is obviously phenomenal but when you factor in the fact that he missed two months due to injury, it becomes almost unbelievable.
1: Mike Trout (Los Angeles Angels of Anaheim)
The 25 year old is the best player in the league right now. With 2 AL MVPs in his pocket and the fact that he hasn't finished below second in the voting for the MVP since 2012 says everything about him. He has stats to leave your mouth open but we'll just leave his 47.4 Career War here and rest our case. His consistency is mind boggling and his talent is undeniable; what more could you expect from a player. He will hopefully add a World Series or two before his career is over and it would be very fitting for a player of his caliber.
Well there you have it: our list of the top twenty players in baseball prior to the 2017 season. Have we left anyone out? Let us know in the comments below and get MLB tickets to watch all the games from the season live.