Aretha Franklin to record album with Stevie Wonder before she quits in 2017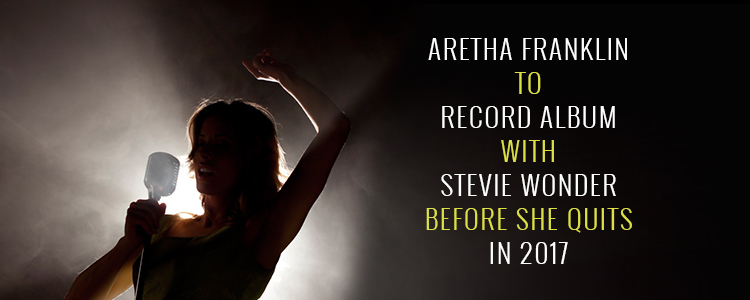 The undisputed queen of soul, Aretha Franklin recently came out with an announcement that shocked her fans. In an interview on the Detroit TV station WDIV Local 4, the singer said "I must tell you, I'm retiring this year." That's right. The living legend had decided to call it quits. At 74 years of age, the multi-Grammy winner now wants to spend time with her grandchildren before they go off to college.
But just before she steps out of the limelight, she will be recording an album with none other than the iconic Stevie Wonder. This is as big as it gets. When two artists of such statures join hands, the outcome is bound to be nothing short of spectacular. This much anticipated music album is expected to release in September of 2017.
A look at her Stellar Career
Born to a renowned preacher CL Franklin, Aretha was the youngest of four siblings. She was raised in Detroit and was exposed to jazz and soul royalty. Legends such as Oscar Peterson, Ella Fitzgerald and Duke Ellington paid frequent visits to her family and she was fortunate enough to have Dinah Washington give her singing lessons. Martin Luther King was also a friend of her father.
Aretha's performing career began when she started opening for her father's preaching engagements. Seeing great potential and talent in her, she was approached by several renowned labels and eventually signed on by the Columbia Records in 1960. But it wasn't until 1967 when Aretha moved to the Atlantic that she found great commercial acclaim. With a string of hits such as Freeway of Love, Natural Woman, I Knew You Were Waiting and Jump To It, Aretha was able to carve her niche in the industry very early on in her career.
Over the years she has treated her fans with numerous contributions, winning various honors and breaking several records along the way.
Aretha has the record of the most charted singles on the Billboard by a female music artist.  In a career spanning over five decades, Aretha Franklin has produced several songs and 112 of them have made it to the Billboard. These include 17 top tens, 20 R&B number one tracks, 100 R&B entries and 77 Hot 100 singles. Her anthems such as 'Freeway of Love,' 'Respect' and 'Natural Woman' also feature among them.  Her last song to chart the countdown was 'A Rose is Still a Rose,' which came out in 1998.
In the year 1987, Aretha Franklin became the first female music artist to be inducted into the prestigious Rock and Roll Hall of Fame. She is the second female UK Music Hall of Fame inductee as well. Besides she ranked ninth on the 100 Greatest Artists of All-Time list by the Rolling Stone.
The song 'Respect' written by Otis Redding is vastly different from Franklin's version. The latter's version went on to become a feminist and civil rights anthem. Apart from reaching the number one spot, it also won Aretha two Grammys; one for the 'Best Rhythm & Blues Solo Vocal Performance' and another one in the category of 'Best Rhythm & Blues Recording.' The track was inducted into the Grammy Hall of Fame in 1987.
During the 1970s disco craze was at its peak and began to overshadow Franklin's music. She went through a struggling phase with her father's death, divorce and an unsteady career but came back stronger. It was a cameo in the 1980 movie The Blues Brothers that introduced her to a new generation of R&B lovers and helped revive her flagging career. Soon after she was signed by the Arista Records under which she released the album 'Jump To It.' It enjoyed great success on the charts and also received a nomination at the Grammys.
In 1985, Franklin was back to the top with the new album Who'z Zoomin' Who? Featuring the song 'Freeway of Love' and a collaboration with the rock band Eurythmics, the record is among her best-selling music contributions. Its follow-up album 'Aretha' was certified gold. It featured her super hit duet 'I Knew You Were Waiting' with British singer George Michael.
Aretha Franklin was invited to perform at the inauguration of Bill Clinton in 1993. As the decade progressed, she went on to be part of numerous tributes and documentaries. She was honored with a Grammy Lifetime Achievement Award as well as the Kennedy Center Honors.
Released in 2003, 'So Damn Happy' is Franklin's last album to be released via Arista. Following this record, the singer launched her independent label, Aretha Records. In 2008, she bagged her eighteenth Grammy for 'Never Gonna Break My Faith,' collaboration with Mary J. Blige.
Franklin's first album on her own label came out in 2011. Titled 'Aretha: A Woman Falling Out of Love,' the album comprises songs such as 'Sweet Sixteen' and 'How Long I've Waited.'  To promote the album, the singer held several concerts which were praised by fans and critics alike.
Aretha Franklin's glorious music career is decorated with multiple awards and honors. In 1979 she received a star on the Hollywood Walk of Fame. She was honored with a Grammy Legend Award in 1991 and a National Medal of Arts in 1999 as well as a Presidential Medal of Freedom in 2005. About three years ago, the singer also had an Asteroid named after her called Asteroid 249516.
A Glorious Era to End
In the words of Barack Obama, the former US president Aretha Franklin "embodies the connection between the African-American spiritual, the blues, R&B, rock and roll – the way that hardship and sorrow were transformed into something full of beauty and vitality and hope … American history wells up when Aretha sings."
The music writer Richard Williams said, "Her voice is still absolutely there and it's hard to imagine that she won't want to stand up in front of an audience or a congregation – because that's what she turns an audience into – at some time in the future."
CEO of the Mobo Awards, Kanya King said, "To us, Aretha will never retire because anyone who loves black music will always cherish the raw emotion and history of the music she has brought us within our souls. That said, I can't wait for her final album to come out; how amazing will that be?!"
Although the soul legend is set to retire later in the year, there is still excitement in the air. Her last album is yet to come out and she has not totally given up performing on stage as yet. She told the TV station that she would still do "some select things, maybe one a month". "I'm not going to go anywhere and just sit down and do nothing. That wouldn't be good either."
The sales of Aretha Franklin tickets are expected to go up. Grab yours the first chance you get as you may not get this opportunity again.