All 4 shows sold out for Garth Brooks World Tour with Trisha Yearwood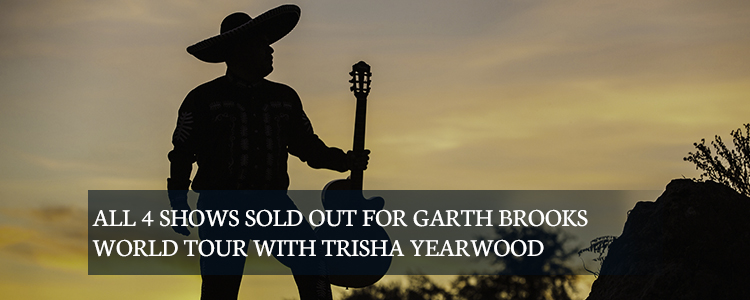 The Country Music Association has named Garth Brooks the 'Entertainer of the Year' for the fifth time. This is a first for any artist. The popularity of the country star knows no bounds. When tickets for his upcoming series of concerts in Lubbock were made available on January 27, it merely took an hour for them to sell out. That's right. They were all gone before 11am. This shows how anxious and excited fans are to catch a glimpse of their favorite country artist.
United Supermarkets Arena will host the first show on March 31; whereas, the second and third will take place on April 1, at 3pm and 7pm respectively. The fourth event will be held on Sunday, April 2.
Achievements
With more than 138 million album copies sold, Garth Brooks is the bestselling solo music artist in the history of the US. He is the first one to have received seven Diamond certifications by the RIAA for his seven albums that made sales of more than ten million each. Other than that, he has a number of other prestigious honors to his name. These include his induction into the Country Music Hall of Fame, the Nashville Songwriters Hall of Fame, Songwriters Hall of Fame in New York and now the Musicians Hall of Fame as well.
The Garth Brooks World Tour with Trish Yearwood
The highly anticipated upcoming shows are a part of The Garth Brooks World Tour with Trisha Yearwood. It began with eleven sold out shows in the city of Chicago and has broken several sales records that were earlier held by iconic music bands such as the Beatles and the Rolling Stones. In fact, with the sales of over 50,000 tickets of his 2017's concerts, the country crooner has broken his own record that he set twenty years back in 1997 with 22,000 tickets sold at the Potter County Stadium. With such impressive numbers, the tour will be nearing sales of five million tickets in two years' time, thereby setting a world record of the biggest music tour ever. So if you've been able to get your hands on the tickets to the upcoming shows, then you're lucky indeed.