ACM Awards: 5 performances that stole the show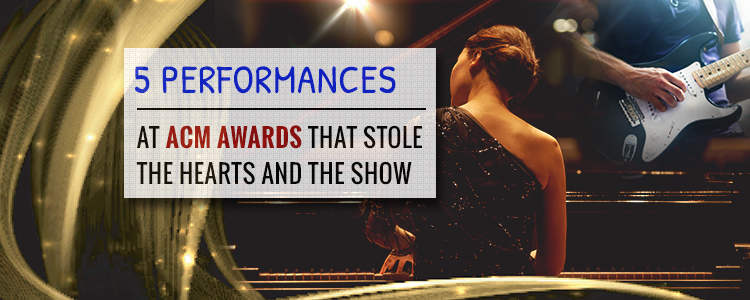 The world of country music waits a whole year for the Academy of Country Music Awards where the genre's biggest stars are honored. The show also provides a platform to many upcoming artists to shine as they perform live in front of their peers. Each year, the show offers some incredible moments to the fans of country music and this time was no exception. From Nicole Kidman rocking to her husband, Keith Urban's live performance to the amazing Tim McGraw expression when Florida Georgia Line and Backstreet Boys took the stage, this year's ACM Awards had it all.
Another thing which makes the Academy of Country Music Awards special is the live performances. This year, some of the biggest stars in the industry rocked the audience in attendance with some stunning performances at the T-Mobile Arena in Las Vegas where the show was held on April 2nd. Among those were five performances that really stood out:
Chris Stapleton
He's back! The man who conquered the world of country music with his debut album, 'Traveller,' Chris Stapleton's performance was one for the ages. Living up to the expectations of the fans, he took the stage and sang his heart out. As promised by him, he premiered a new song at the show titled, Second One to Know and it had a big impact.
There is no doubt that the 38 year old Grammy winner is on a roll. If you think that 'Traveller' is the best country album you have heard in a while then wait for him to release his much anticipated sophomore record, 'From A Room: Volume 1' which is scheduled to hit the shelves on May 5th. He will also be putting out a sequel of his upcoming album titled, 'From A Room: Volume 2' later this year. So, if you are a fan then mark your calendars and be the first one to get your hands on his new record when it finally hits the stores.
Tim McGraw and Faith Hill
Tim McGraw and Faith Hill's incredible performance at the ACM Awards was just breathtaking. Both superstars enthralled the crowd when they took the stage to sing their most recent hit, Speak to a Girl which came out earlier this year. The husband-wife duo started the song from different ends of the stage before meeting in the middle. As soon as they concluded their mesmerizing performance, the couple delivered an adorable moment with Faith jumping into Tim's arms in the end.
As of now, Tim McGraw and Faith Hill are going to hit the road together for the third time to celebrate the anniversary of their, 'Soul2Soul II Tour.' Called, 'Soul2Soul the World Tour 2017,' the couple will kick off the trek in April and will be performing their first show at the Smoothie King Center in New Orleans. If you think that Tim and Faith are going on tour alone then you have another thing coming. The A-list couple has announced an amazing lineup that will be opening for them including, Brothers Osborne, Cam, Chris Lane, Jon Pardi, Margo Price, Brent Cobb, Eric Paslay and many more.  So, get ready to rock as they will be coming to your city soon.
Florida Georgia Line & Backstreet Boys
And then were Florida Georgia Line & the Backstreet Boys. They raised the bar with their performance and everyone including stars like Tim McGraw couldn't contain their excitement when the groups appeared on stage. Both, FGL and BSB first performed the song, God, Your Mama and Me which was released last year in August before all seven entertainers set the stage on fire when they segued to Backstreet Boy's massive hit single, Everbody. The crowd went crazy when the members of FSL and BSB busted out sick dance moves and it became the main highlight of the award show.
This was not a one off performance, in fact Backstreet Boys will be joining Florida Georgia Line on their ongoing, 'The Smooth Tour.' All five members of BSB will be playing three shows with the dynamic duo, Tyler Hubbard and Brian Kelley at the Fenway Park in Boston, Minneapolis's Target Field and the Wrigley Field in Chicago on July 7th, July 29th and August 12th respectively. Florida Georgia Line plan to conclude their tour by performing their last show at the Verizon Amphitheater on October 21st.The tickets to their shows are on sale as of now so, get yours now if you want to enjoy the best of country music live.
Miranda Lambert
The Academy of Country Music Awards always gives an opportunity to artists to perform their new songs and the country music veteran, Miranda Lambert did just that. The two time Grammy winning singer went on stage and entertained the crowd by playing her most recent breakup ballad, Tin Man. Miranda's amazing performance grabbed everybody's attention and people applauded her when she sang the last lines of her latest single.
Miranda Lambert can now be seen promoting her seventh studio record titled, 'The Weight of These Wings' on the road as she is currently on the, 'Highway Vagabond Tour.' The famed country singer started her trek earlier this year in January and has already played shows at numerous venues like, The Ford Center in Evansville, the Resch Center in Green Bay, the Xcel Energy Center in Saint Paul and the BMO Harris Bank Center in Rockford. She is yet to perform in cities like, New Orleans, Daytona Beach, Manchester and London. Miranda will be ending her tour in October. The concert tickets to her shows are on sale and there is still time for you to get them. So, book yours today if you don't want to miss out on her performance.
Luke Bryan
Luke Bryan was on double duty this ACM Awards as not only was he co-hosting the show for the fifth time in a row but was also scheduled to perform live. He opened the award function by singing his gold selling number one hit single, Move and also paid a tribute to the Rock and Roll Hall of Fame inductee, Chuck Berry. He later returned to the stage with Edison light bulbs hanging from the ceiling. Bryan brought his vulnerable side to the fore when he performed his song, Fast.
The country superstar will be embarking on, 'Huntin', Fishin' and Lovin' Every Day Tour' this summer. He is expected to get the ball rolling on May 5th in Nashville. His trek will then make stops in several cities like, Atlanta, Cincinnati, Columbia, Kansas City and Philadelphia. Bryan plans to conclude his road trip by performing his last show in San Bernardino on October 28th. In addition to that, he will also be playing music at many festivals throughout the year including, Rock the South Festival, Dauphin's Countryfest, Cheyenne Frontier Days, Country and Boots and the Hearts Music Festival.
This year's ACMs were always going to be great and these performances took the show to a whole new level. The 2017 Academy of Country Music Awards will be remembered by everyone in attendance and rightly so.